Are you ready for a brand new Lil Blue Boo / Dharma Trading challenge?! It's finally here: The Great Ugly Knit Upcycle! And this time the challenge is wide open (i.e. you don't have to know how to sew, make clothing or use LBB patterns)!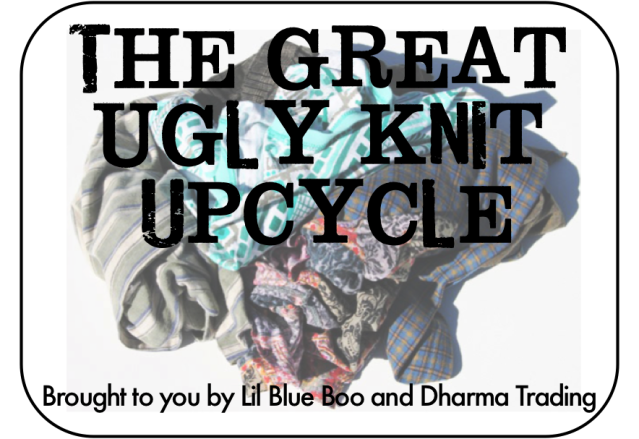 My idea for this started with a challenge amongst friends: a few other upcyclers and I drew names a while back for an ugly knit swap! The only rules were that the upcycler whose name you drew had to send you some knits that they had deemed unattractive and then we had to use some of them to make something something beautiful for their child!


The Challenge:
Turn a dull pile of knits into something amazing! You can sew them, knit them, tie them, glue them. You can make a toy, clothing, accessories….whatever you are inspired by! This challenge is wide open. Dye them, paint them, bead them or just rely on their raw ugly beauty. Beauty is in the eye of the beholder right?
What are knits? t-shirts, sweaters, jersey material, sweatshirts etc.
Send me your before and after photos by midnight August 15th and the panel of judges (see below) will narrow the entries down to 10 finalists that will voted on by the whole blog world! Judging is based on the transformation from "pile o' ugly knits" to "creative awesomeness!"
Prizes:
First Place:
$50 Gift Certificate to Dharma Trading
Singer 2932 Sewing Machine
$25 Gift Certificate to Lil Blue Boo
Second Place:
$25 Gift Certificate to Dharma Trading
$25 Gift Certificate to Lil Blue Boo

How to enter:
1. Find the ugliest knits you can stomach (old sweaters, pjs, sheets, etc)…..and create something great from them! Anything goes…clothing, pillows, toys, accessories etc. Dyeing, printing, embellishment encouraged. All entries accepted.
2. 50% of your project must be made from the ugly knits.
3. Email me a BEFORE and AFTER photo of your creation. Please no watermarks on photos….final vote will be blind and on anonymous entries! (watermarks may be added after the vote closes)
4. One entry per person.
5. All entries due by August 15th at midnight (Pacific time). All entries welcome!*
*Prize shipping is limited to the U.S. only, but international entries are welcome!
Meet the judges:
Amy from Mod Podge Rocks, Ashley from Make it and Love it, Kari from U-Create and Rachel from One Pretty Thing!
Grab this html code below and paste it into your sidebar to spread the word and to proudly show you are participating!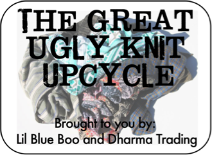 Recycle / upcycle some of those old ugly old knits you've been wanting to throw away! We can't wait to see what you create! Leave questions in the comments section of this post and I'll answer them there as well. Thanks!