There are tons of tips out there on keeping organized….here are 10 that work for me!
1. Organizing your house doesn't mean you have to devote entire days to it. I do a TON of multitasking….especially when watching movies or catching up on my reality TV. Every once in a while I'll just pull out a drawer and put it on the coffee table or the bed and let Boo help me organized it……then I'll put the drawer back once the movie is over. It doesn't even feel like I did any work!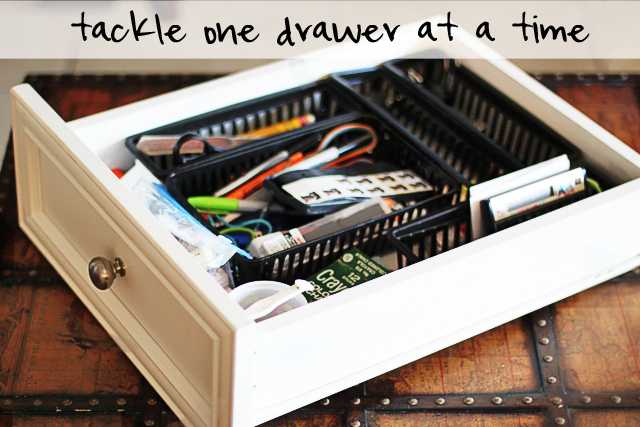 2. I could spend ALL day EVERY day just returning items to their RIGHT places…..especially since our home is spread out.  I keep a dedicated basket in a high traffic area to throw everything that needs to go back (clothes, toys, brushes, shoes etc). Once or twice a week I spend 30 minutes carrying the basket around returning everything to it's place: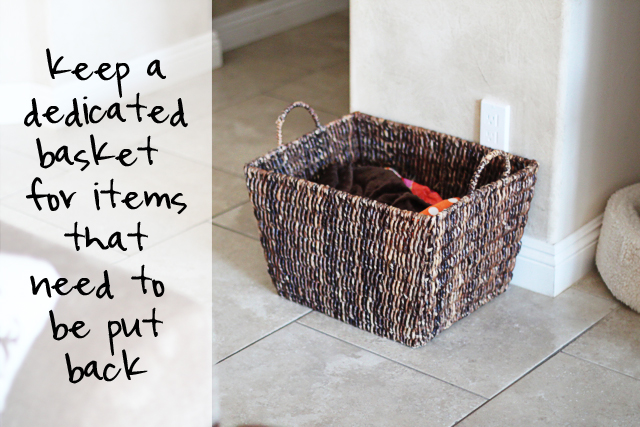 (more after the jump)
3. I try to clear out problem areas on a regular basis before they can get too out of hand.  The places that get the most cluttered for me are under the sinks and the pantry……plus any location where items expire like the medicine cabinet and the refrigerator: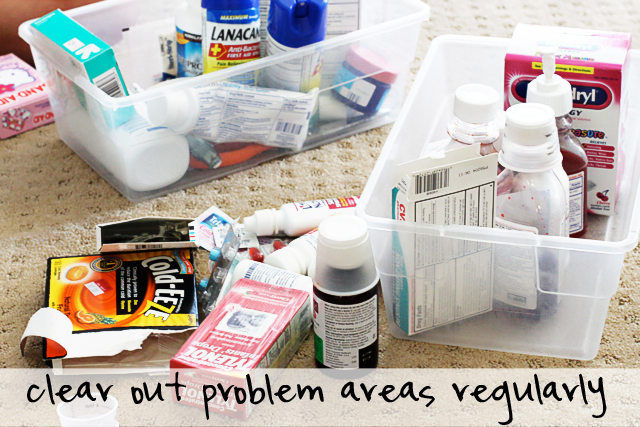 Before installing shelving do your research! Maybe you need a wall of shelves and a wall of hooks….or maybe drawers….it will all depend on what you are going to store on them: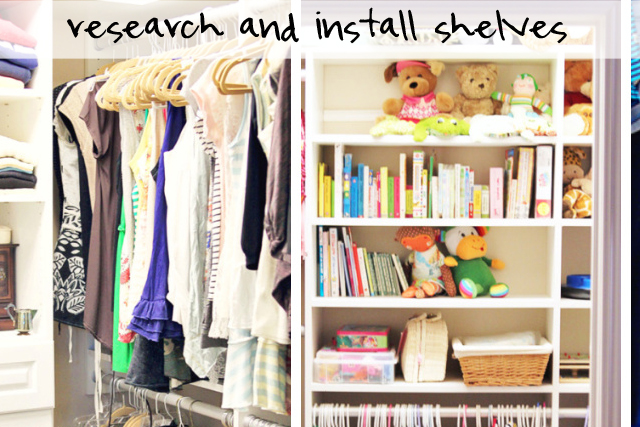 Sometimes I have a hard time getting rid of some items because I know Goodwill or a thrift store would just throw them out….and then I picture them in a landfill somewhere so I just end up keeping them. For example, old towels and blankets…..I can only use so many. I saw a sign one day at the veterinarian that said they were in need of old towels so now I have a place that actually "wants" my old towels!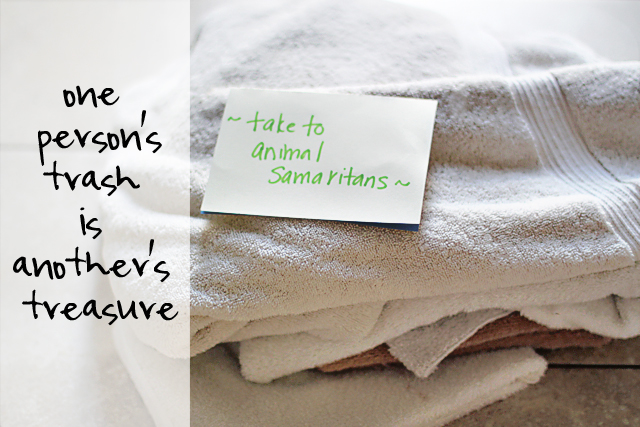 Invest in acid-free archival boxes for your most treasures photos, letters and keepsakes! They stack really well and keep everything protected.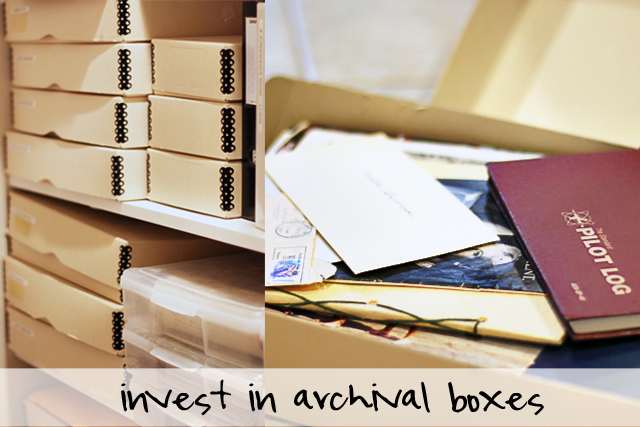 I use pretty trays to keep countertop clutter in one place! It makes dusting and cleaning easier too….all I have to do is lift and move the tray instead of moving a gazillion items.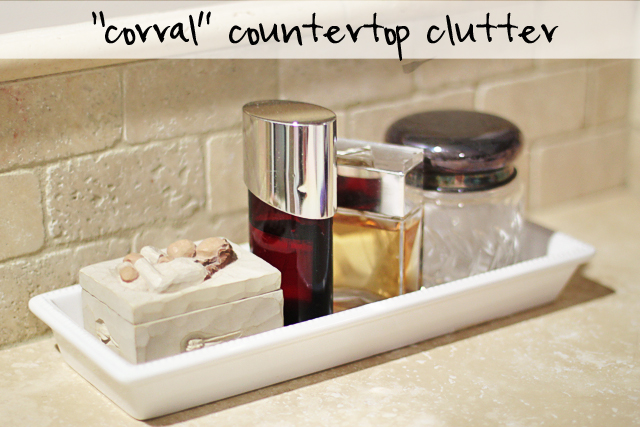 Create easy labeling systems. Here's how I keep our sheets in the right place: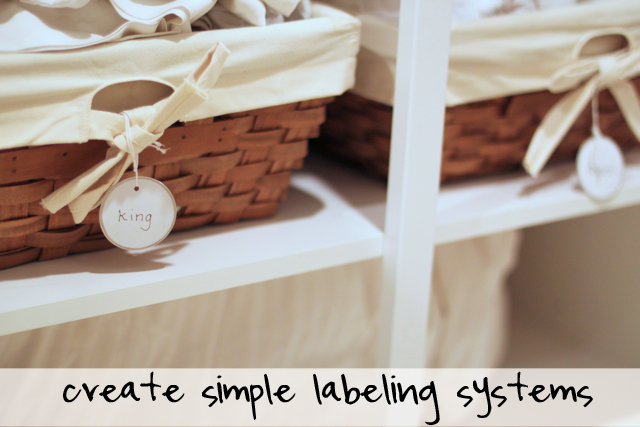 I try to display as many of my most treasured keepsakes in plain sight as I can without adding clutter. Life is too short not to enjoy them! For example, I put all my grandmother's jewelry in a shadow box and hung it next to my vanity: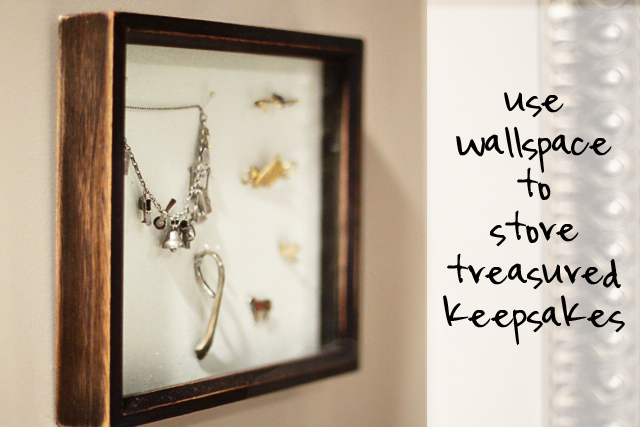 Sometimes you just have to do what works for you, even if it doesn't look pretty. I call it "survival." I've tried bulletin boards, notes on my phone and detailed grocery lists…..but the only thing that keeps me on track for making dinner is handwriting a "meal plan" as soon as I get home from the grocery store (based on what I ended up buying) and taping it on the refrigerator. It's front and center and keeps me from wasting food….and once the meals are eaten I toss it: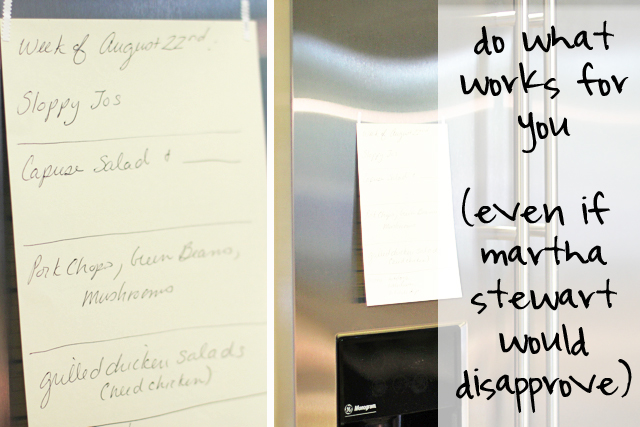 P.S. Have you noticed that my ENTIRE house is a light beige color? I need to do something about that.