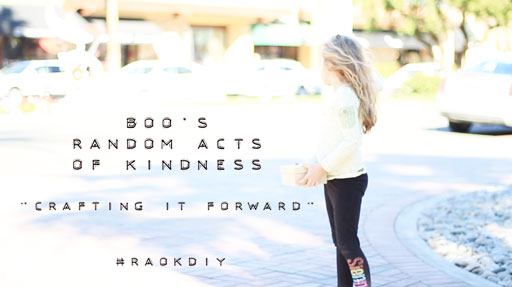 Boo was out of school today so we spent the morning making some little boxes for Boo to give away to random people she met on the street.  She hand wrote each box with a little note, stitched them, and filled them with little gifts to brighten people's day. She even filled them with dollars from her wallet. Crafting it forward…..and we can make a ton of them using the 99 cent paper mache boxes from Michaels.
Boo wanted to leave them in the middle of the sidewalk but everyone just kept walking over her little boxes without noticing them…..so she started to give them out to random people she met. Sometimes it was because they said a kind word to her and other times it was just someone who ended up standing next to her at a cross walk.  My favorite part was the hummingbird that followed her around….you'll see it.  I just get teary watching her in this short…Mr. LBB did too….I'm warning you ahead of time:
P.S. Boo dressed herself.  Leggings by Paperlili and top by Matilda Jane.