One of our favorite places to eat locally in the desert is Haus of Pizza.  I love the paper placemats and the red plastic Coke cups. I prefer restaurants like this….fancy restaurants give me anxiety.  As a family we always play hangman or Pictionary on the back of the placemats.  Yesterday I did a family survey and recorded everyone's answers into columns.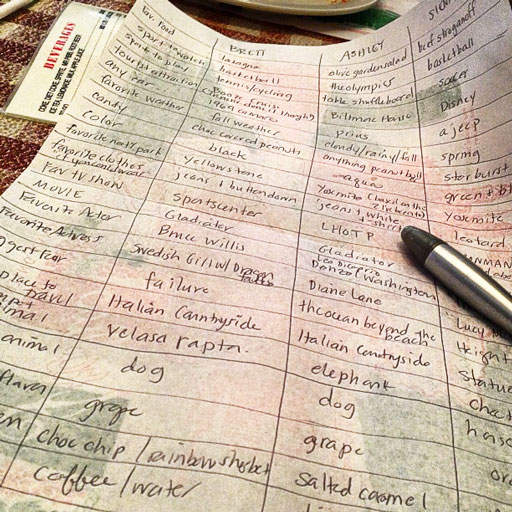 A few things I learned from this:
1. Mr. LBB loves lasagna. I had no idea. I think I've made lasagna once in 20 years.
2. I am the non-sport minority. While Mr. LBB and Boo love basketball, my favorite sport to watch comes on every 4 years: the Olympics…..and my favorite sport to play is table shuffleboard.
3. Boo cannot distinguish a TV show from a movie. When told she couldn't pick Ironman as a TV show she cried….so I made an exception.
4. Mr. LBB has been watching too much Live Free or Die Hard with Boo because Bruce Willis was the only actor he could come up with.
5. If Boo could pick anywhere to visit it would be the Statue of Liberty.
6. Mr. LBB's favorite animal is a dinosaur….and I don't know how to spell "velasaraptor."
Me: What if we won the lottery….what would you buy first?
Mr. LBB: Our house. I'd pay off the mortgage.
Me: Well since you already bought the house, I'd buy books.
Boo: I'd buy an American Flag.
Ok number 1: this is really sad that we don't have an American Flag.  Number 2: even sadder that Boo thought we'd need to win the lottery to afford one. We decided we need an American Flag for the house….but we'll wait until after the Mountain Fire has been put out because it will just get covered in ash right now.
Here are the questions we answered last night.  I'll keep it for future reference and do another survey in a month or so to see if anyone's answers change.  I put it on Instagram too (@lilblueboo) so you can find it easily.