I was blown away this weekend.  And since you know I love to tell stories…..
Boo and I were invited to the Ace Hotel…..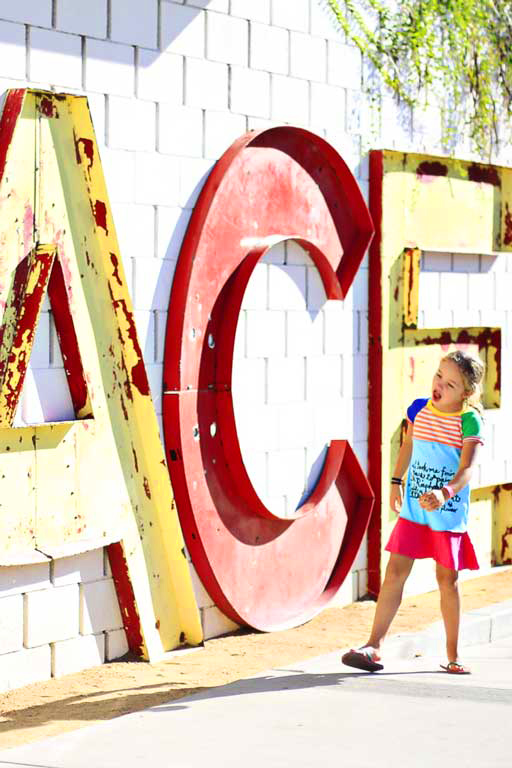 …..to take part in Crafting Community. It was right here in Palm Springs.  I wasn't sure what to expect but I was excited to be a part of it. I'm always excited to try new things.  "A window in time that cultivates creativity, fitness and imagination, offering a rare opportunity to decompress from the chaos of city life." Yes please.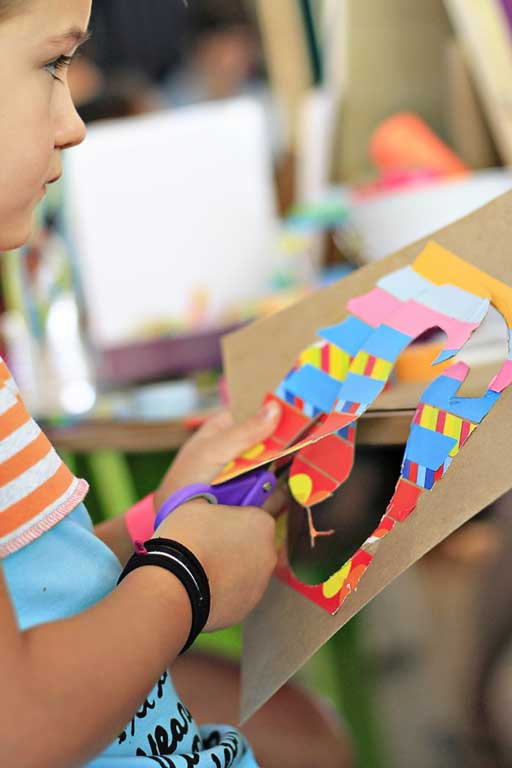 Saturday Boo and I were working at a table when the nicest man started helping Boo with a project.
Me: You look kind of familiar. Do you live in the desert?
Man: No, I'm from New York.
Me: Oh that's a long way to travel for this!
Man: Well, I wanted to be a part of it.
Weird I thought. I know him from somewhere. Oh well. And we went back to creating.  Turns out it was Todd Oldham.  I guess I should have known he was there but I don't read up on people ahead of time…..I like to just meet people as I meet them.  And look what happened….Boo made an artistic friend: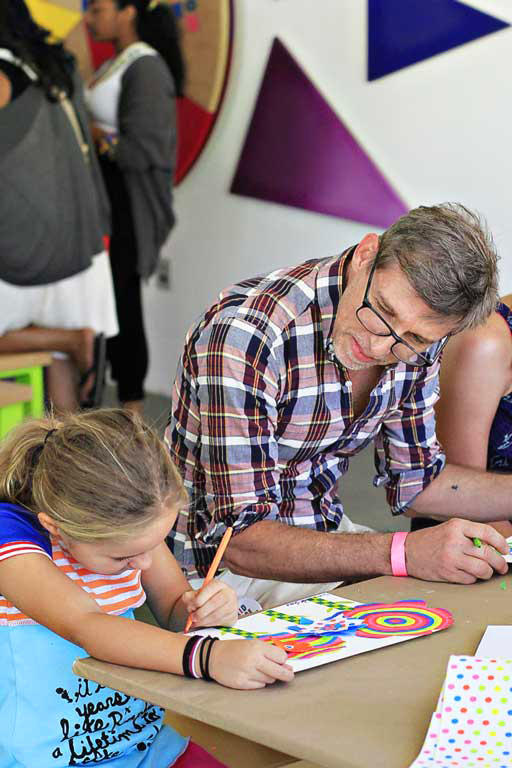 Watching Todd work: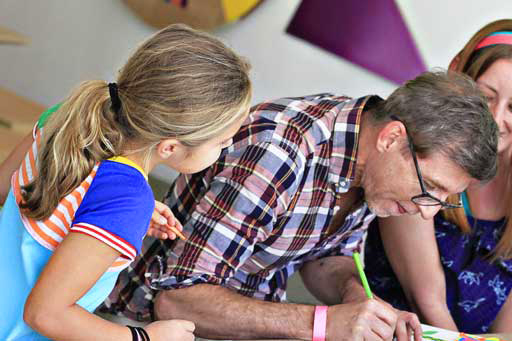 Kids were given a pair of shoes at the Converse station….a place to decorate your own personal pair of Converse using Karen Kimmel's stencils: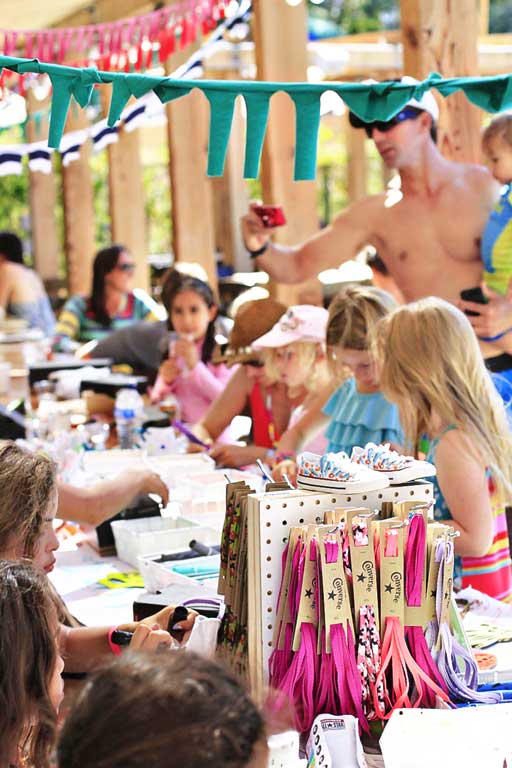 Boo refused to eat lunch until she was finished with hers: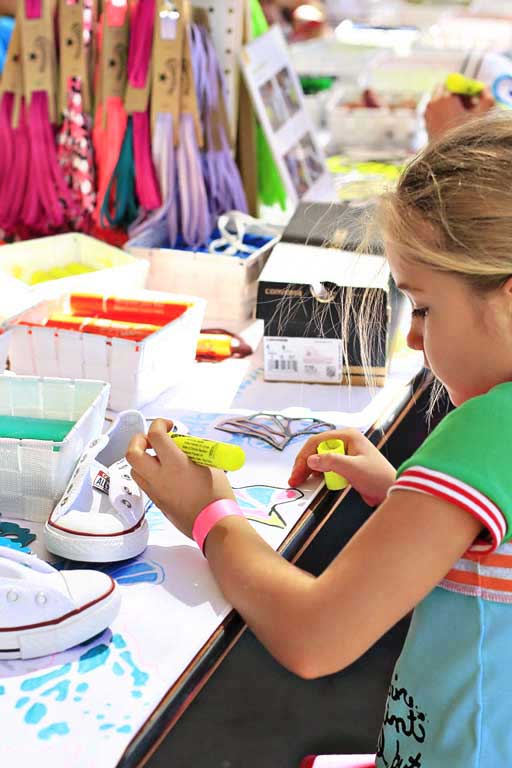 This is Ron Finley. I didn't know Ron Finley, but I knew from the second I met him I was going to like him.
Me: I'm scared of driving in L.A…..the roads are too confusing.
(he rolled his eyes, I think a little exasperated)
Me: I can't keep anything green alive. I have a brown thumb.
Ron: That's just an excuse.
Me: I live under a rock.  I've never watched a TED talk, oh except for one by Brene Brown.
Ron: I like Brene.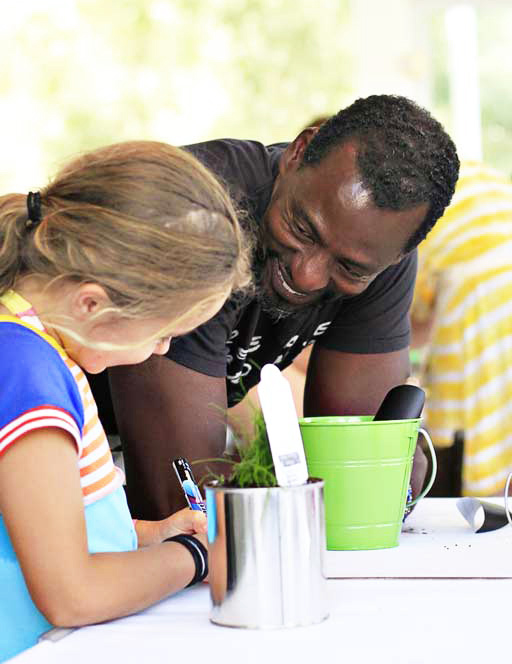 Here's his TED talk…a guerilla gardener in South Los Angeles. Watch it. You'll be inspired.
"if you're not gardening….you're not gangsta"



I'm going to watch more TED talks now.
Boo and Ron having a moment: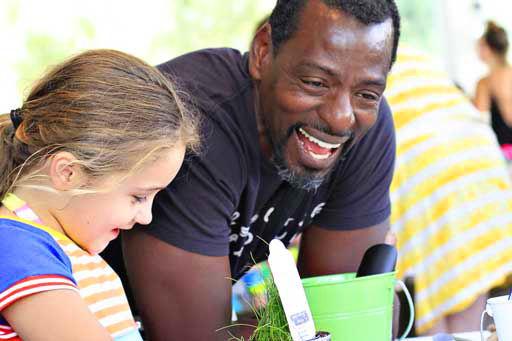 Mini herb gardens: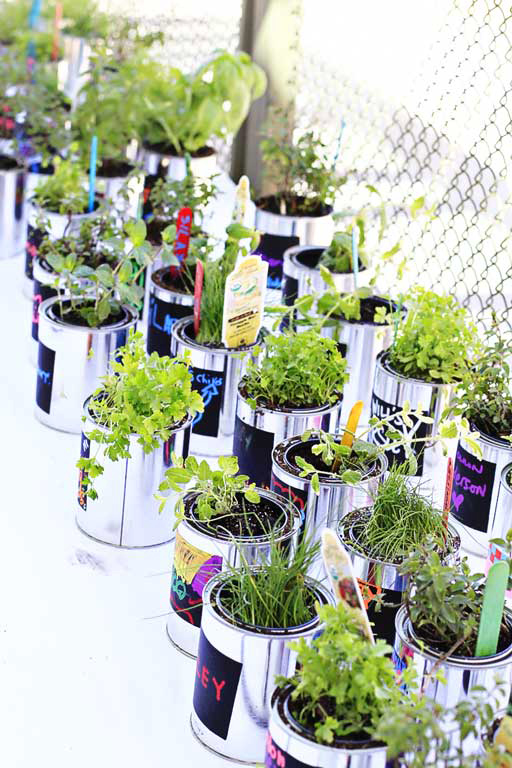 Random story: So Boo and I left the Ace hotel to go and see a few friends who live almost right across the street that we hadn't seen in a while.  As we drove through the parking lot of the hotel I passed the restaurant windows…..everyone in the restaurant seated at those windows was pointing and staring at us.  I shrunk down in my seat.  Boo waved back like she was the First lady of Ace. When I parked the car a few minutes later I got out and noticed that our mini herb gardens were sitting on top of the car.  I can't believe they didn't fall off.
I love how the Ace Hotel was transformed. So many details:
There was never one second for boredom.  Boo found something to do at every turn.  She alternated between crafting….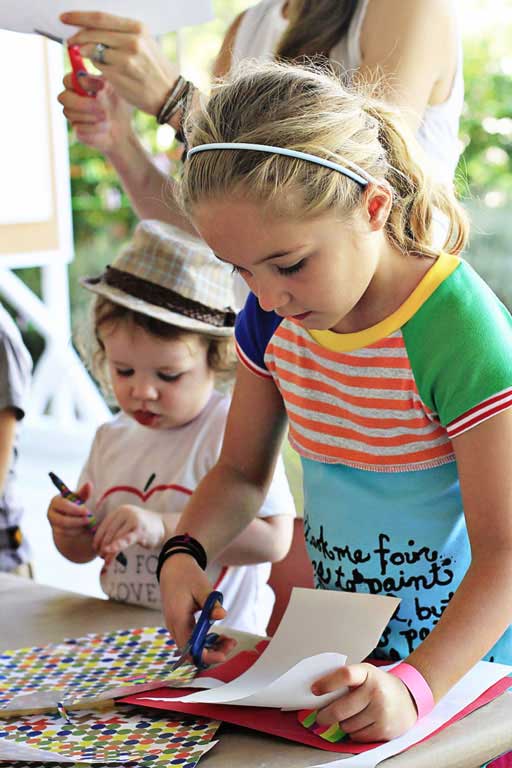 ….and swimming…..then she'd throw her dress back over her suit for the next activity.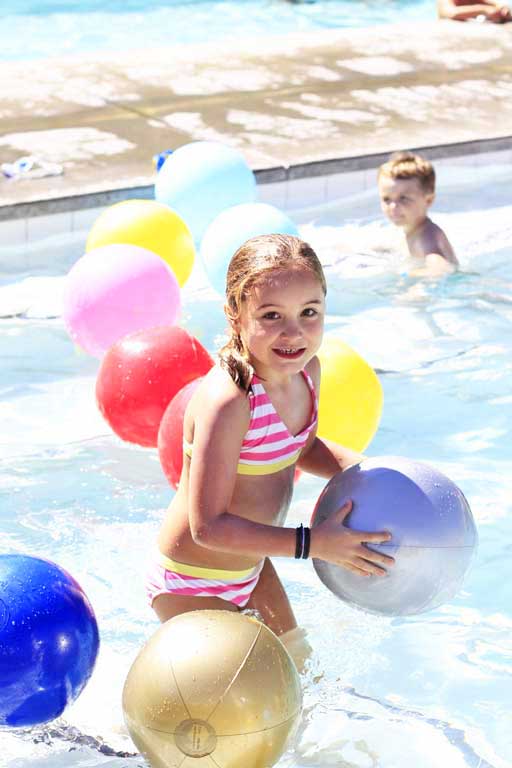 That's Karen Kimmel in the middle, Creative Director of Crafting Community.  She is one super talented woman. Courtney, of Little Junebugs, on the right was so great with Boo…she taught her to make amazing paper flowers.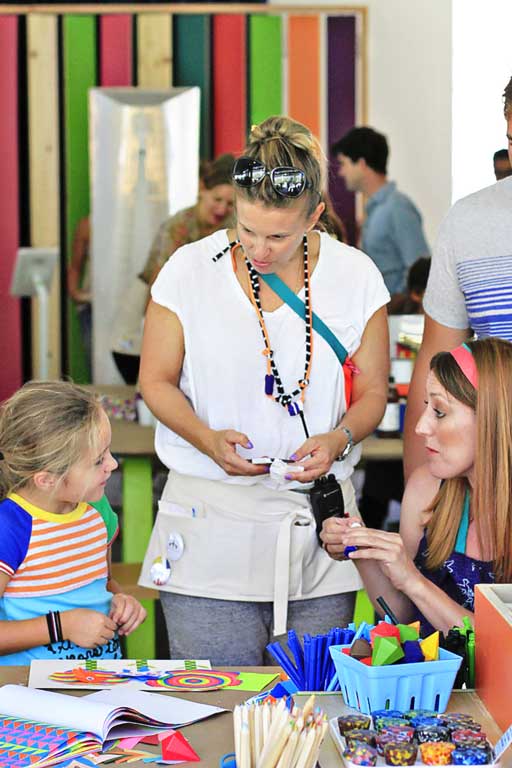 My favorite part of the community was that it revolved around families. There's a look book with family photos and names to get people better acquainted.  I learned to make macrame bracelets from a group of dads at this table. They came up with a great technique for fusing the parachute cord together with a lighter by using two pairs of safety scissors.  Genius. I told them they needed to make a DIY video for YouTube and it would go viral. Look how into it they are: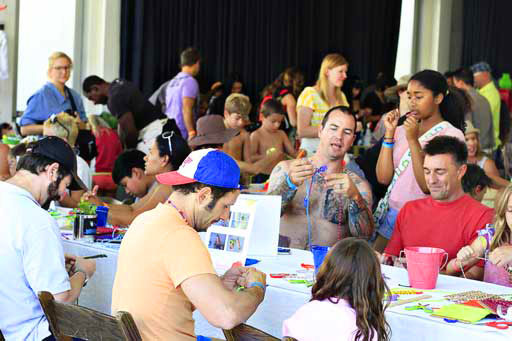 Each station was a smorgasbord for anyone who likes to make things. Imagine being at a table where there is an unlimited supply of stamps, stamp pads, etc: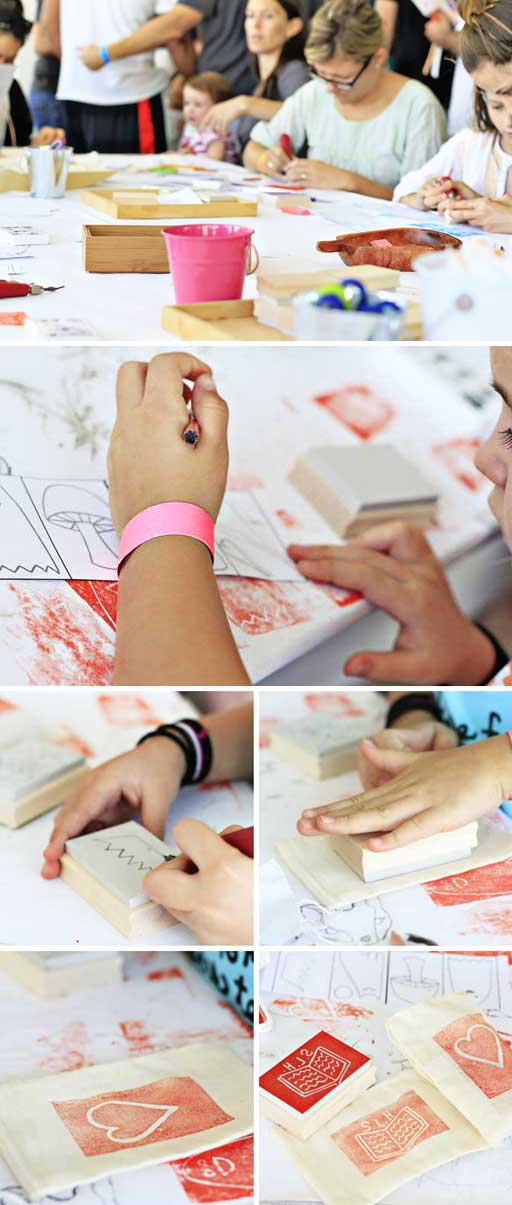 Everywhere we turned there was something new.  Like a huge sandbox filled with hot-wheels on the way to the pool, right past where the skateboarding lessons were: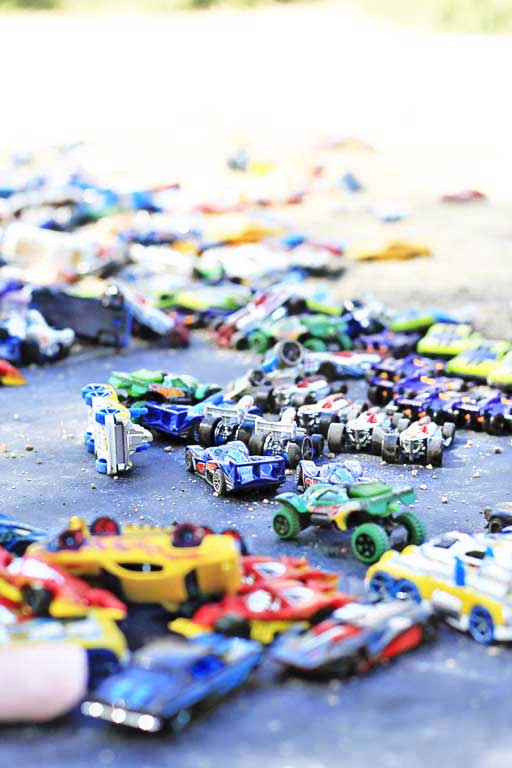 And a station where you could learn from the Scratch DJ Academy….but also to create spin art with old records: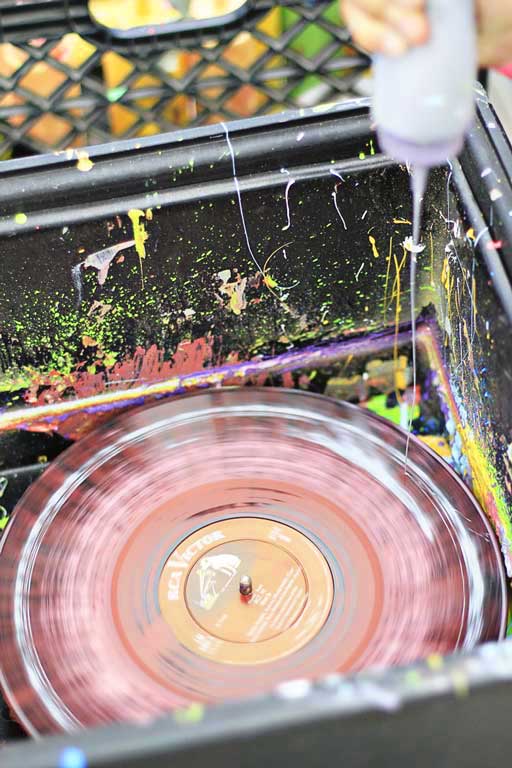 And healthy snacks available to keep your energy up:
The supplies…..just look:
So much eye candy I felt like I didn't want to miss anything:
Mr. LBB couldn't go this year but next year I'll get him there.  After hearing every detail from Boo and I, he agreed that we would pick this as a vacation over the beach any day.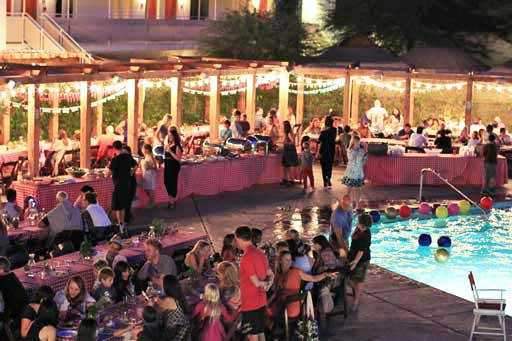 On Saturday night at dinner, I struck up a conversation with the woman sitting a few seats over.  Actually I asked her what the bright light was in the sky. Because I have to know things like that. What planet do you think that is? She thought it was Venus.  She said she works for Disney. I told her that I do some work for Disney. I elaborated and told her I write for Babble. She looked a little shocked. She told me her name. I told her my name. We both jumped up from our seats and hug. It turns out she's Editor in Chief of Disney Interactive (Babble included): Catherine Conners…i.e I write for her. We know each other just never had a chance to meet in person. The world is crazy small sometimes.  A friend told me that's a Godwink….because what were the odds we even sat at the same table.
A few things:
1. "That was so fun. I did so much stuff it felt like a week." -Boo
2. I live under a rock….but sometimes I do get out and meet people.
3. Community rocks….especially when you get to make stuff.
You can learn more about Crafting Community here.
Great job Karen, Stacy and Tait. Blown away.