Months ago I got an email from Our State Magazine asking if I could take writer Leigh Ann Henion around Bryson City. Of course I said yes and as the days led up to Leigh Ann's visit I had a running list in my head of things I might take her to see. I had a choice: I could take her to all the main tourist sights or I could take her to my lesser known secret-wonder-places. I decided on the latter and we spent an entire day riding around Bryson City. We followed the river from one end of the town to the other and I showed her the quiet places where I like to go write, the locals I like to visit and of course where the river meets the lake. I took her to see the Hemlock Inn and Darnell Farms. I took her to see old abandoned buildings, silos and barns that I love to marvel at. As we drove past Kituwah, the most sacred ground of the Cherokee, we saw what looked to be tribal elders performing a ceremony…something I've never witnessed before. When we drove out to where the river meets the lake we happened upon a few men with an vintage fire truck filling up with water. I introduced Leigh Ann to my chicken flock and gave her a tour of the old depot. We ate a late lunch at Mountain Perks by the real train depot and I showed her the enormous Gingko tree in town. Later that night my friend Ron LaRocque (owner of the Everett Hotel) and I took Leigh Ann up Lakeview Drive to the Road to Nowhere tunnel. We stood on the guard rails of an overlook and watched the sun set. And as we drove home, I had no idea what Leigh Ann would write her article about…I just knew that I felt like I'd shown her the mysterious and wonderful side of Bryson City that not many people stay long enough to see.
The article came out recently in Our State's November 2016 issue, the Rivers Collector's Issue. Leigh Ann had also spent time with other business owners in town included my husband Brett and his partner Ben. The first page of the article has a photo of the two of them in front of the hand-painted map mural in their store Bryson City Outdoors:
I was so nervous at first when I opened the magazine, wondering what shape the story would take. I love how it turned out because I feel like this is the first time someone has really understood who I am and why I do the quirky things I do. Leigh Ann was totally on board with any plans I had, even traveling all day in an old Chevy with no air conditioning!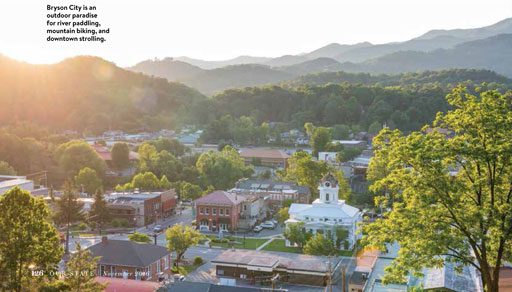 Photographers came in May to take photos. They wanted a photo with me and the chickens. FoShizzle was the only chicken that cooperated. Here's a behind the scenes photo: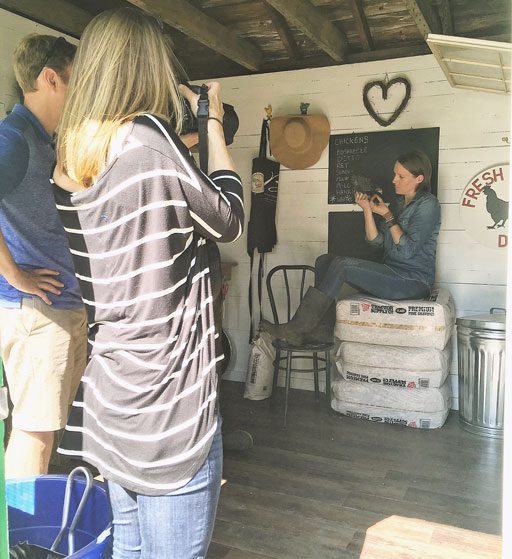 And the final photo in the magazine: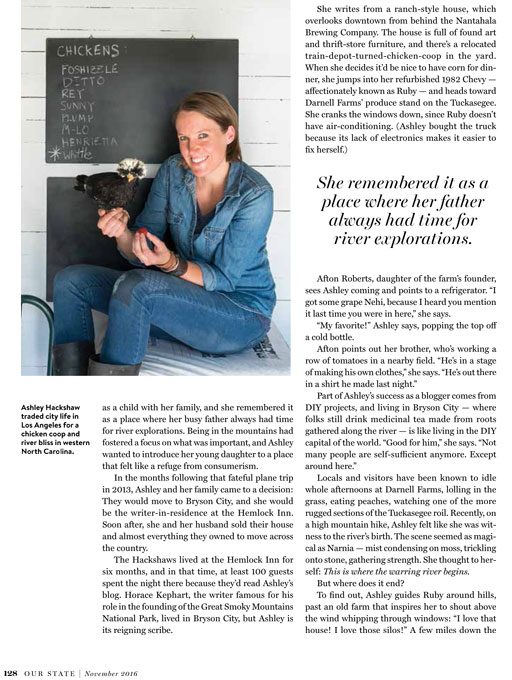 Bryson City got a whopping eight pages in Our State this month! There are so many layers to this town I'm sure it could have filled an entire magazine but I know there are other wonderful river towns too. In the article it references where I found the beginning of the river too, I wrote about that here.
I'd love for you to go and read the article today. You can find the full article here with all its beautiful photos: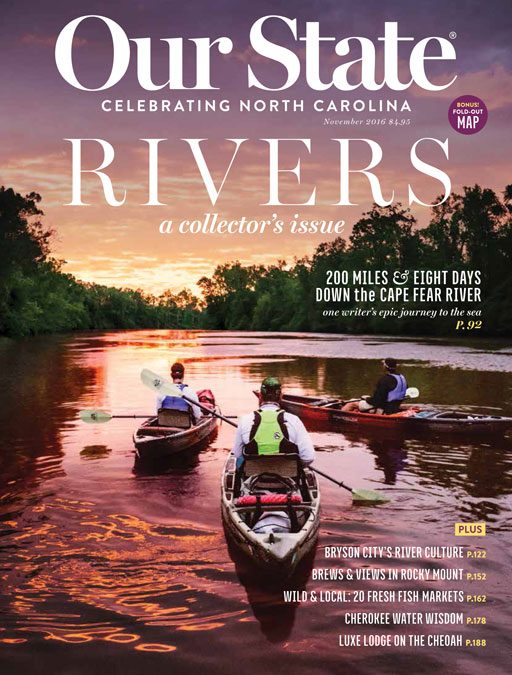 Thanks so much Our State for entrusting me to take Leigh Ann around town and for recognizing the beauty of this area.
Each month, Our State magazine celebrates the very best of North Carolina from the mountains to the coast through lively storytelling and stunning photography. Our State reflects the beauty, nature, nostalgia, travel, and food of the state. It's the perfect source of information for those who've lived in North Carolina all their lives, those just becoming acquainted with the state, or those looking to visit or relocate. Published by Mann Media, Inc., the award-winning magazine reaches more than 1,100,030 readers each month, with subscribers in every state and nearly 30 foreign countries. Learn more at ourstate.com.