Instead of a 365-project this year I decided to try and set some monthly goals and my first January goal was to paint 31 angel paintings in 31 days (#31angelsin31days):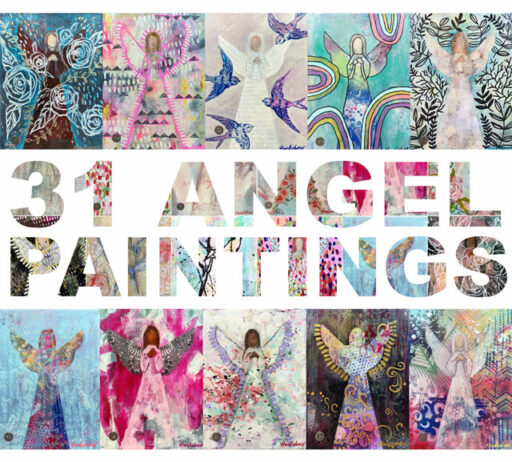 I'll be honest on Day 3 of painting angels I was already over it. But I set a goal and I knew, if I just kept painting, inspiration would start to emerge. That's the crazy thing about art…the only way to get past a block is to keep working. Keep showing up to the canvas and keep putting paint on it. I paint with brushes, my hands, and anything else nearby that seems like it would leave an interesting mark. I paint over things…and start over and over and over again. Inspiration will show up…in time. How many ways are there to paint an angel? Infinite. And I just needed 31 ways.
I started a new angel every single day but didn't necessarily finish the angel on that day. Some angels were worked on over the entire 31 days. Here are a few in-process photos: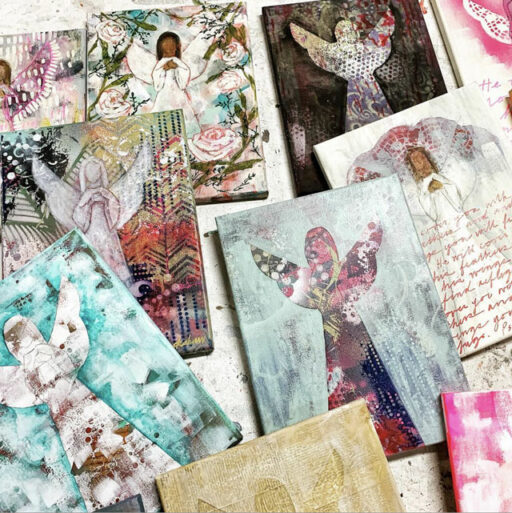 Each angel has layers and layers of paint on them. I tried not to be afraid to paint over earlier work.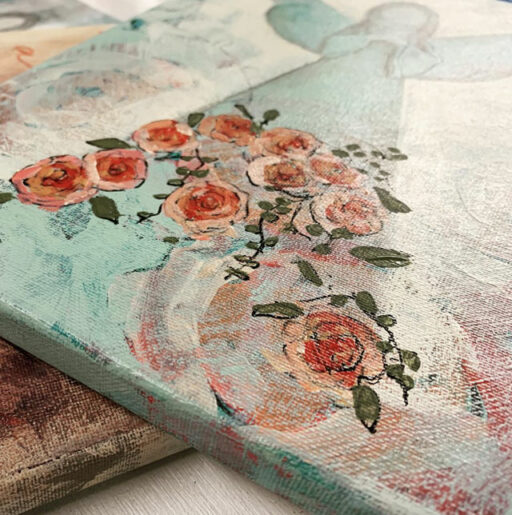 The whole project was sparked from little metal tags I had.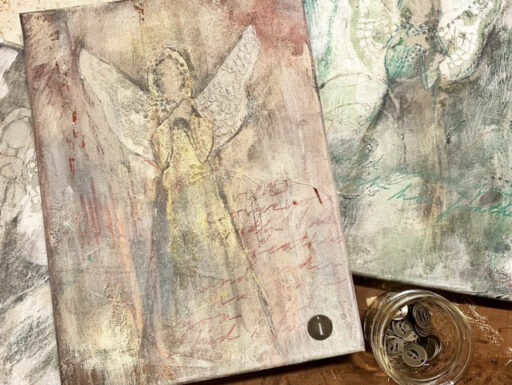 I wanted a series of paintings that each had a metal tag sewn to them: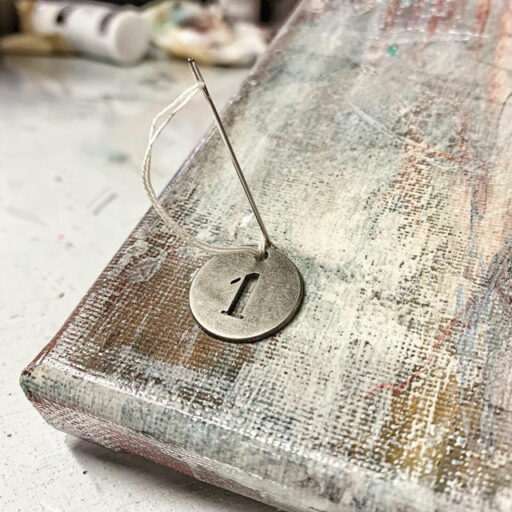 Here's how they turned out:
Angels 1, 2, 3, 4, 5, and 6: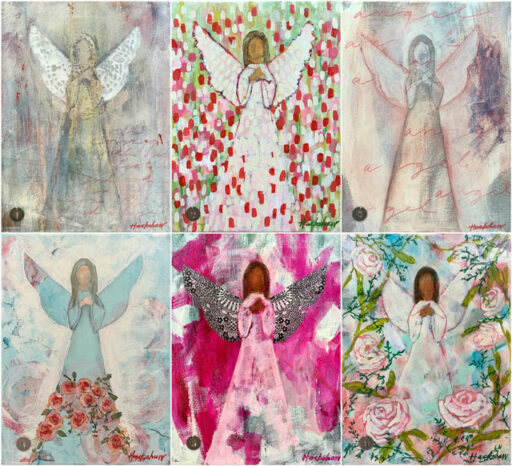 Angels 7, 8, 9, 10, 11, and 12: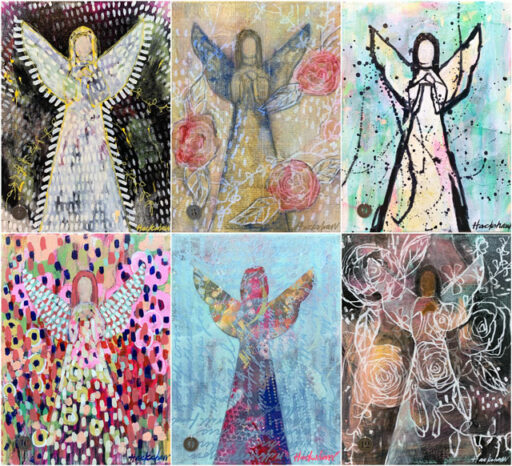 Angels 13, 14, 15, 16. 17 and 18: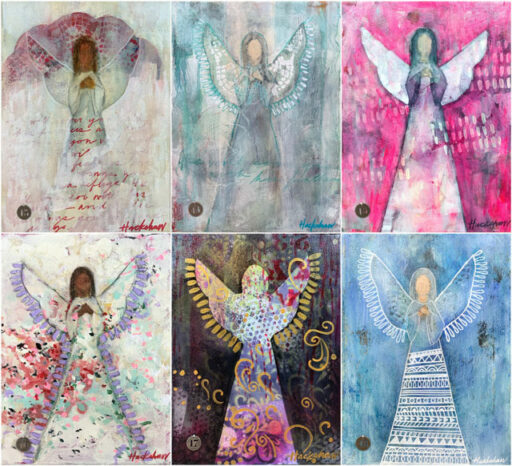 Angels 19, 20, 21, 22, 23, and 24: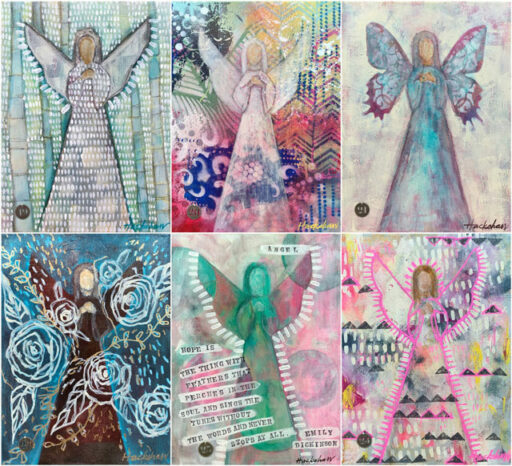 Angels 25, 26, 27. 28, 29, and 30: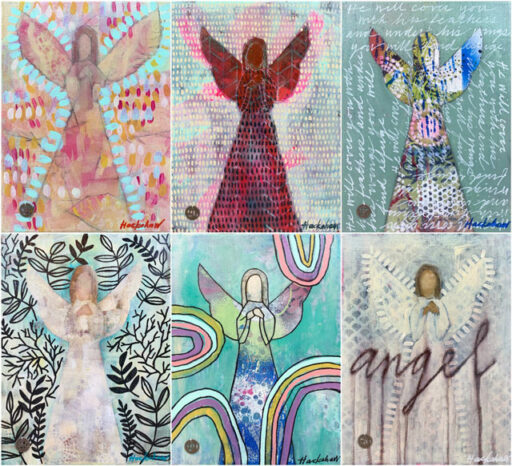 And finally Angel 31 (I've decided I can't have any more months with odd numbers…it messes up my collage numbers!):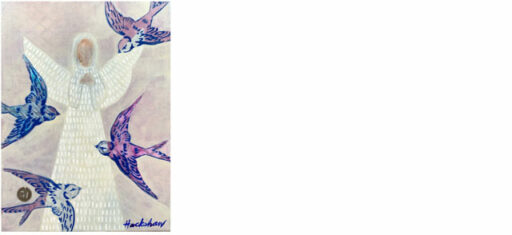 I learn so much by pushing through blocks and an extended process. After one of two paintings I started decorating the sides of the paintings and just seeing them all stacked up has inspired me in some new directions: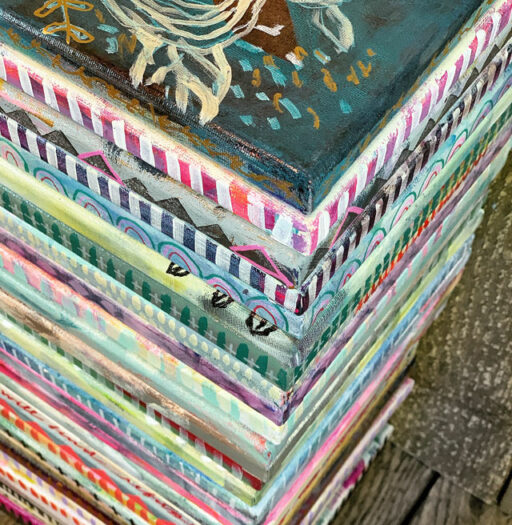 I love the how the randomness becomes cohesive in a way: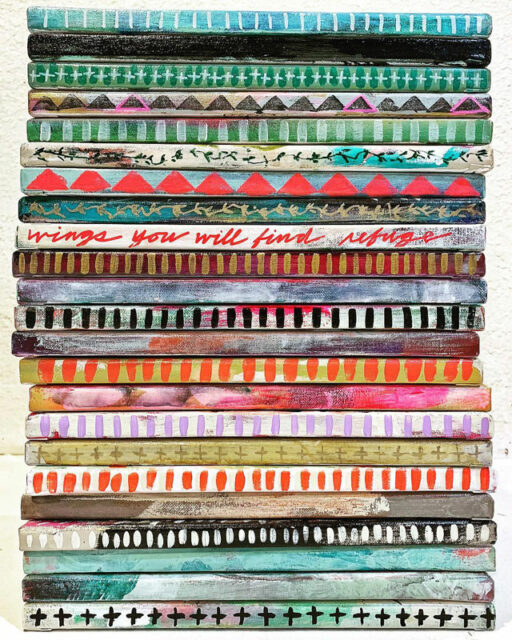 All 31 stacked up together: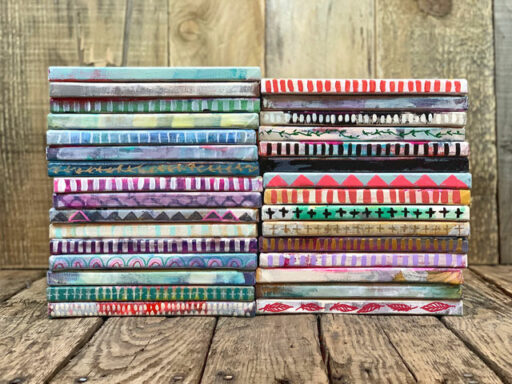 These have all mostly sold but I do plan to make some smaller print sets that can be framed or used as postcards. I was thinking maybe a set of 10 cards in a pack so I'd love some help figuring out which ones to include! I've started a tally sheet of favorites so let me know if you have any favorites that you think should be included. Thanks so much!
Now it's time to turn to February! I haven't quite decided what my February project will be yet (I share it on Instagram as soon as I decide)….I still have a few hours left in the day. If you are looking for a monthly project maybe try angels…or my friend artist Amanda Evanston is doing a February Flowers month you could join in on!