You know I love finding old things. Here are just a few things we found in the old 120 Main house walls during demolition!
This tiny 1″x1″ photo had fallen into a wall crack. I love the finger waves in the hair!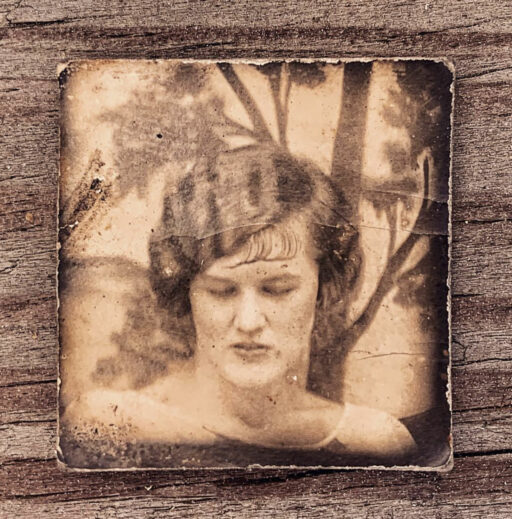 This Amazing Grace hymnal page and this little tin with a lucky penny was tucked up behind the ceiling rafters in the old kitchen area: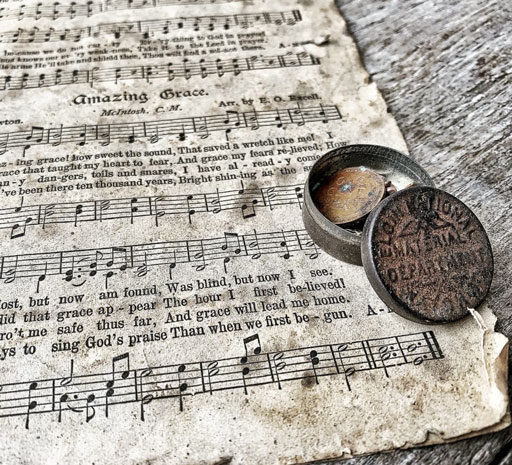 This old letter was folded up and tucked into a ceiling board: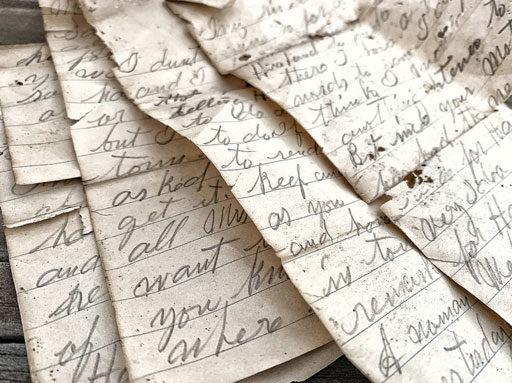 The letter was in really bad shape so I tried to decipher as much as I could. I left out the recipient name and the senders name just because it's such a small town….but it would have been written back in the 1920s.
Mrs. Calhoun,
You might like to know why Harly send for those precious things, so precious that you can't part with them when you have asked to return them.
Inez had been bragging about how much Harley had spent on her and Verial made the remark to a girl friend of mine when I stopped Harly from taking a part in the play.
Inez rings the matter is gone so far as for your mother to send for my husband to come over there I have a few words to say. I didn't think I would have anything whatever to say but since your mother has had the nerve to ring for Harly.
The very idea of her sending for Harly, Well I want to inform you now that Harly will not come or at least I don't think he will and I want to tell you that you all are through telling Harly just what to do and what not to do if you don't want to send those things keep and wear them as you have been doing and have every body in town making remarks about it.
I haven't had reason to be jealous of anybody so far because Harly has been too good to me. So it will bring the whole set of you to keep quiet unless you want to get something real amusing started.
A woman said to me yesterday (What on earth does Mrs. Calhoun mean by letting Inez wear a married man's stuff while others say she didn't know any better. Don't think for a minute that I want the stuff for he has given me as much or more. So Inez wear but I intend for the town to know that he asked for it and didn't get it. And that isn't all Mrs. Calhoun if you want to see my husband you know exactly where he lives.
Mrs. H. R. B.
I'm not 100% sure I follow this letter but I hope the writer got her precious things back.
We have found so many other cool things but I'm trying to group them into smaller stories. We found a few shoes. Here is one: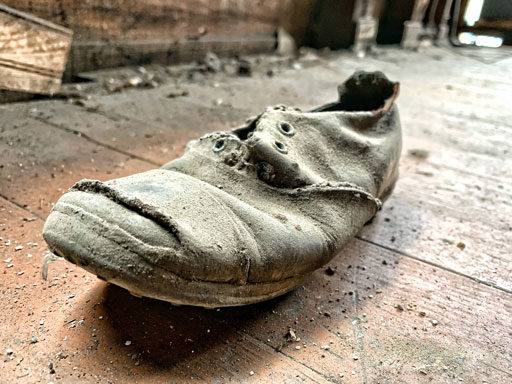 I did read somewhere that hiding old shoes in the walls was to bring good luck. And to ward off evil spirits. I need a time machine!

I've started to index all posts on our big renovation projects into history, found objects, renovation and DIY categories so they are easy to find:
Sixty-One Park Farmhouse Project
One Twenty Main Farmhouse and Store Project
I have a lot to share on the house too but you can also follow along on Instagram as I post almost daily @onetwentymain and @lilblueboo.