Lisa here! Miss Elle turned 3 over the weekend! She requested a butterfly themed party and mommy delivered. It was butterfly overload! This was probably the easiest party to throw together. I'm going to tell you how I did it!
1. Party decor is focused entirely around the table. I rent child size tables and chairs from a local party rental company along with the table linens in a color to coordinate with the theme. I wrap tulle around the chairs for a little something extra.
2. I was inspired by this picture over at Martha Stewart. Instead of cutting out paper butterflies I opted for artificial butterflies, and I hot glued them everywhere

Let me recommend Just Artifacts on eBay for the lanterns. You can search for artificial butterflies on eBay as well. These are going in Elle's room, they will look so cute!
3. I can't take credit for the centerpiece. This was my mother's idea. We realized about 20 minutes before the party that our moss needed a little something extra, so she cut down a branch off one of the neighbor's trees and hot glued butterflies on it. It turned out pretty perfect.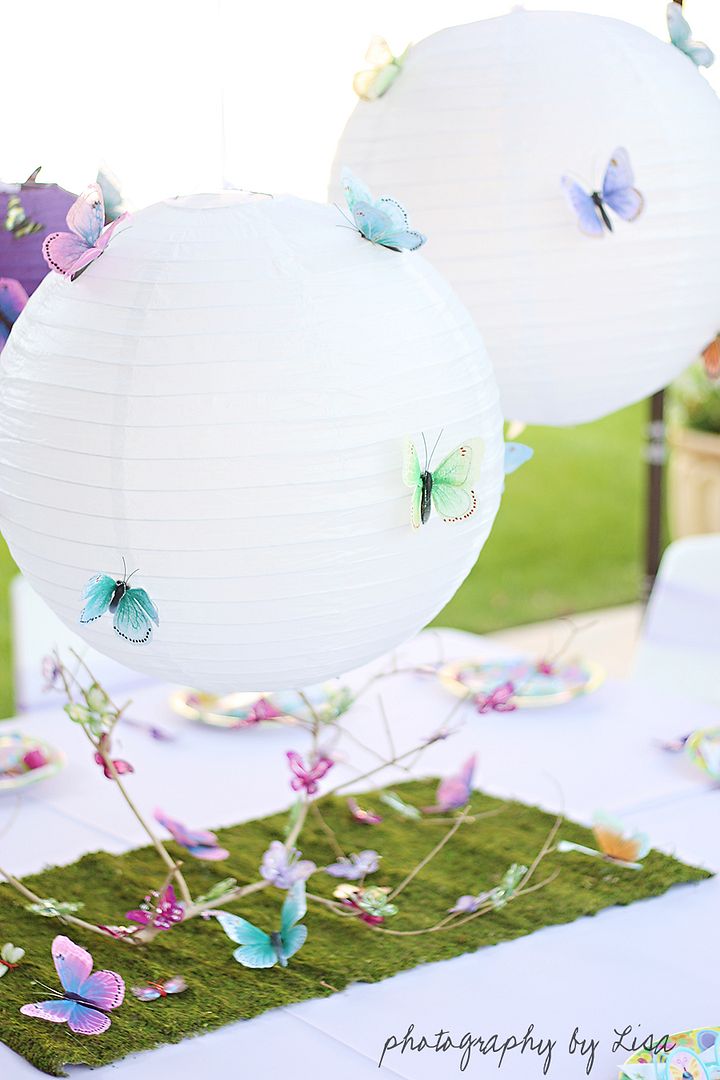 4. Upon entry to the party, our little guests received a pair of wings and a skirt. All purchased at the dollar store. If you don't shop at the dollar store for party favors you are missing out! Plates and napkins were also purchased at the dollar store!
5. I hire someone else to entertain my kids, so I can enjoy some time with the other mamas, sit back and take pictures, and enjoy all the yummy food

Is that wrong?
6. I decided to go with cupcakes this year. Wow, that made things so much easier! Last year it was about 100 degrees and cutting a cake while you have 15 kids waiting for a slice was a lot of pressure and I will never do it again!
That's pretty much it! You too can throw a dreamy butterfly party for your little one. I'm not sure who had more fun, me or Elle

Comments