My hoodie pattern was released today…..and I've spent 50% of what should have been a productive happy day dealing with "original designer"/blog drama in the background. So, I thought I'd write about where my inspiration DOES come from…..and it will let me introduce you to the grandmother I have not yet written about!
I am aware that there are many other clothing designers out there that use recycled clothing for their one-of-a-kind creations. I've never come across any patterns helping the home-sewer to do it themselves. If they exist please let me know, because it would be great to exchange ideas with them! So many people are scared of knits and I can understand why….when I first started sewing knits it was a disaster. But I kept at it and I figured out ways around all the frustrating problems that sewers (especially beginner) run into on a regular machine.
All of my patterns are very basic and encourage you to take liberty with customization. I can't for the life of me read a regular pattern….I've never had any formal sewing instruction or design education….and for some reason this makes my patterns unique. Every pattern has been hand-drawn from scratch, tested, revised, hand-drawn, tested, revised….dozens of times….and then there is the tedious process of converting it into a computer drawing (don't even get me started). The first drafts are disasters. Just ask my friend Karin whose son tried on the first hoodie……his poor arms were stuck in a skinny-sleeve-mess. Believe me it would have been much easier to copy someone else's pattern. I am always the first to give credit where credit is due because I would want someone else to do the same for me. What goes around comes around. But then there are things like pillowcase dresses, a white t-shirt, ruffle pants, burp cloths, t-shirt pants….who do you give credit to? Who was the first? Where did they come from? What do you do when your work includes the most basic of styles?
Everyone draws their inspiration from different places. In the words of my wise friend Shari: Nothing in art is new; we are inspired by everything around us; and we need to respect each other's right to individual expression and creation.
I draw inspiration from my grandmother, Beauty. I love this photo of her as a young child: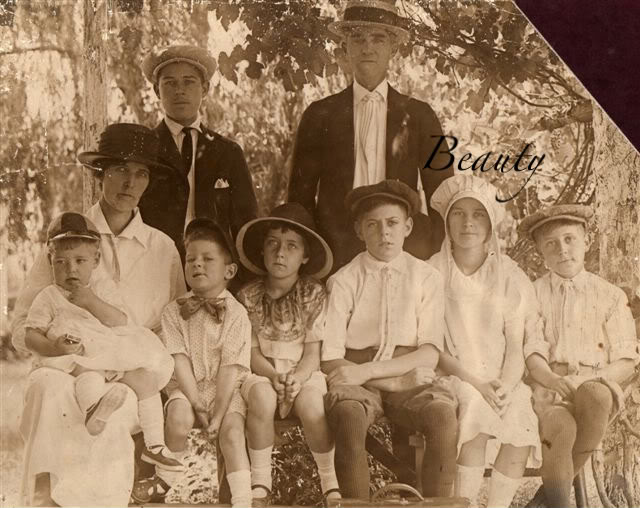 My grandfather was a firefighter in Washington, DC. When my mother was a young girl, he was in a horrific fire that seared his lungs and they gave him 4 months to live. He moved the family out to the Potomac river. It was difficult to make ends meet but my grandparents ended up taking in 3 foster children in addition to their own children, my mother and uncle. To clothe the entire family my grandmother took in second hand clothes and re-purposed them into unique one-of-a-kind clothing. I can't imagine what it took to do that. My grandmother never even learned to drive…. I really take my impromptu trips to the fabric store for granted.
Here are my mother and Uncle in some "repurposed" outfits in May of 1960: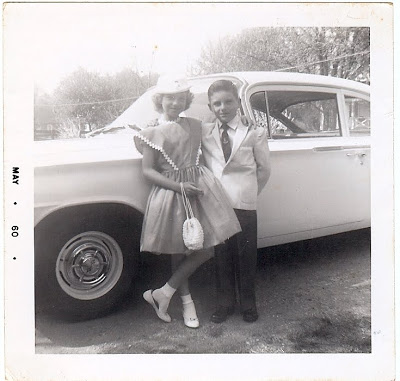 So, sorry for the long post….but it is something I felt I needed to write about. Unfortunately, the blog world can be fickle sometimes. I've had weird things happen like thinking someone stole my idea but then I discovered we actually posted the idea 2 days apart and she posted before me…..and so then I worried that she might think I stole her idea! I actually emailed this person about it a few months back (because I'm weird and get anxiety about not giving someone credit for something) and we came to the conclusion that maybe we were the "same" person in alternate universes. As I wrote in my interview today over at Brixton Life…..I've come to be okay that when I post something on the internet it really isn't mine anymore…..so take my ideas, take them all, I give them freely, no regrets, happy to do it 😉
Oh, and my grandfather ended up living long enough to see his granddaughter born: me!
This post is for all my readers and customers who are so supportive. Thank you.