Here are some pics of my new sewing studio. I haven't moved everything over yet and I'm still organizing but here is what it looks like so far. Sorry for the lighting quality….I don't quite have the perfect lighting figure out yet. You know that I am a fanatical/borderline OCD about organization and cleanliness…. everything has to have its place for me to work….so I've shared a few tips as well!
The sewing side of the studio: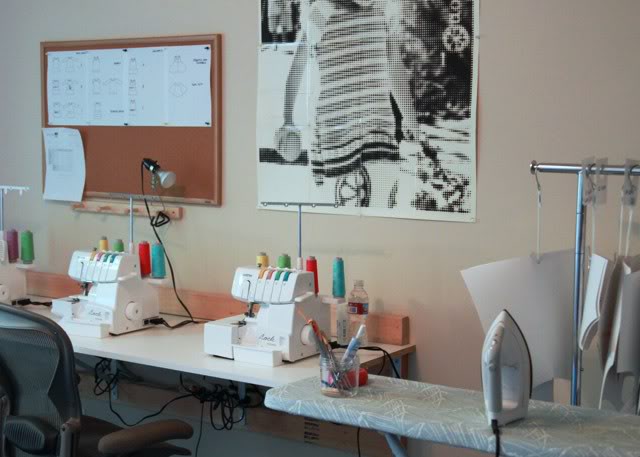 Another view of sewing side: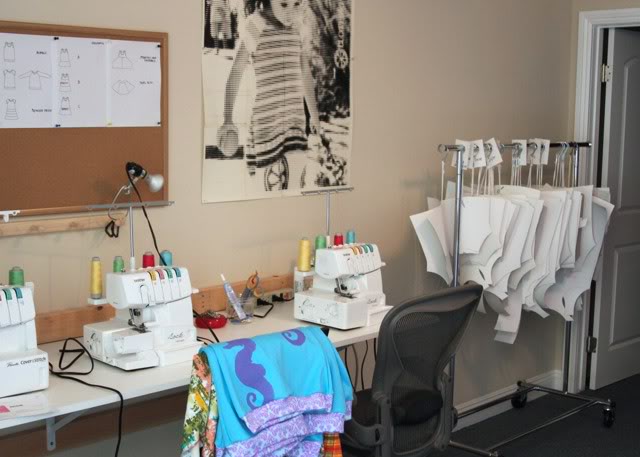 Mr. LBB built the sewing workspace for my Mother's Day present along with the closet shelves. Here is a view of the underneath so you can see how it is made. Basically he attached two 2×4's onto the wall and then drilled steel shelf supports into those and added the counter. You can easily drill holes for your power cords with an attachment for your household drill. Total cost for work bench: $40.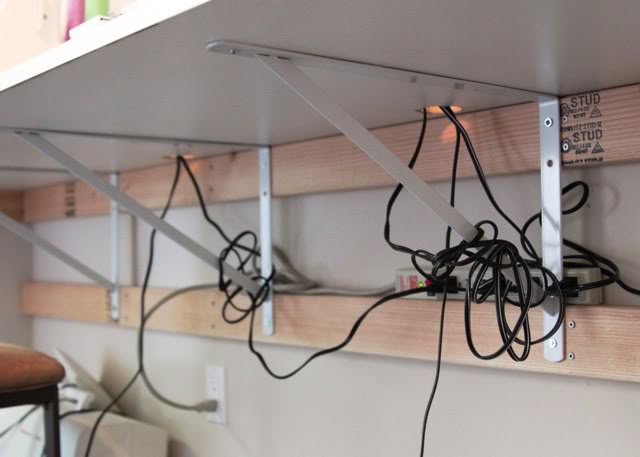 I store smaller pattern pieces are kept on hooks right above my cutting table. You can get the metal rings at any office supply.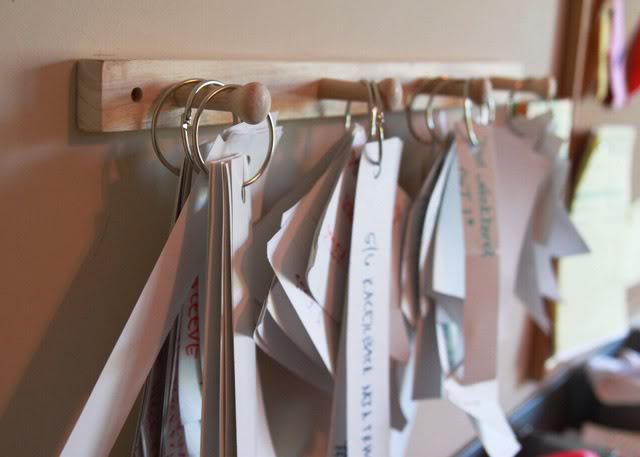 The larger pattern pieces are stored by size on pattern hooks: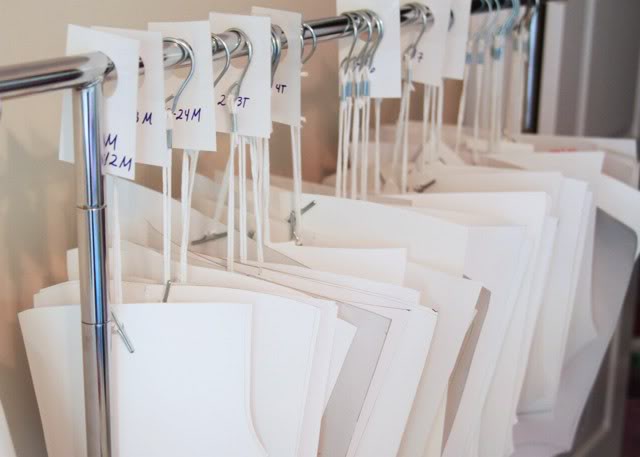 Bins organizing scrap knits by color and type: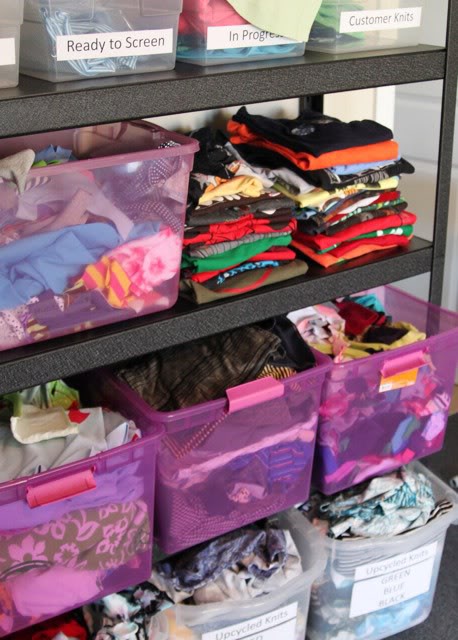 Labeled bins to keep me straight: ready to sew, ready to screen, in progress and customer knits.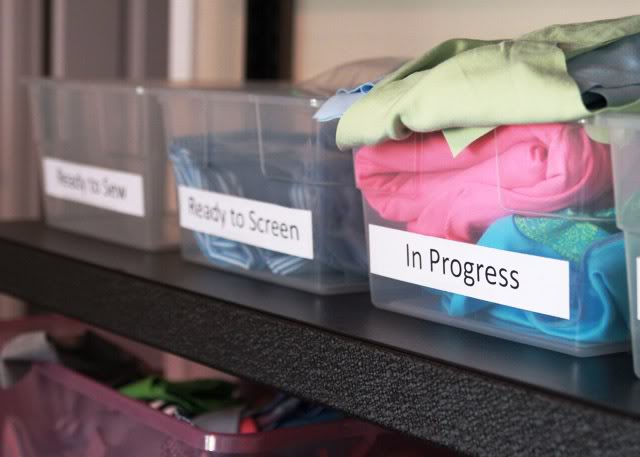 Stored knits in the closet waiting their turn: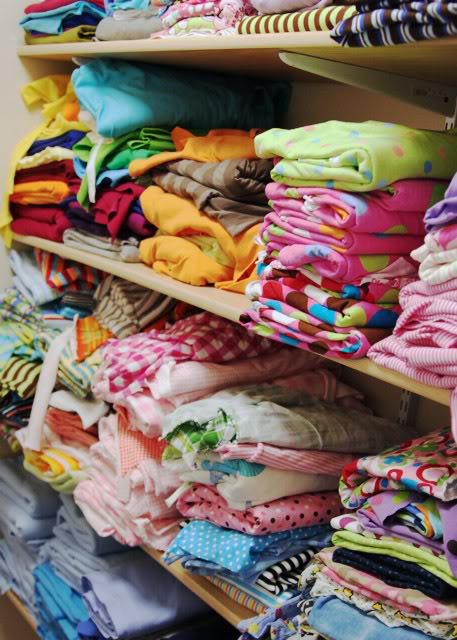 Lots of yummy thread colors: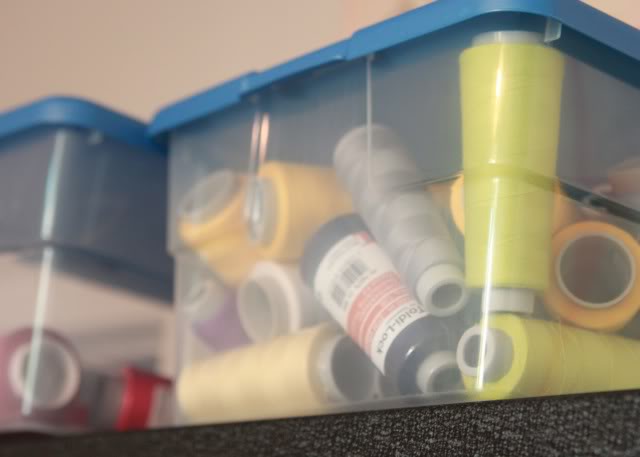 Finally all of my pattern templates are organized and notched. I use a pattern notcher to punch out key markings for my patterns to line up: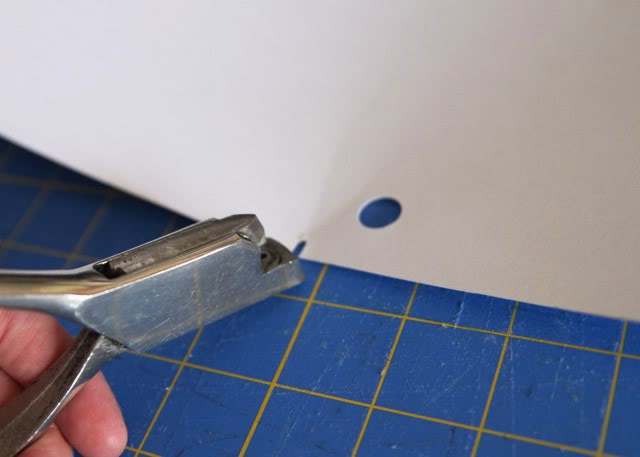 I use an inexpensive scrapbook punch to add holes for the pattern hooks: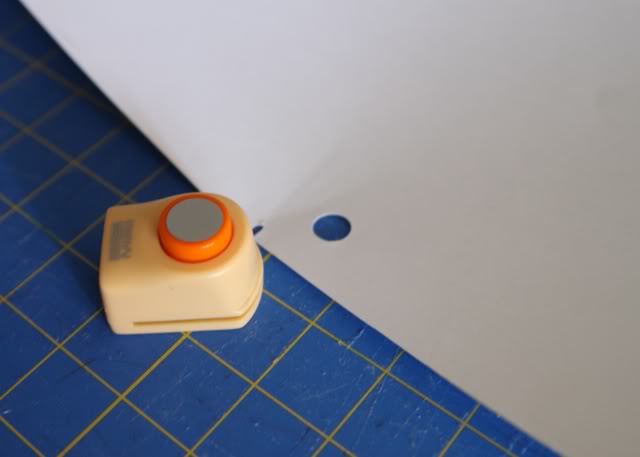 And each pattern gets hung up by size onto a garment rack! Easy to grab and put back! The pattern hooks string right through the hole to hold them.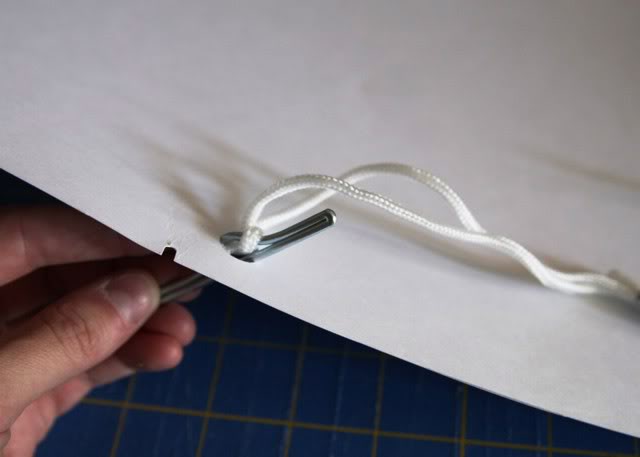 Well that's it for now! Gotta get back to work! Hope you enjoyed the peek!
Update: I had a few questions from this post and wanted to answer them.
Where so I buy pattern hooks and other supplies?
Amazon has a great selection of almost everything you need.
What do you use for your pattern templates?
I don't use the manila paper for my patterns….just poster board which I buy in large quantities from an office supply.
Which machines do you use?
I only have 2 overlock sergers. Both are a Brother 1034. I love the quality of the stitch on this machine and it is very inexpensive so I can run it into the ground. I have one I use every day and the other as a backup because sometimes machines break or need parts. I do have to replace the knives on this machine pretty often though…..but that is probably because about 10 dresses get sewn on it a day. A great supply for those is Sewing Parts Online. They have great customer service over the phone too. Don't try to sharpen the knives yourself…..it won't work, the fit of the knives is too precise….and no knife shop will touch them. I also have a Brother Coverstitch which I use mostly for hemming. There are machines that will do both the overlock and the coverstitch but I like having a standalone machine for each function.