1. Design something. Design anything.
We are giving you free reign in this challenge. Design a piece of clothing, a unique accessory, a handbag, a pair of shoes, a piece of jewelry, an apron…..anything you feel moved to create. We just want to see fun, unique and challenging designs!
2. Use at LEAST one of the listed techniques in your creation:
Tie-Dye, Dyeing, Silk Painting, Fabric Painting, Batik, Marbling, Stamping, Transfers, Screen Printing, Felting or Embellishments
3. Submit your entry or entries by March 30th, 2011.
Multiple entries are allowed! Submit as many entries as you like but each entry needs to be submitted separately and must have a unique blog post (see how to enter at the bottom of the post). If you don't have a blog or website make sure we have all of your contact information and a complete description of your entry! There will be a gallery spotlighting all of the entries at the end of the contest!
4. After all the entries are received, a very distinguished, diverse panel of judges will narrow the entries down to 10 finalists and then will have a final week to narrow down the finalists to first, second and third place winners.
This challenge would not be possible without the generous prize donations from these amazing sponsors:
Dharma Trading Co.: Online store carries a range of products from Dyes, Paints, and Chemicals to Fabrics, Clothing Blanks, and Tools and has been supplying artists for over 41 years!
Paint the Moon: Professional Photoshop actions and fine art textures to make your photos shine.
Sew Hip Magazine: The UK's number one sewing magazine packed full of sewing patterns, techniques, tips and tricks, and fabulous features.
Above all Fabric: Online store carries designer fabric, notions, supplies, trims, ribbon and sewing patterns available for instant download.
Stephanie Corfee: Freelance artist and graphic designer, her work includes logos, print ads, web promotions and large format printing. Her artwork and illustrations can be described as bohemian, whimsical, and full of vibrant colors.

First Prize:
:: $100 Gift Certificate from Dharma Trading Co.
:: Sew Hip Magazine: 1 International Yearly Subscription ($120 Value)
:: Paint the Moon Photography Actions Set for Photoshop or Elements ($50 Value)
:: $50 Gift Certificate from Above All Fabric
:: $50 Gift Certificate from Lil Blue Boo
:: Art print from artist Stephanie Corfee ($30 Value)

Second Prize:
:: $50 Gift Certificate from Dharma Trading Co.
:: $25 Gift Certificate from Above All Fabric
:: $25 Gift Certificate from Lil Blue Boo

Third Prize
:: $25 Gift Certificate from Dharma Trading Co.
Each judge brings a unique perspective to the Challenge so that no design style or color combination will be overlooked! Judges will be looking for creativity, uniqueness, personality, etc.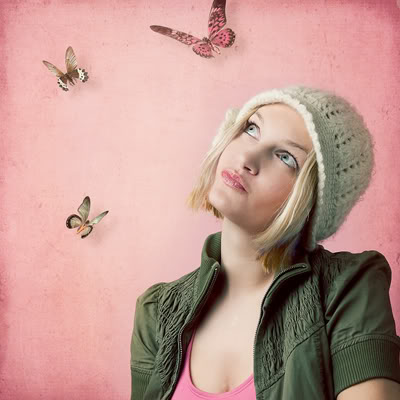 Annie from Paint the Moon

Corina from Corina Nielsen Photography

Ashley from Make It and Love It

Dana from Made

Kristin from Sew Mama Sew

1. Design and create your entry. Post photos of your finished outfit/outfits on your personal blog or website. Make sure to include a little bit about your inspiration and techniques you used in the creative process! Make sure to include the words "Lil Blue Boo / Dharma Trading Design Challenge" in your post and link back to www.lilblueboo.com.
2. Email a link to your blog post along with ONE photo or ONE photo collage of your creation for the Design Challenge Gallery to my sidekick Lisa (lisa @ lilblueboo dot com). Please keep in mind that this might be all the judges will see of your design in the initial judges stages so make it a good photo!
3. All entries due by March 30th, 2011 at midnight (Pacific time).
4. International entries and domestic entries are welcome, however certain prizes are only available for domestic entries.
Please feel free to email if you have questions about the contest! Thank you!
Grab this html code and paste it into your sidebar to display the Challenge badge to show you are participating!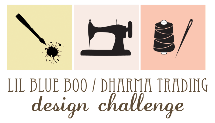 Dharma Trading
has a great page for ideas and techniques that you can find
here
and is also your one stop shop for challenge supplies! Stay tuned for guest posts, tutorials and related challenge posts that will be added over the next few months!
We can't wait to see what you create!
*A special thank you to Corina from Corina Nielsen Photography for designing the Challenge logo!