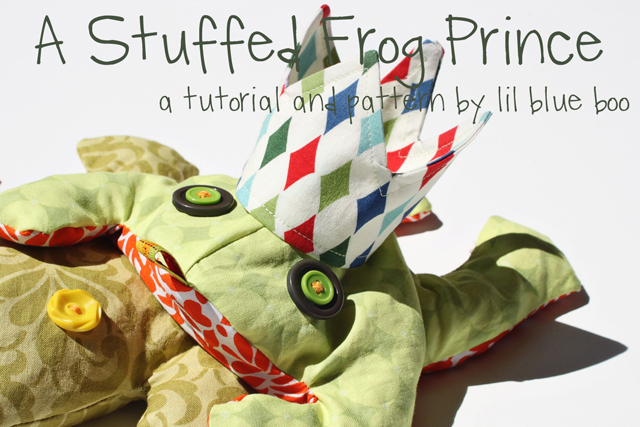 I'm slowly updating some older Lil Blue Boo patterns to make them easier to download. This is an updated version of the Stuffed Frog Prince Toy Pattern with both the frog toy/beanbag and frog prince crown pattern combined into one PDF. The very first frog I made was a VERY OBESE frog….but we still have him and he makes a great doorstop.
So many options….here's just a few:
Mix and match fabrics and ribbons to create unique frogs for toys and gifts.
Stuff with soft polyfill or make it a beanbag.
Use strategically placed fabric designs to replace button eyes for children under age 3.
Add a rattle in the middle and ribbon tags to make a "taggie" infant toy.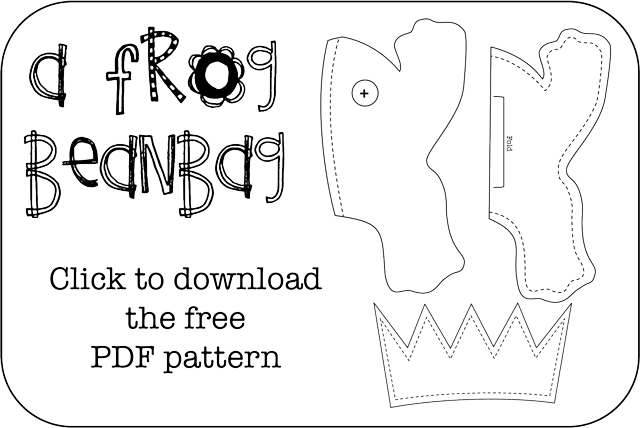 How to make the frog:
Step 1: Cut two top pieces and one bottom piece on the fold using the pattern download.
Step 2: Place the top pieces right sides together and sew them together along the top with a 1/4″ seam.
Step 3: Add button eyes and a pin a ribbon tongue in place.
Step 4: Place the bottom piece on top of the top piece, right sides together and sewed all the way around using a 1/4″ seam….leaving a 2″ gap on the inside of one of the legs. Notch all of the curves and turn the frog right side out and stuff! Sew the 2″ gap closed with a needle and thread.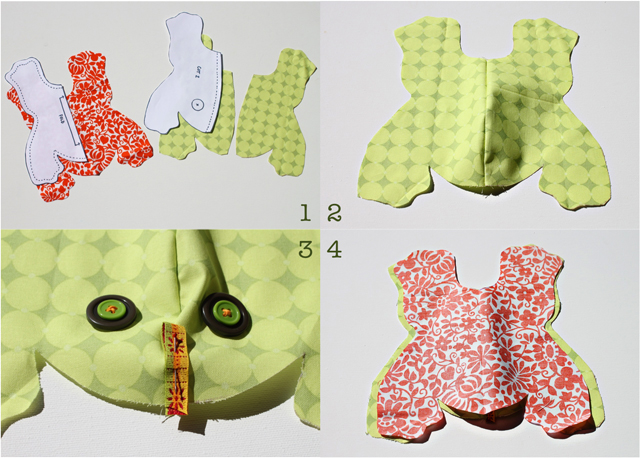 To make the crown:
Note: You can modify the crown to have more "spikes" if you want or shorten it a little…..but it will be a good starting point if you want to "crown" your little frog prince.
Step 1: Place 2 piece of fabric right sides together and pin your template together with them. I use a disappearing ink pen to trace my crown just to make sure it is perfectly proportioned when I cut it out.
Step 2: Carefully cut out the crown pieces and re-pin together if necessary.
Step 3 & 4: Using a 1/4″ seam, starting at the bottom middle of the crown, sew all the way around the crown. You might want to draw your sewing lines with your disappearing ink pen to make sure your point are perfect because if they aren't you'll be able to tell! Make sure to leave a small 1.5″ inch gap at the bottom so that the crown can be turned right side out.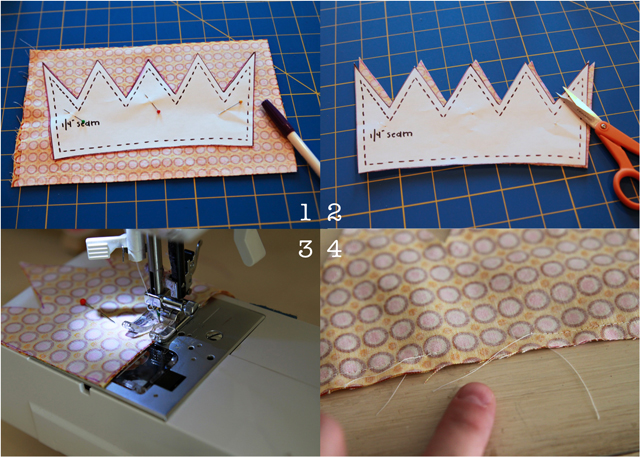 Step 5 & 6: Carefully cut trim the seam allowance around the points and notch around the "valleys", otherwise you will have too much bulk when you turn it right side out.
Step 7: Turn the crown right side out. Use a skinny object like the end of a small paintbrush or the dull end of a kabob skewer (that is what I use) to push the tiny points out. Then iron your crown flat.
Step 8: Topstitch 1/8″ from the edge all the way around the crown.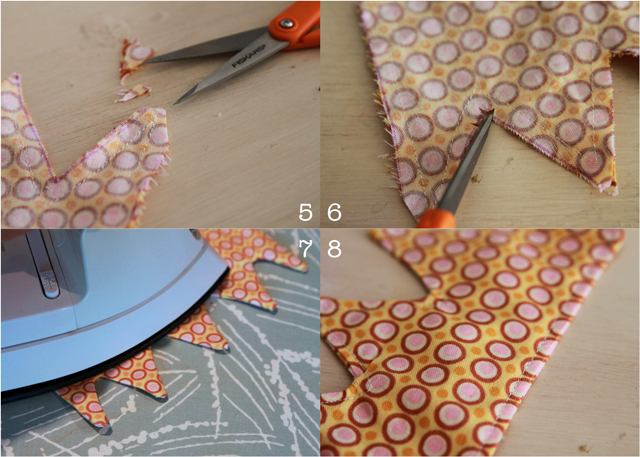 Step 9: Using a needle and thread, use a blind stitch to sew the crown together in the back. I knot each stitch as I go.
Step 10: (optional) Use small knots around the base of the crown to attach the crown to the frog.

A finished frog prince!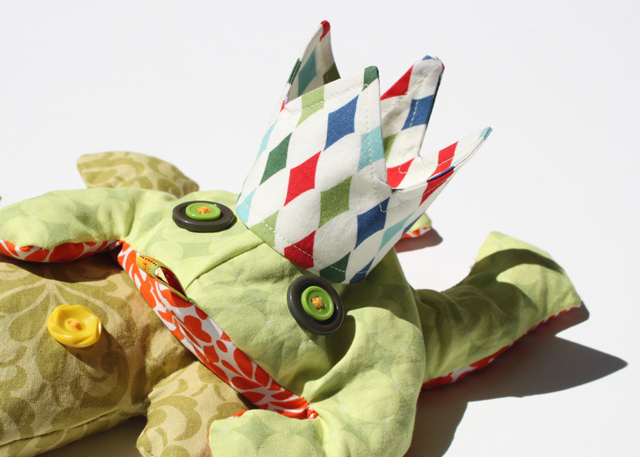 Margaret from With or Without Nap made these adorable little frogs using this pattern download. I love how she used the fabric design for the eyes (and I'm such an impatient crafter…..I love anything that eliminates a step from a project!)

Copyright © 2009-2011 by Ashley Hackshaw/Lil Blue Boo. All rights reserved. This frog pattern is for personal and home use only.