When you are just starting out as a business it's natural to look at other businesses and wonder how they got there.  I thought I'd share a little of my story and answer some questions that I've gotten from readers to make this as helpful as possible. Keep in mind, everything written here is my own personal opinion and I encourage you to do as much research as possible!
Starting Out
1. Do a little research. Obviously the first question is what are you going to sell? Do an Internet search and make sure there aren't 4,000 people selling an identical product and the market is already saturated. If there are 4,000 people already selling it then you need to ask yourself: how can I differentiate my product in a sea of similar products?
2. Just go for it. Oh how I wish I had a screenshot of my Etsy shop when it first opened!  It was so sad and empty looking…but I had to start somewhere! When I first opened my Etsy shop it was to sell custom portraits and nursery art….and I never had ONE sale off Etsy. I had better luck with my painting business at a local level offering them in boutiques and leaving my business cards around town….so I closed the shop for a while. Eventually I reopened my shop when I started making one-of-a-kind handmade clothing items and patterns.
Sometimes it's easy to get lost in the details…..and honestly I think this is what holds so many people back from starting their small business. I often encourage people to just open a shop…..all you need is a name. You don't need a fancy logo to get started…..just a few minutes to open an Etsy shop.  Once you have a few things listed, start marketing to your friends.  Don't be discouraged if you don't have a a ton of sales immediately.  Starting out small though gives you the flexibility to shift your business model and figure out exactly what is going to work for you without investing a lot of money upfront!  As you start to grow your business you can invest in it more…..a better logo and graphics, better packaging, more products etc.
3. Pick a great name……and make it easy to spell and say.
I picked mine on a whim…..but if I could do it all over again I'd pick something easier to pronounce. My daughter's nickname is Boo and I added the color blue to it so it would rhyme. I used to mentor the cutest little boy named Li'l Ron…so that's where the Li'l came from. I left the apostrophe out on purpose.
I've had to compensate for the fact that the name is hard to say: I own the domains www.littleblueboo.com and www.lilblueboo.com so I don't have to worry about mispronouncing the name to people I meet on the street. I just say "Little Blue Boo" instead of having to explain that it's "Li'l" but without the apostrophe.
If you think you might add other businesses down the road pick a broad name! Lil Blue Boo applies to my blog, clothing line, pattern line…..and many other things to come.
4. Etsy vs. Big Cartel.
I always recommend starting out on Etsy if you are selling handmade items or supplies.  It's a great way to test out a business because it's a reputable site for handmade and vintage goods and it has a built in community of customers.
I am curious about when you moved from Etsy and why. Mostly I would love to know how you started out, and grew from there. – Jamie
I moved to Big Cartel once I had a web presence with my blog. Paying attention to my traffic through Google Analytics I could tell that most of my customers were coming from my blog and Facebook and not through Etsy searches. Because of that it was an easy switch for me. But, I never moved entirely to Big Cartel. I still have an Etsy shop where I sell patterns and sometimes list clothing. I always recommend keeping an Etsy store if you make the move to Big Cartel because it's just one more way to generate new customers. On Etsy you only pay if you have a sale so there's no downside to keeping a second shop….and it's a great way for new customers to see feedback.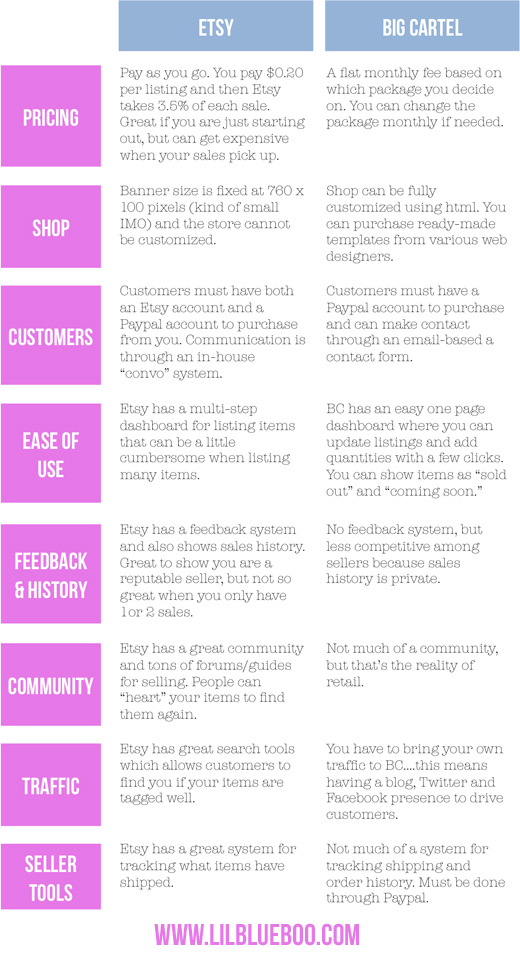 How did you decide the right prices for your products? How do you deal with family and friends asking for discounts? People who don't handmake stuff don't seem to realize that it's not just the cost of supplies but the cost of my time!  -Annie
Pricing can be complicated…..especially if you are on Etsy because you are competing against tons of other stores that look very similar and it's hard to differentiate yourself by brand. There are basic pricing principle but they often require some tweaking:
(materials + labor + overhead) x 2 = wholesale price
wholesale price x 2 = retail price
Personally, I've chosen not to sell my products wholesale, so I've priced my items somewhere in between the wholesale price and retail price. It lets me offer my products at a more affordable price to my customers and invest back into my company with the % that would have gone to a retailer. But selling wholesale is also a good way to get your product out to a broader range of customers….there are pros and cons to everything.  I'll be writing more on wholesaling, trunk shows etc down the road.
My advice is to list some items and test out your pricing. If you don't sell anything at a certain price point it doesn't mean your price is too high……it might mean you need some better photos and better marketing. If you try that and you still aren't selling, then you might try lowering your price.
As far as friends and family, that's a tough one. I recommend have a set "friends and family" discount of 10% or 20% and maybe only on certain items. Items that are in high demand should be reserved for paying customers because that is what keeps your store in business! On the other hand, your friends and family can be your best advertising….so maybe you can save imperfect items for them as "gifts."
My business seems to be taking off and I am a one woman show who hand sews appliques on onesies/shirts among other things. My problem is finding balance. Between taking care of the house, working part time and chasing a 20 month old, not to mention we are trying for baby #2, how do I find time to do what I love? How did you do it in the early stages before you had help? -Shazia
I think this is what everyone who owns their own business struggles with.  It's important to only take on what you can handle….otherwise you'll make yourself miserable. I also recommend finding help…..so you can focus on the aspects of the business that you love the most. For me, my true passion is blogging and making new things…..so I had to find people that could help me fill in the rest of the areas: filling orders, shipping, sewing etc. The hardest part of any business is figuring out how to grow in a smart way…..for me personally it's been growing in baby steps.