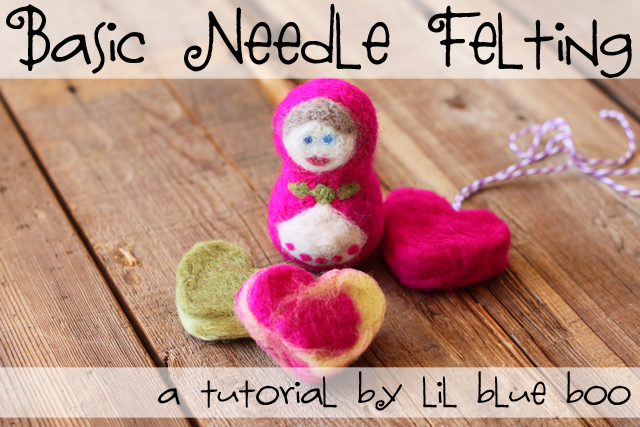 Yep….I'm still felting. Starting out with the small projects and working my way up! Needle felting is the process of felting/tangling one piece of wool to another using barbed needles. The needles take the wool fibers from one piece and drag them through the other piece where they tangle and attach the two pieces. There are two types of needle felting:
Applique felting: attaching wool yarn, wool felt or wool roving to a flat piece of wool fabric or felt.
Sculptural felting: creating a three dimensional piece of felt from wool roving.
In this tutorial I'm doing some sculptural felting….3-dimensional hearts….and a matryoshka (babushka) doll: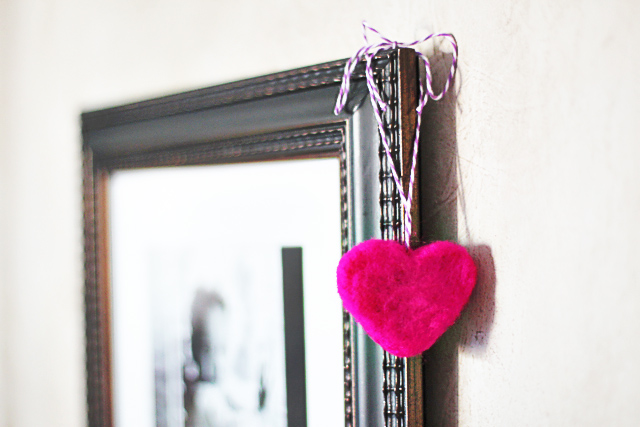 …..using 100% wool roving (wool pieces that have been combed) and a felting needle pen. If you are doing a free form you might need a needle felting mat too.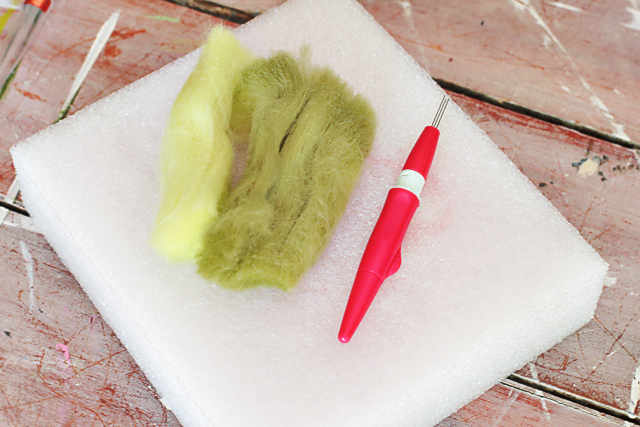 I used a heart shaped measuring cup as my form: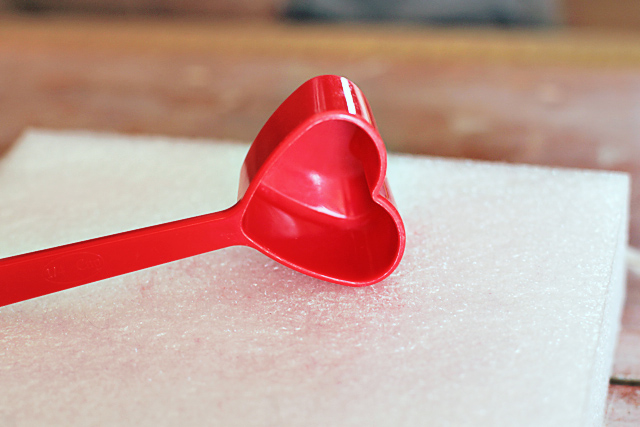 I filled the cup with bits of wool roving (mixing colors for some of the hearts I made) and started using the needle tool to carefully punch the needles through the roving. It's not necessary to punch the needles all the way through…..only into the center because you'll eventually flip the felt over and punch from the reverse side.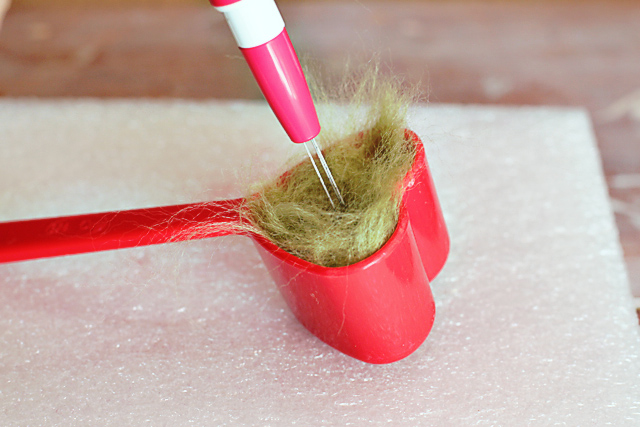 The needles' barbs tangle the pieces of roving making the wool thicker and denser with each punch. Every once in a while I removed the heart shape and flipped it over to the other side in the measuring cup: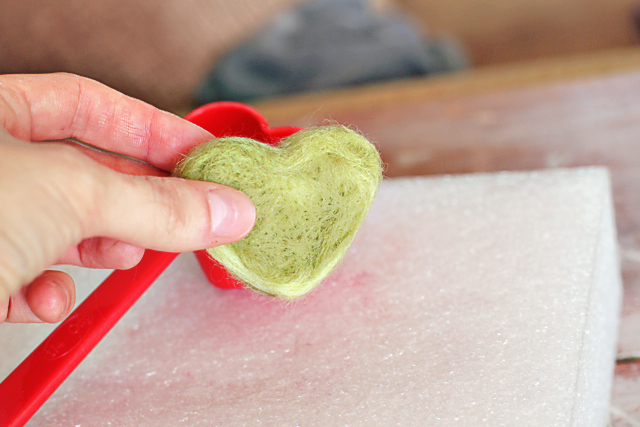 The felt gets thicker  and thc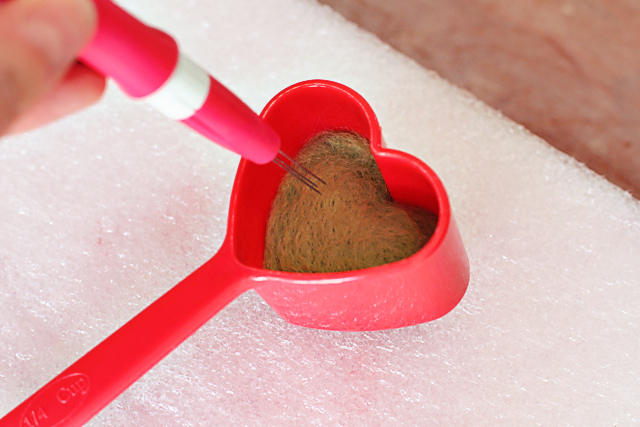 Keep felting until your shape is the density you want it: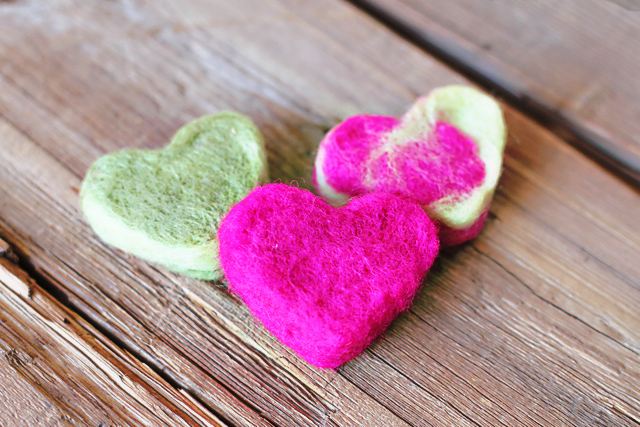 For free form sculptural felting, I made this little matryoshka doll: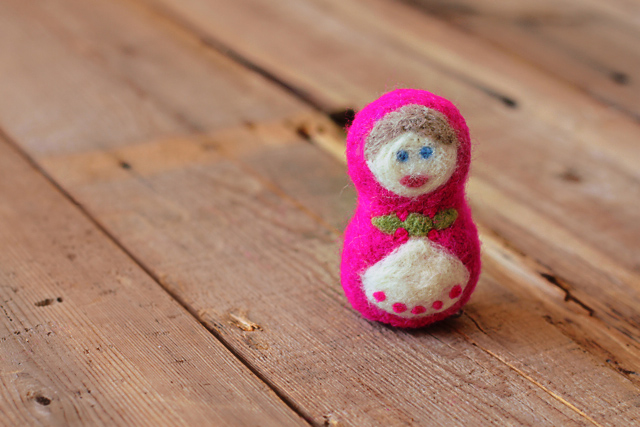 I started out with a base of 2 different sized felted balls (see tutorial here)….but you can roll felt and use a needle to create a form from scratch too: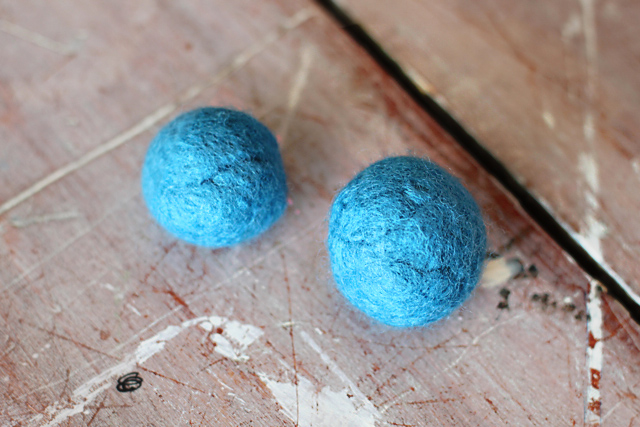 I used hot pink roving to connect the two balls….putting pieces around the center and using my needle tool to punch and connect them: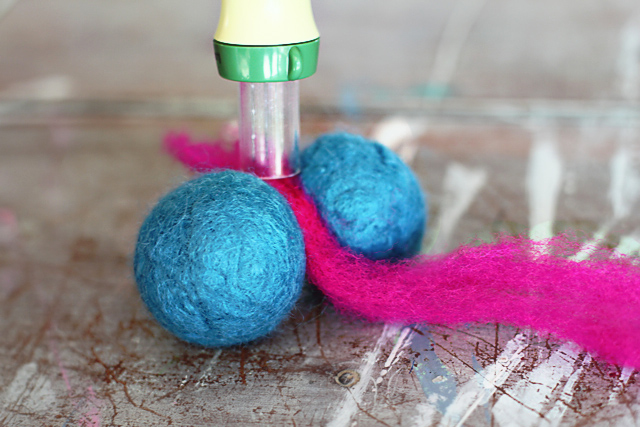 I started using small wispy pieces of hot pink roving to cover the balls….the felting needles barbs intertwines the fibers as you punch: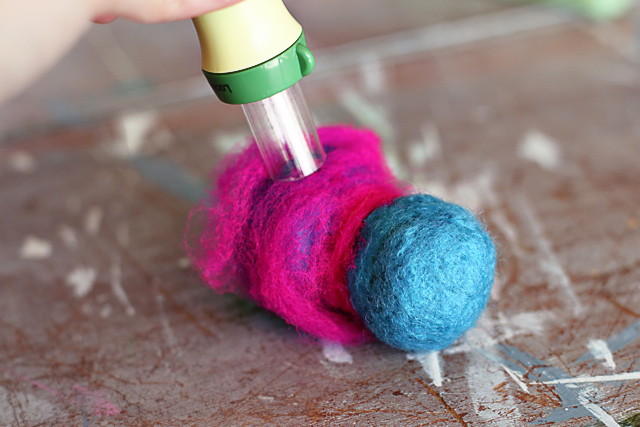 I kept punching and adding wool roving until the felt was completely uniform: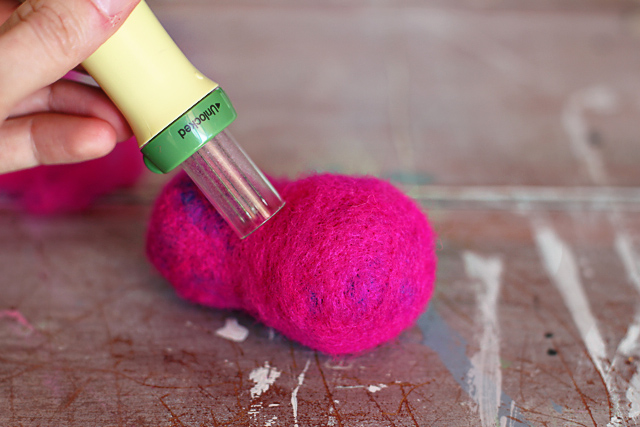 The base of my matryoshka: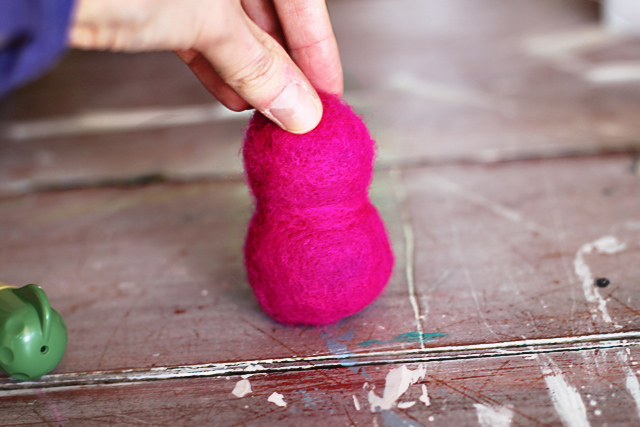 I used some natural roving for the face: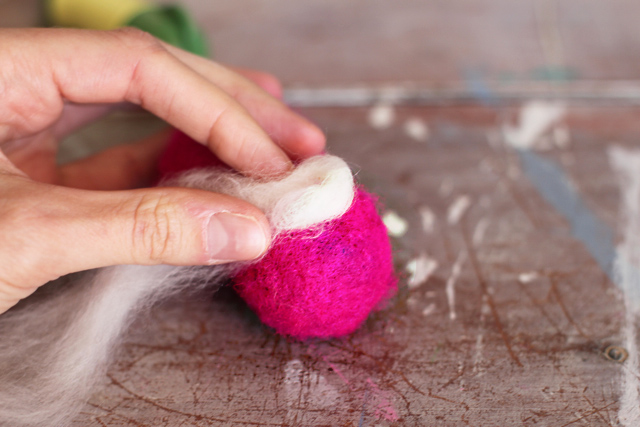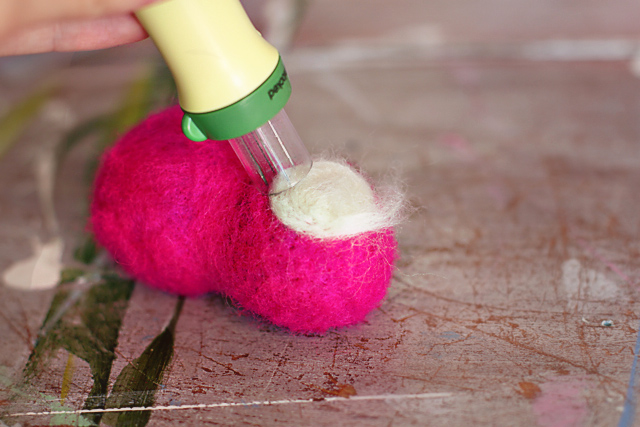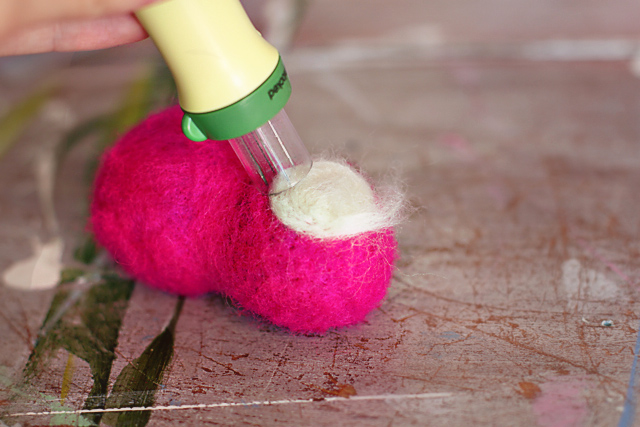 …..and for the dress bottom: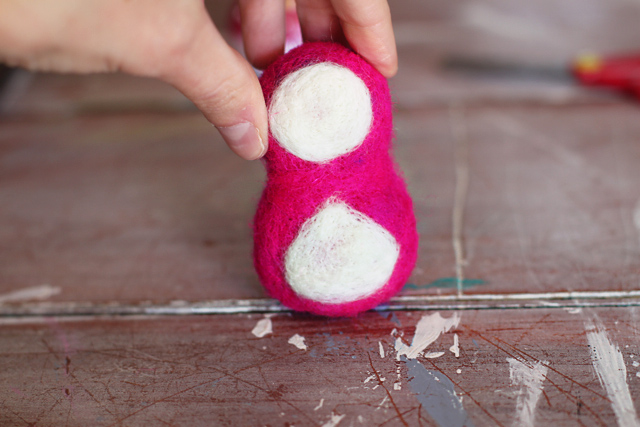 Tiny pieces of wool roving I balled up and punched with a felting needle pen for details…you can remove all but one needle for very small details: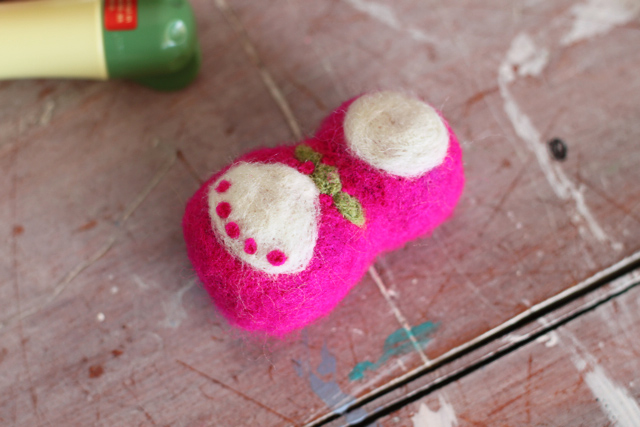 When I needed a VERY small amount of a certain color (eyes, mouth, hair), I used fabric markers to color some natural colored roving: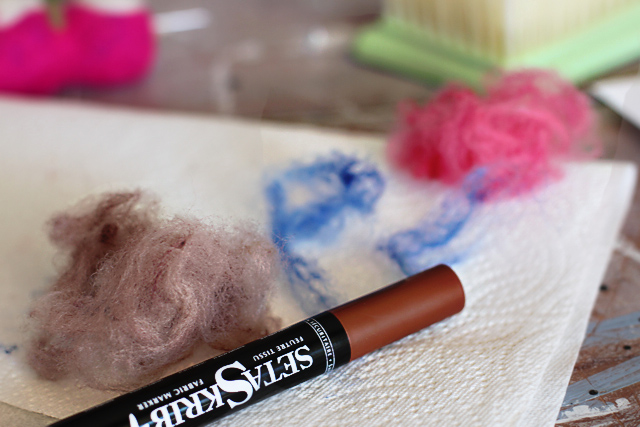 The finished matryoshka doll: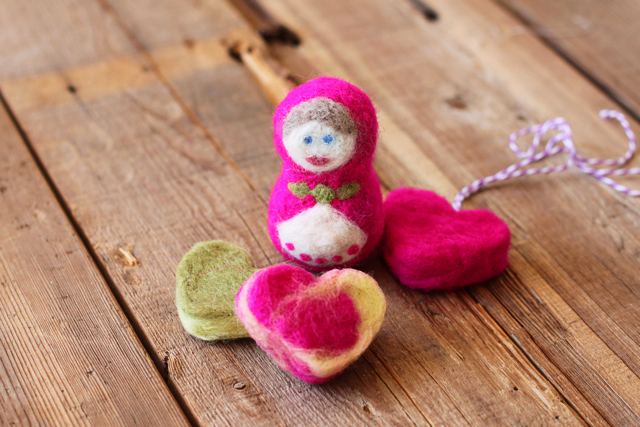 Oh….one MORE thing you can make. While making felt balls (using wet felting), I made this longer oblong piece of felt: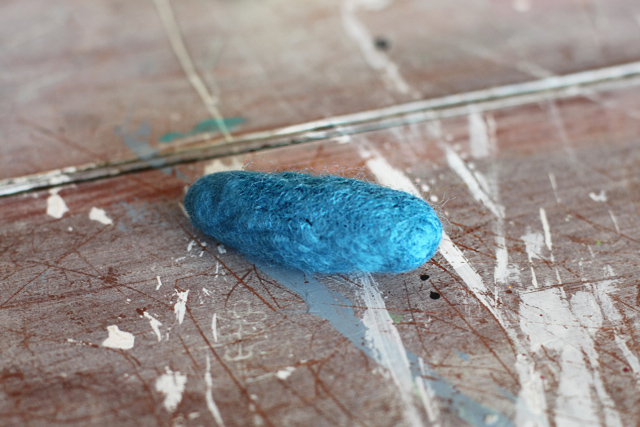 Once it had a full day to dry….I pinched it at the bottom like so: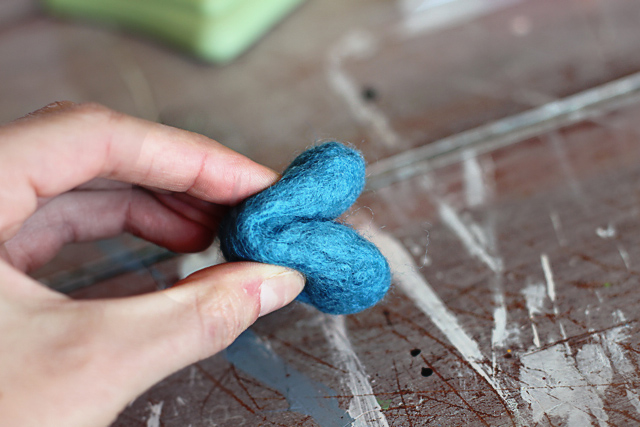 And then used my needle tool to connect the sides: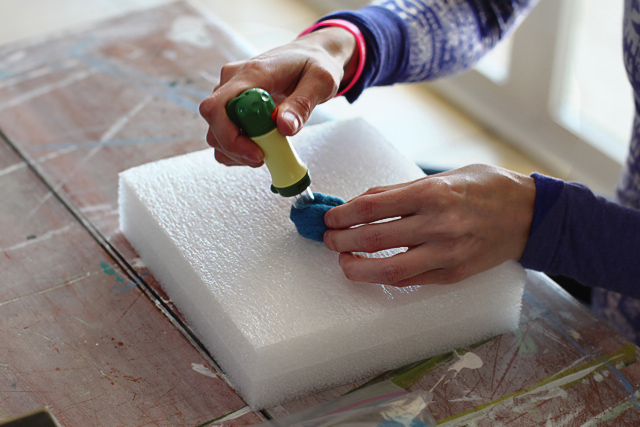 And the result is a heart!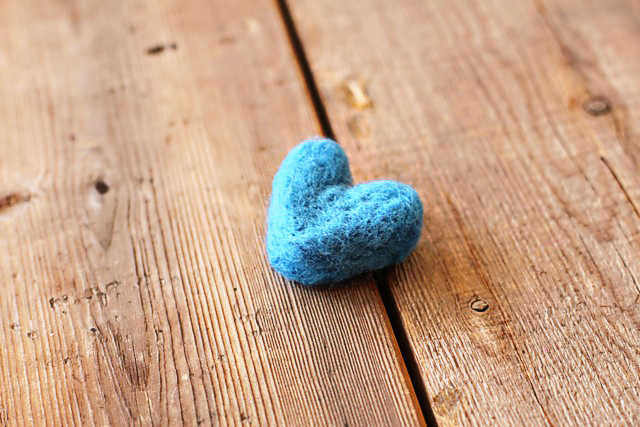 Click here to see other felt and fiber art tutorials I've done!
I purchased all of my felting materials and tools at Dharma Trading….click here to see their selection!