Just a quick little story:
The other day, just a few days after the one year anniversary of my dad's death, my mother was packing her car to head to North Carolina. She left her purse in the car briefly and as she jumped back into the car to do another errand her purse was nowhere to be found.  She lives in a gated community and it's usually pretty safe…..so it's likely someone was watching and quickly took up an opportunity to steal it.  It was devastating that someone would take such an opportunity but thankfully a few months back, she had color photocopied all the cards and her drivers license. My mom was able to quickly cancel all her credit cards and have new ones issued.  She had to go immediately to the DMV (for the second time in a month!) to get a new drivers license before she left the state.  She didn't have to wait long at the DMV and once it was her turn it only took a few minutes to get a replacement because she had the photo copy of the old version.  The DMV worker straightened my mom's wig (my mom shaved her head to lesson the blow for Boo when I shaved mine) before she took the photo and dried my mom's tears of relief that she was able to get a new license so quickly.
After getting her new license, my mom went to Target to purchase a new wallet and purse but only ended up getting a wallet because she just felt so sick about the whole thing.  She saw a purse she really liked…..but just had no more energy to make such a huge decision. It wouldn't be a huge decision for most people but my mom holds onto clothes and purses FOREVER…..I can't remember the last time she got a new purse! Anyways…..she walked away that day with just the new wallet. A few days later she was at church, and a new friend from her Griefshare class handed her a gift.  My mom cried as she pulled out the VERY purse she had been eyeing at Target (her friend didn't know).  My mother's friend exclaimed that an overwhelming voice had told her to go to the store and get a new purse for her before church. My mom wasn't even supposed to BE at church….she was supposed to be on the road back to NC…..and my mom's friend was shocked that she had actually cancelled her trip because of the tropical storm. She said she couldn't ignore the voice that told her to make the trip to Target before the service.
From my mom:
"God is so good to care about every detail of our lives…..even if we do not understand ….why I had this tribulation! I learned a lesson….never leave my purse for a second. Also, be sure to copy everything in your wallet on a color copier and put it away for safe keeping. Love, a blest mom"
*****
I re-photocopied my wallet today…..and so I'm passing on the tip to all of you too. Share it with all your friends too!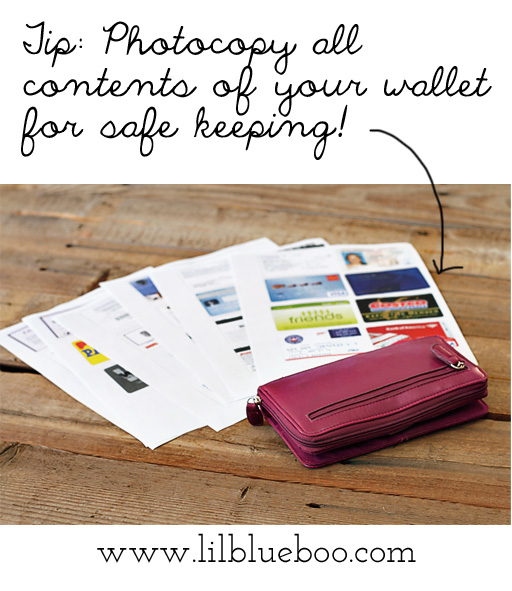 Don't leave your purse unattended!  Even in your driveway 🙂