A few things I learned recently:
1. I practice "unattachment parenting."
Boo had been home sick and was finally ready to go back to school yesterday. I had planned to drive to L.A. for the day to pick up a fabric order and run a few errands. Mr. LBB was around in case she got too tired on her first day back and needed to pick her up.
I was about 45 minutes into my drive when I got a phone call:
Mr. LBB: Where are you?
Me: I'm about 45 minutes out, why?
Mr. LBB: I have to drive to Arizona.
Me: When?
Mr. LBB: Now. It's an emergency and I need to drive some supplies to the guys asap.
Me: Now?! So do I need to turn around?
Mr. LBB: No, I'll figure it out. Do you think Lisa can watch Boo?
Me: No, she's out sick.
Mr. LBB: Great.
Me: Just keep calling everyone we know until someone says yes…..

No one on our emergency list was in town or available. Can a 5-year-old be a latch key kid? Brett ended up driving his assistant Bonnie to the school to introduce her to the teachers and show her where to pick Boo up and then confirmed that his dad would pick her up from Bonnie when he was able to leave the hospital. It kind of reminded me of last summer when I had to go in for my first D&C and Mr. LBB was in Washington for 4 weeks: I had Lisa drive me to the hospital, Gicela took Boo, my sister-in-law Carolyn picked me up after surgery was over, then Gicela dropped Boo back off, Carolyn put her to bed, and stayed until I fell asleep. For as OCD as I am, my life sure does have the chaos factor sometimes.
The funny part is that Boo loves chaos. If someone new gets to pick her up from school it's "the best thing that's ever happened to her."
Is consistency important to kids? Maybe, but mine seems to thrive off of inconsistency…..
2. I have no idea what the price of gas is….or anything about gas for that matter.
On my way out of town yesterday I stopped at a gas station to fill up.  My credit card didn't work on the pump so I had to go inside to pay.
Cashier: How much do you want on your card?
Me: Oh gosh….um…..how much is gas?
Cashier: Depends on what grade.
Me: I get the first grade…..the lowest….what's that called?
Cashier: Regular?
Me: Yes! Regular! How much is that?
Cashier: $3.99 a gallon
Me: WHAT?!  That's insane!
Cashier: So how much do you want?
Me: Um…..errr…..oh gosh……
(note: I get really flustered when I have to do math on the spot.)
Me: How many gallons do you think my tank holds?
Cashier: I have no idea.
Me: Well how much does a regular tank hold?
Cashier: 20 gallons?
Me: I have a Prius. I don't think it holds that much.
Cashier: (clearly annoyed at this point) How about 10….
Me: 10 sounds reasonable. But I think I have a little left in the tank….
Cashier: (clearly super annoyed) How about 8……
Me: Yes, 8 gallons…so that would be……uhh……
(thinking about what 8 x $3.99 is)
(obviously if I round up to $4.00 the math is easier)
(problem: under pressure I can't think to round)
Me: Just charge $42.00 to the card.
Cashier: That doesn't make sense.
(panic attack sets in)
Me: Sorry….$35?
5 minutes later…..
Me (to myself): FREAKING FUDGE! (a nicer version of what I actually said) I have to go back in there??
Me: Um….I need a refund. $35  was too much. Sorry. I'm an idiot.

2 minutes later…..
Me: After all that I forgot to have you ring up my coffee and donut.

1 minute later…..
Me: Can I use your restroom? Can you hold my donut and coffee? I have an issue with taking food into public bathrooms.

I can never show my face at that gas station again.
And, before you label me as "clueless"……I CAN tell you the price of almost every brand of cereal at every grocery story I shop at. I am very in touch with the cereal market…..the gas market, not so much.
3. If you give me a bigger car, I'll just buy more fabric.
Yep….here's the Prius filled to the brim yesterday. It's a good thing I have a reverse cam on the car.  Although, I didn't know it for a while…..I guess I'm just clueless about cars in general:
Me: I love my new car, but I wish it had a backup camera.
Mr. LBB: It does have a backup camera…..look at your dashboard when you reverse.

Is there anyone else out there that can never figure out how to turn on the lights or the reverse windshield wiper on the first try? Yep, me too.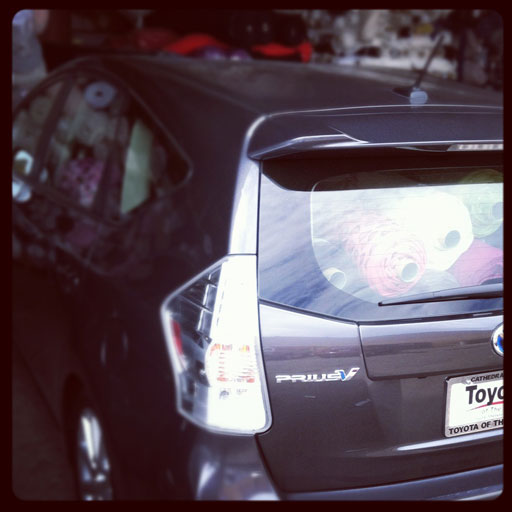 4.Vampires are real.
I was in the doctor's office today getting a B-12 shot.  No idea what it's for except that the nurse said the doctor wants me to get them for 4 weeks. I remember Madonna getting B-12 shots on tour. Sweet! The nurse said it will help with energy. If it helps with energy then shouldn't I just get them all the time for the rest of my life? I mean, who can't stand to have a little more energy?
Waiting for the nurse I had to do a double take at this huge banner. My first thought was: weird…..they are promoting a vampire movie…..in a doctor's office. Then I realized it was promoting platelet-rich plasma….whatever that is.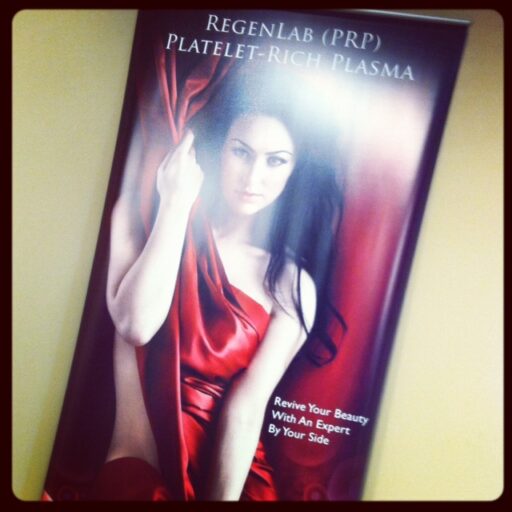 Then I looked over and saw this on the table: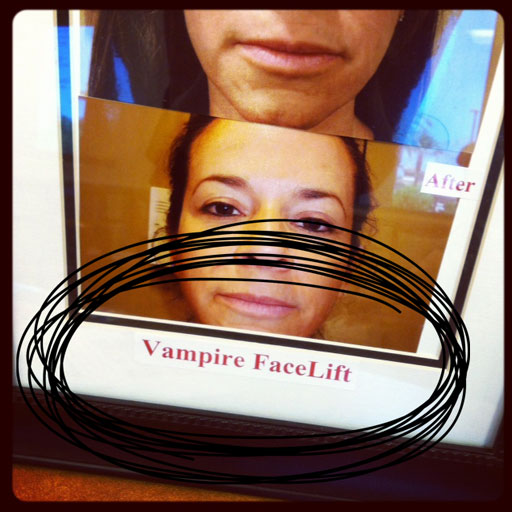 WTF!!! Am I in the right place???
I asked the nurse what was up with the "6 foot tall vampire chick banner" in the waiting room. Her answer? I don't know what you are referring to.
Then I said: Don't worry, your secret is safe with me. Are you friends with the Cullens?
Just kidding, I didn't say that…..but I wanted to……