In college I went 4 months straight eating a mixture of 1 part plain yogurt with 1 part Grapenuts cereal. And it had to be the right ratio. And the Grapenuts had to be added periodically because I have a standard of deviation for sogginess.  After 4 months I never ate it again. Ever. I eat other cereals though and I still pay attention to sogginess.  I'll pour a bowl of milk and then add a few Apple Jacks at a time.  I'm such a creature of habit. Excess habit. That's a nicer way of saying OCD. If I find something I like I'll eat it over and over and over until one day something new comes along.
One thing that I will never eat willfully: plain sandwich bread.  I'm not talking about dinner bread…..I'm talking like a loaf of sandwich bread.  Unless it's covered in peanut butter and jelly.  But now I can't eat peanut butter because my mom says it's full of bacteria. Yesterday the refrigerator was down to a bare minimum and I was so desperate that I ate some Soybutter.  It wasn't as bad as I thought it would be. It only took me 2 years to try it. (This is why I can't make Boo try stuff she insists she doesn't like…..because I won't.) Oh yeah, back to the sandwich bread…..just the smell of it makes me nauseous. It smells like fish bait to me. Probably because when I was little we used to ball up little pieces of sandwich bread to catch fish.  It reminds me of ducks too…..for the same reason. Not that we tried to catch ducks with hooks.  Who would want to catch a duck? And in conclusion, the bread also reminds me of investment banking because everyone knows that if you split a loaf of bread apart you can sell the slices for more than the entire loaf but you have to factor in the costs of separation too. 
So on Sunday Boo and I went to church. Mr. LBB was working…..and he was working last Sunday too……so if anyone noticed I have been by myself the last few Sundays: our marriage is fine. Anyway….. this Sunday was communion and they cut up….o…m…g….sandwich bread.  I started sweating and had a panic attack. Where are the wafers? I love those. I had a vision of my gag reflex kicking in when it was time to eat the bread…..and I sit in the front by myself….where no one else sits…..because I get claustrophobic and hot and, well, here is less likelyhood that anyone will sit by me up there. So I spent 5 minutes with intense concentration: building up saliva……so it would go down easier. I even thought about hiding it in my purse…..but….it's the body of Christ….and that seemed sacrilegious.
So what's my new thing? Hannah's Tabouleh. I buy it by the carload.  Last week I went to a different Costco and they were out of it and I almost cried. For a fraction of a second I thought they had discontinued it and replaced it with their own quinoa-meets-tabouleh mix. It was one moment where joy could not be chosen. Get cancer? Choose joy. No tabouleh? End of world. Mr. LBB checked back again a few days later and they were STILL out of it. I checked another Costco today and they had it. Phew. Now please knock on wood with me.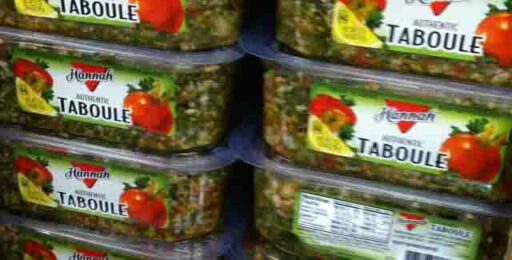 P.S. I know everyone loves to give their opinion…..and I always value your opinion…… but PLEASE no one comment that a. tabouleh is bad for you, b. it's healthier to make tabouleh from scratch, c. anything to the effect of "Hannah's tests their tabouleh on animals", or d. the tabouleh from "so and so" is better than Hannah's. If you write anything to ruin my relationship with this tabouleh, we can never be BFFs. (Okay, I actually wrote first: I will cut you. That's my unfiltered writing. Then I added "with safety scissors" to make it sound more benign. Then I just deleted it all and wrote the BFF thing.)
Speaking of cutting, someone commented recently that my writing has become more unfiltered in the last few months. Maybe chemotherapy killed the majority of my filtering skills. I've been doing a lot of story writing off line and I've kind of felt more like writing than doing anything else right now. It's writing that I'm not yet ready to share yet but every day that passes I get a little closer to unleashing the floodgates. Maybe it's just an "excess habit" phase. Lisa says I should do some "vlogging" as in video blogging which scares me because "in person" there aren't even floodgates….it's just a flood.
Oh, we watched Girl with the Dragon Tattoo last weekend.  When I first opened the DVD from Netflix I was all "what?! they are handwriting their labels now? who gets that job?" but then someone told me that is how the DVD is meant to look and I was all "awesome. they got me."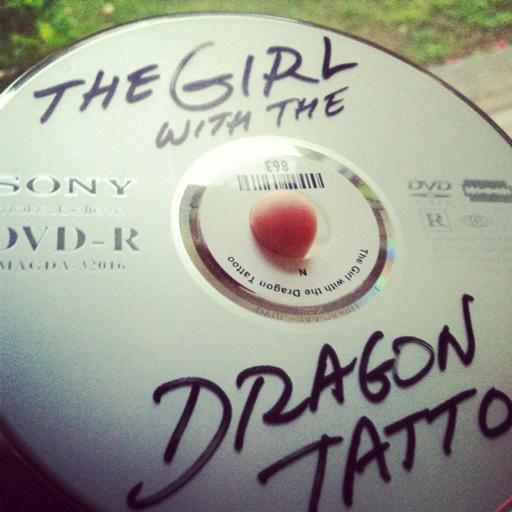 Have you watched it? We watched the original with subtitles. The new one was crazy good…..but with a few uncomfortable parts that made me have nightmares. Boo did NOT watch this movie and probably won't until she's 35. Dang….Rooney Mara is a bad ass. If I could wish for one skill it would be to have a photographic memory.  Watching it, I kind of felt bad for the original Swedish actors: hey, congratulations on the successful movie. we've decided to remake the entire thing……730 days later. Then I thought: Holy crap, what if Lisbeth Salander and Edward Scissorhands had a baby?! That would be craaaazeeeee!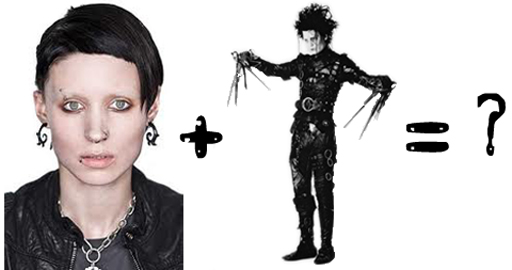 Photo source and source.
Except that all the sharp edges and darkness would probably cancel out…..and the result would be like something on my Pinterest "cute" board.
I can't stop saying Lisbeth Sahl-Lahnder either. Lisbeth Saaaahl-Laaaahnder. Lisbeth Saaaahl——Laaaahnder. Over and over. I've already said it 40 times in the last 10 minutes.
Oh and speaking of all the writing I've been doing…..if I were to write a book one day….it might resemble The Girl with the Dragon Tattoo. Only with me as Lisbeth Saaahl-Laaaahnder. Minus the piercings and creepy rape scene.  And without the murders and the Nazis.  And delete the parts with the motorcycle and violence. And I'm Swedish. My brother's nickname is Swen. Growing up we used to say Sven Svenson from Sveden. all. the. time.  Nevermind….that wouldn't make a good book.
P.S. Mr. LBB's nickname among a group of our friends is "the filter" because he's great at passing along just the important tidbits. I tend to ramble and go off on tangents. For example, if he had written this post he would have just said:
Remember those Grapenuts that Ash used to eat? Well, she likes tabouleh now. Oh, and we watched The Girl with Dragon Tattoo this weekend.
And THAT is why we make a good team.

Update: Yes, I did end up taking communion.  Thanks for asking. Am I allowed to bring my own "bread" next time though? I'm sure there are people that don't care for the flat wafer bread as well. They can't be expected to make everyone happy. It's just like when I bring my own drinks in my purse to dinner parties.