I thought I'd share this because it's a huge part of our family……we eat butcher block dinners almost 5 nights a week.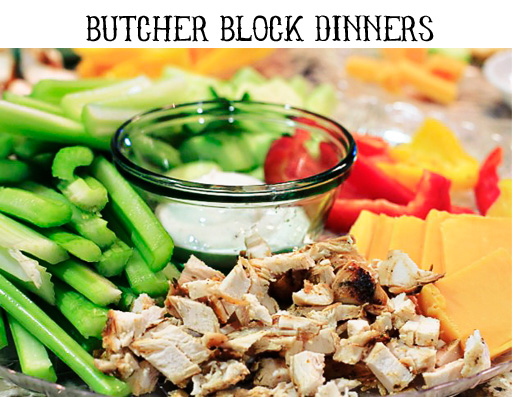 I buy veggies in large quantities from Costco and we chop them up every night into finger food. Veggies vary by season but they typically include a variation of the following: celery, cucumbers, bell peppers, tomatoes, and broccoli.  We sample cheese, fruit and crackers too. On the weekends I'll add in a few sushi rolls. I use large platters that I get from the 99 cent store….and everyone gets their own platter because each plate is usually a little different:
(Note: Boo is a little picky at times…..so she might get a chicken tender thrown in……or a few pieces of hamburger.)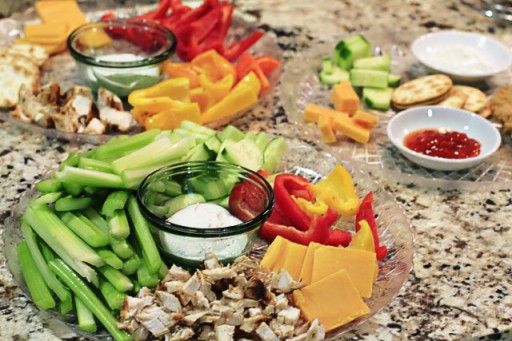 Each platter gets a small bowl of homemade ranch dip (sometimes Hidden Valley Dip mix or the all natural alternative). And we always include chicken….chopped up into tiny pieces (a habit I picked up from my mother-in-law Gale)…..and it's eaten almost like a little concoction: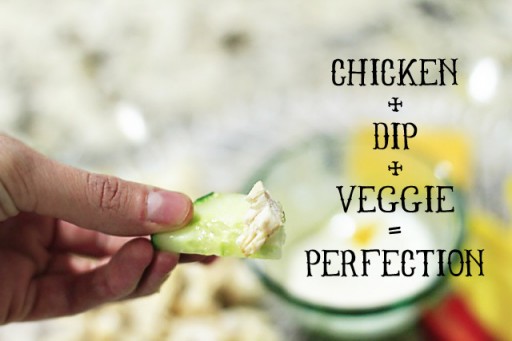 I cook the chicken on my Cuisinart Griddler….because it's quick and easy to clean up. I usually cook enough chicken for 2 days and it's seasoned with coarse garlic salt and pepper. I love that it's just a little bit crunchy: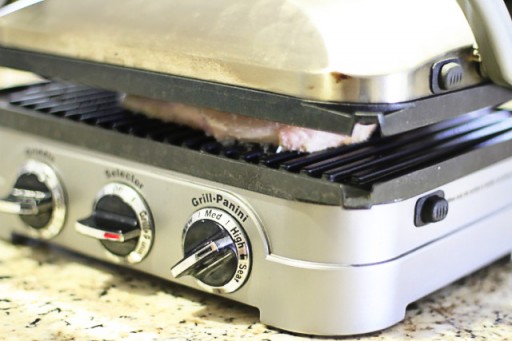 Reasons why we love it:
1. It's healthy.
2 Little planning involved.
3. Super filling.
4. Easy to mix it up with variety.
5. We never waste food because we cut up what's going to go bad before it can.
6. We can prep ahead if needed.
7. If Mr. LBB is running late…..I just pop his platter in the fridge.
8. Each platter can be tailored for each family member. Mr. LBB loves tomatoes, I love cucumbers, Boo loves water crackers……
Sometimes we eat at the table and sometimes around the coffee table while watching a movie…..it's easy to set out and easy to clean up.
Update: After seeing a few of the comments I wanted to mention that we also add bits of steak, random prepared salads from the deli and even chicken tenders too. It's a good way to mix in leftovers with veggies!