Remember when I sent out those journals for my Li'l Journal Project?  Well, next week I'm starting an extension of that project….something that I've been wanting to do for a long time now: a journaling series……daily prompts and activities that we all work on together. If you've ever wanted to write, doodle, keep a diary, start an art journal or just document snippets of your life…..now's the time to start. Not sure it's for you? Use it for inspiration, leave it as a legacy, use it to write a memoir, make it a family activity, unleash your creativity, uncover your authentic self…..or simply use it to fill time on the bus or train…..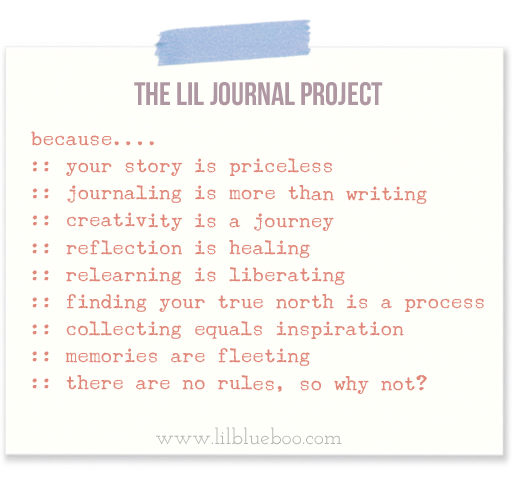 You can get your daily prompts at the following places:
Right here on the blog
@lilblueboo on Instagram (#theliljournalproject)
@lilblueboo on Pinterest (The Lil Journal Project board)
Right at the start will be a few exercises to help you get over any fear or anxiety of keeping a journal. There will be no pressure. If you miss a day…..no biggie. If you want to skip a day or skip four days…..you can do that too.  If you want to check it out first and start in a few weeks……perfect…..better late than never!
It won't be your typical journal. Some days you might be asked to make a list and another day to sketch something small. On another day you might be asked to go back to a page you are unhappy with and make it new with white out and sharpies. An activity might span over a weekend: watch a favorite movie and keep your journal handy to copy down quotes. Some of the harder days will be when you are asked to jot down early memories like who do you remember from your Kindergarten class…..or sketch out your childhood bedroom.
Here's my promise: you'll have fun…..and you'll treasure this book. You'll be inspired by YOU.
(Note: if you have kids old enough to write or draw they can do it too….and it can be a fun family activity)

Here's your assignment right now, JUST so you'll be ready when it starts this week…..make sure to PICK up a sketchbook like this one for each person over the weekend or early next week! Mine measures about 8 x 11″….anywhere around there is fine. Just make sure it has a hard cover (i.e. no leather, fabric, unless you don't mind altering it). If your budget is tight …..just pick up a notebook at the dollar store….the great part about this project is that there are no rules and I don't want anything to hold you back from participating if you want to.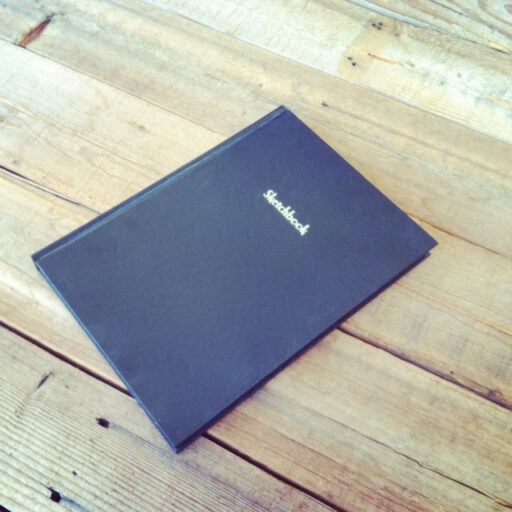 Other things you might need right at the start:
A pencil and a black pen*
*any kind you want.  I use one of Boo's princess pencils and a black Precision pen or a black ball point.
Crayons, colored pencils or markers
White Out or correction tape

Other supplies and items may be added as we go along but there's never any pressure. It's all about making do with what you have and creating a book you'll want to write in, work in and flip through for years to come.