We recently went solar…50 solar panels installed on the roof of our house.  It's exciting to try to be more green.
So now my new focus is to try and reduce waste in the kitchen. We've done pretty good until now….we always have way more recycling than trash: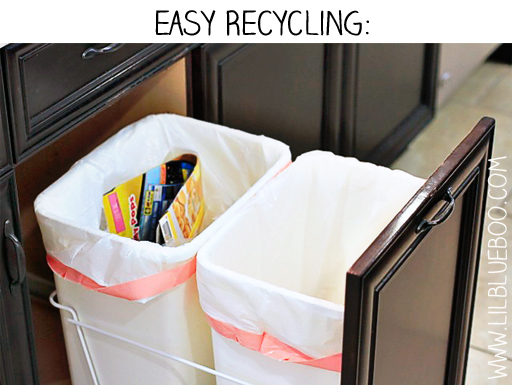 I think paper towels were our guilty pleasure.  I recently added a drawer full of white hand towels to a drawer in the kitchen.  You can buy them in bulk (I got mine at Costco):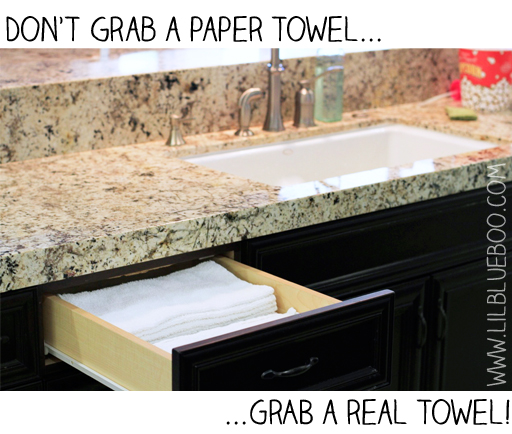 Now instead of using a gazillion paper towels each day we use far less.  It's easy to grab a quick towel….much easier than the "re-useable" paper towel system I think.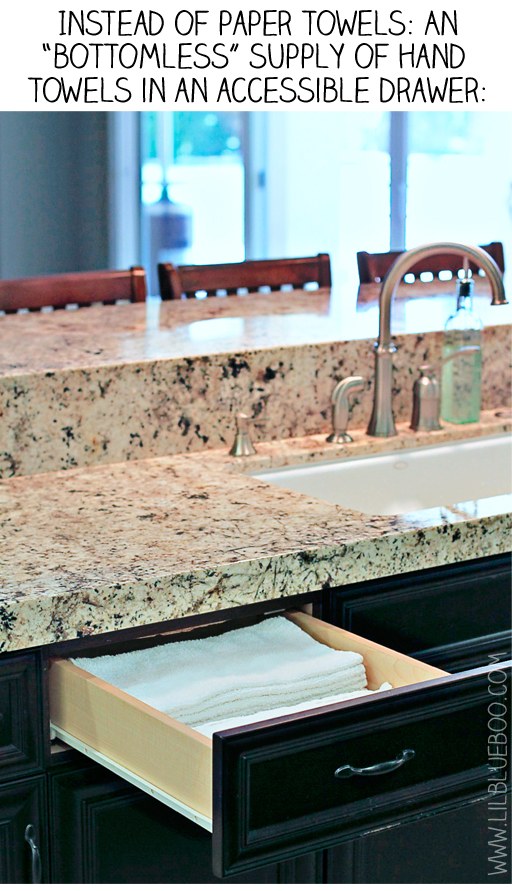 I even use them to mop….as reusable "swiffer" attachments:

All the used hand towels have a place to collect when they are dirty too: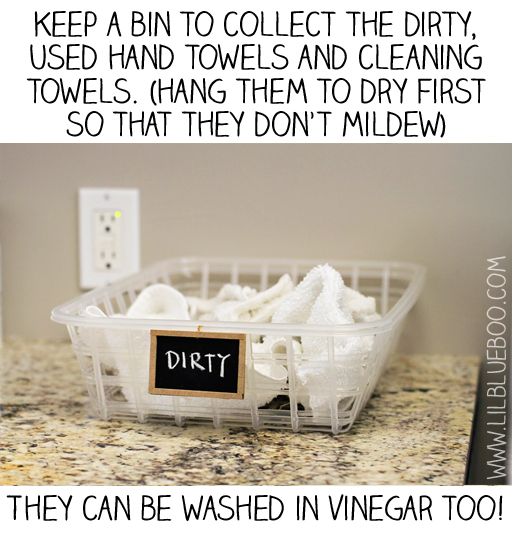 This is one of  my favorite eco-friendly tutorials….there's something so gratifying about seeing the tarnish vaporize!  Click the image below: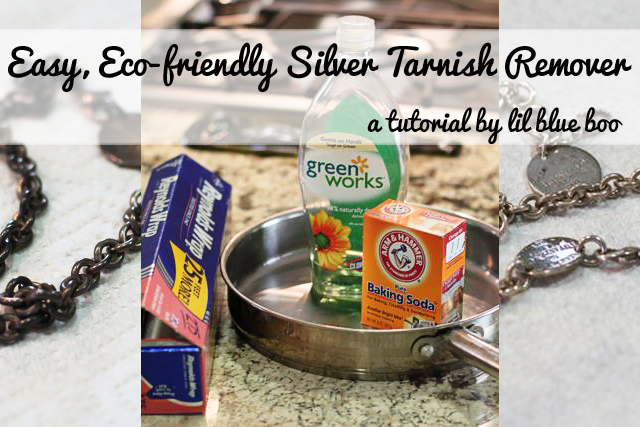 I asked all of you on Facebook for tips and there were some great ones!  (The post is here if you would like to read through them all or add your own.)
A few of your tips:
Soak oranges in white vinegar in a mason jar for 7-10 days and then use the infusion in a spray bottle.  Awesome for cleaning counters, sink, etc – smells good too! -Alexandra D.
I love boiling a cup of water with a few tablespoons of vinegar added in my microwave for about 2 minutes. Then keep the door closed for about 5 more minutes. Open the door and wipe down- super easy and super clean! –Jennifer W.
No plastic!!!  No teflon, no sponges, no chemicals. For kids buy ceramic dishes and glasses from thrift stores. Fabric napkins, old T shirts cut into rags for big messes. Baking soda and vinegar are amazing! Composting and creating less garbage (consuming all and buying less packaging). Good ventilation over the stove, efficient appliances. –Hana K.
Baking soda is a great kitchen cleaner. It can be used dry or made into a paste for some great "green" cleaning!! –Leanne S.
I save my lemon rinds and pulp to put in the garbage disposal. It works like an air freshener! –Sheena G.
We use all reusable items: un-paper towels, snack bags, bowl covers, wet bag that hangs on the stove for dirty rags, etc  -Joanna E.
I use a product called Grab Green Disposal Cleaner to make my stinky garbage disposal smell nicer!! I love, love, love it! I also bought a pack of reusable sandwich bags that are used for the kids lunches, snacks on the go etc. –Cambria C.
I was using a mix of 1/2 peroxide 1/2 water and a drop of dish washing liquid in a spray bottle to clean granite counters (and glass and mirrors) but then I switched to Norwex – Specifically the enviro cloth. Cost me $20 for 4 travel sized cloths and I use 1 with water and 1 to dry. Nothing else. Cleans my granite and my glass cooktop for 2 weeks without anything else. It's made with colloidal silver & so is antibacterial. Not to sound like a commercial, but I love it! I use 1 of the others instead of hand sanitizer or wipes for my toddler…and the other one to clean the bathrooms.  –Anna T.
I was using vinegar until someone recommended mixing a little tea tree oil into rubbing alcohol. I use it in a spray bottle – good disinfectant, doesn't streak and I like the way it smells. -Melinda S.
I'd love to hear more!  Leave your tips in the comments!