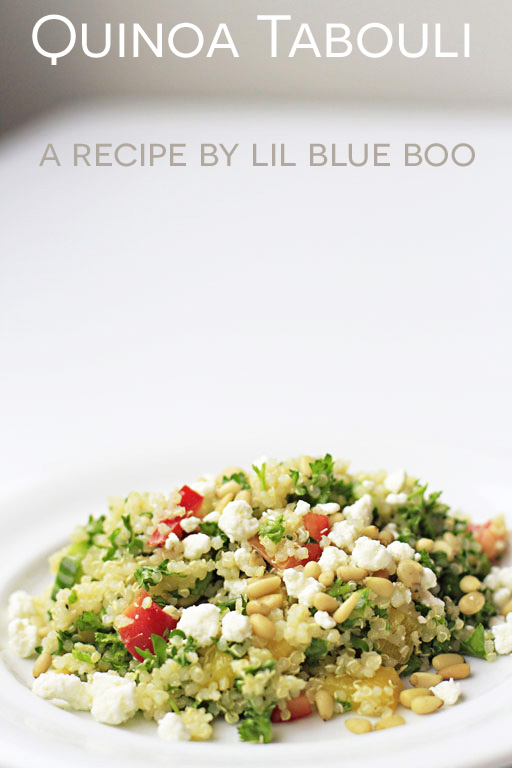 One of my favorite things to eat in the whole world is tabouli. I eat it with water crackers, with chicken, anything. Costco used to carry Hannah's but ours stopped. Costco makes its own too…but only during the summer months. Trader Joe's makes some but I end up tweaking the mixture (plus I eat the whole container in one sitting). So I came up with a blended version…and it's yummy. I eat it alone or sprinkle with feta cheese and pine nuts.
When I prepare it I don't really measure anything but if I had to approximate it you'll need:
2 cups white quinoa (dry, will yield about 4-5 cups when cooked)
1/2 of an English cucumber
1 yellow bell pepper
1 red bell pepper
1 bunch of fresh parsley
2 lemons worth of juice, squeezed (or about 1/2 cup)
1 tbsp garlic salt
1/4 cup extra-virgin olive oil
1/4 cup rice vinegar
fresh ground black pepper
Optional:
Feta cheese
Pine nuts
1. Prepare the quinoa the night before (according to directions) and leave it to chill in the refrigerator overnight. (you can prepare it the same day, but I prefer the texture once it's been chilled)
2. Finely chop the parsley. Mix into the quinoa.
3. Chop the peppers into small 1/4″ to 1/2″ pieces and add to the mixture.
4. Chop the cucumber into small 1/4″ to 1/2″ pieces and add to the mixture.
5. Mix in: garlic salt, lemon juice, olive oil, pepper.
Enjoy!
It keeps for several days, so I usually make a large bowl of it and it lasts for lunch and snacks during the week: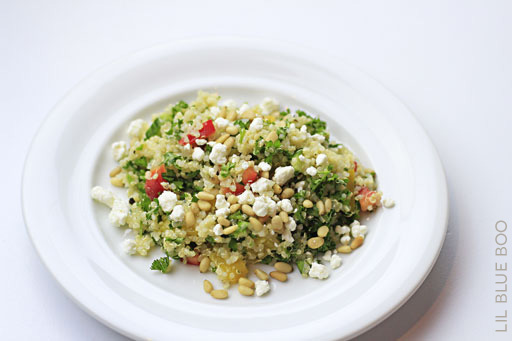 It's light and hearty at the same time.  A hard combination to master!