Dear Mr. Williams,
Everyone says you made them laugh, but you always made me cry.
I filled my composition books with pieces of the movies you were in. I shared them when I was inspired to tears.
These I kept nearby:
You'll have bad times, but it'll always wake you up to the good stuff you weren't paying attention to. (1)

All of life is a coming home. Salesmen, secretaries, coal miners, beekeepers, sword swallowers, all of us. All the restless hearts of the world, all trying to find a way home. It's hard to describe what I felt like then. Picture yourself walking for days in the driving snow; you don't even know you're walking in circles. The heaviness of your legs in the drifts, your shouts disappearing into the wind. How small you can feel, and how far away home can be. Home. The dictionary defines it as both a place of origin and a goal or destination. And the storm? The storm was all in my mind. Or as the poet Dante put it: In the middle of the journey of my life, I found myself in a dark wood, for I had lost the right path. Eventually I would find the right path, but in the most unlikely place. (2)

…the human spirit is more powerful than any drug – and THAT is what needs to be nourished: with work, play, friendship, family. THESE are the things that matter. This is what we'd forgotten – the simplest things. (3)

You treat a disease, you win, you lose. You treat a person, I guarantee you, you'll win, no matter what the outcome. (2)


You must strive to find your own voice. Because the longer you wait to begin, the less likely you are to find it at all. Thoreau said, "Most men lead lives of quiet desperation." Don't be resigned to that. Break out! (4)

To quote from Whitman, "O me! O life!… of the questions of these recurring; of the endless trains of the faithless… of cities filled with the foolish; what good amid these, O me, O life?" Answer. That you are here – that life exists, and identity; that the powerful play goes on and you may contribute a verse. That the powerful play *goes on* and you may contribute a verse. What will your verse be?(4)

You know, as we come to the end of this phase of our life, we find ourselves trying to remember the good times and trying to forget the bad times, and we find ourselves thinking about the future. We start to worry , thinking, "What am I gonna do? Where am I gonna be in ten years?" But I say to you, "Hey, look at me!" Please, don't worry so much. Because in the end, none of us have very long on this Earth. Life is fleeting. And if you're ever distressed, cast your eyes to the summer sky when the stars are strung across the velvety night. And when a shooting star streaks through the blackness, turning night into day… make a wish and think of me. Make your life spectacular. (5)




I am growing old, my body is deteriorating, and like all of you, will eventually cease to function. As a robot, I could have lived forever. But I tell you all today, I would rather die a man, than live for all eternity a machine. To be acknowledged for who and what I am, no more, no less. Not for acclaim, not for approval, but, the simple truth of that recognition. This has been the elemental drive of my existence, and it must be achieved, if I am to live or die with dignity. (6)

Thank you for those roles because I listened, I broke out. Thank you.
You were a kind and humble man.
You were loved.
I hope you felt loved.
You will be missed Mr. Williams.
Love,
Ashley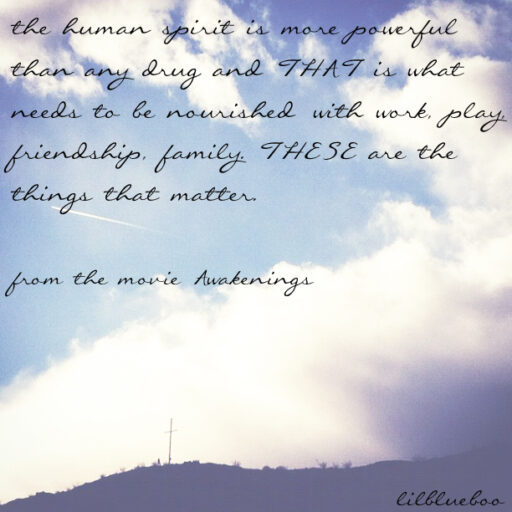 Quotes are from:
(1) Good Will Hunting
(2) Patch Adams
(3) Awakenings
(4) Dead Poets Society
(5) Jack
(6) Bicentennial Man