I finally have Ruby: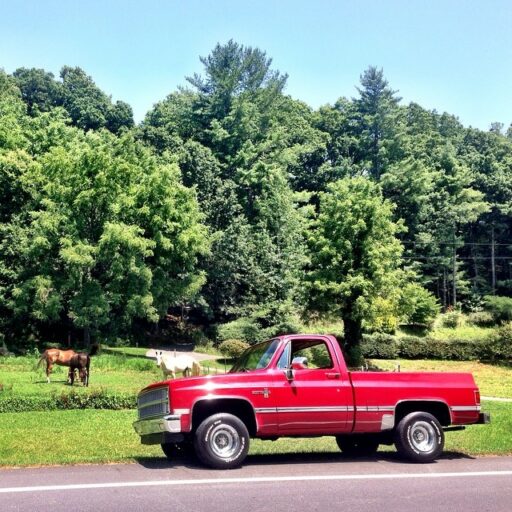 Almost a month after I bought her she is finally running.  I went without a car for almost 2 months and I learned something about myself that I probably already knew:
I need my time as a lone wanderer.
I'd been looking for a truck since we moved from California. Over a month ago I found Ruby through Truck Trader Classics. I fell in love with her as soon as I saw her.
Looking into the engine and underneath Ruby we could see that she probably was going to need some work.  Both Brett and I drove her around and she sounded great.
I signed the papers stating I was buying her AS IS and that I assumed all responsibility.
I handed over my money.
And then:
RUBY DIED.
She literally died in the parking lot….ten minutes after the money changed hands.
Me: I guess "as is" means "as is" right?

Guy: Yep.
It was so wrong it was almost funny.  Dark comedy. I didn't even argue.  Yes I had signed the "as is" agreement. And I still wanted her.  I figured he probably needed the money more than I did if he was sticking ruthlessly to the paperwork. I could have grabbed the papers and quickly eaten the evidence but instead:
Me: Well, can we leave her here overnight?


Guy: I wouldn't, the train tracks are right over there and we get a lot of vandalism at night here.
Here is Ruby being pushed back into the warehouse. It was an uphill ramp.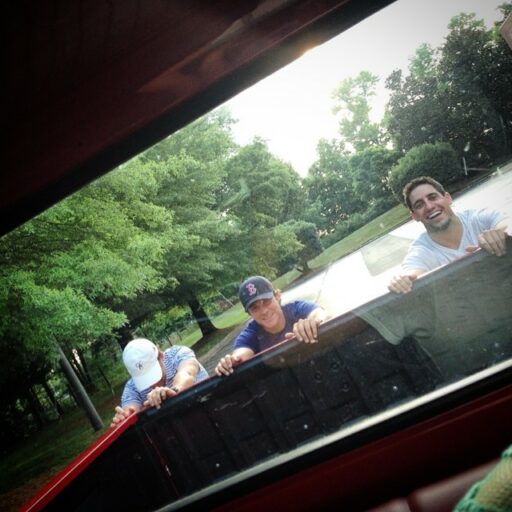 I called AAA and they came to pick her up….but apparently you have to have a tag on your vehicle to use your AAA benefits so we shelled out another $75. But where would we tow her? Having lived in Charlotte almost all my life I remembered a little place on South Blvd called Starmount Automotive.
About 15 years ago my dad had given me one of his old cars.  It had over 200,000 miles on it.  That car had seen better days: the gas gauge didn't work and I ended up running out of gas no less than 14 times all over Charlotte (once on the way to my mom's surprise 50th birthday party….luckily one of the guests passed my sister and I in the middle of the Rea/Providence intersection and gave us some gas!) Eventually the interior lights stopped working.  I couldn't tell how fast I was going or what gear I was in.  I took it to the dealership and they wanted $3,000 to replace the electrical system.
Dad: Take it to Starmount and see what they say. The car is only worth $3,000.
I did take it to Starmount. The owners, Donnie and his brother Jimmy, said they would look into it and see if they could troubleshoot it.  A few days later Donnie called and said something like this:
Donnie: Well….I took out the electrical board and took it home. There were just a few wires loose. I was able to sodder all the pieces back on. Good as new.
My total bill for that plus all the other work they did was only a few hundred dollars.  I drove the car for another 2 years and finally sold it before we moved to California in 2006.  My sister and I had a "funeral" for it before the new owner picked it up….complete with flower petals (confused with wedding?)  As the new owner drove away he yelled out the window: Is this check engine light supposed to be one? Me: Oh yes, completely normal. Darn those working interior lights….
When we picked up Ruby a few days ago I told Donnie that story. He knew exactly what car it was, he even remembered the model.  I told him I remembered they had big white pet birds in the shop and that my dad said Donnie had been in racing. Anyone involved in NASCAR knows their stuff.  Funny what you remember.
At Starmount, Ruby got a new engine because her engine was so pieced together that she would have never been able to climb the mountain inclines. Donnie found out she used to be a diesel back in the day and her original color was green (a few traces of green paint behind the dashboard).
(Note: in case anyone's interested Brett says it's a Chevy 350 crate motor, 4 barrel holley carburetor, Edelbrock intake…. part…. name…. number…. breaker-one-nine…. part…. what-are-we-talking-about. He keeps reminding me of all of this so I won't accidentally tell someone I have a Ford. )
*****
I love the way her engine sounds:
Rumm..buhm..buhm..buhmm.
I love that she actually has to be driven. There is no cruise control.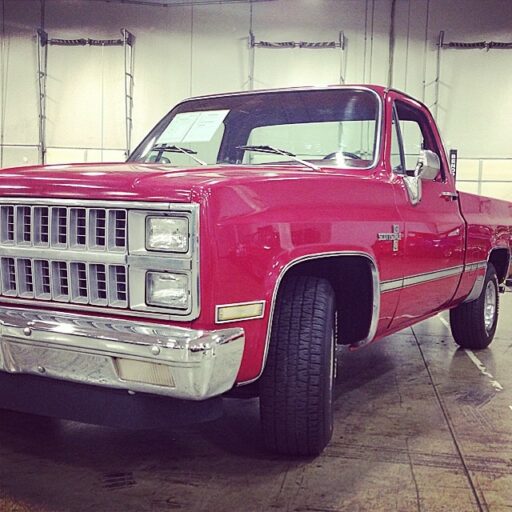 I love that she has exactly 12 buttons and dials on her dashboard (Brett's truck has SIXTY SIX…more than the first space shuttle I think) and I love her old radio: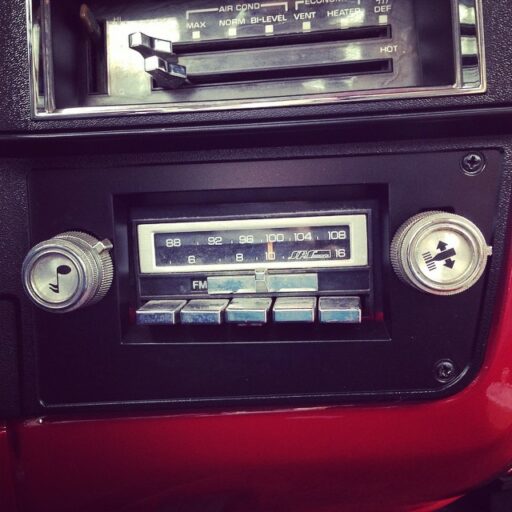 I love that I have to use a key to open the door and I have to reach over to unlock the passenger side.
I love that I have to buy one of those old school cup holders that hangs on my window.
I love her bench seat and rolling down the window by hand.
I love that she doesn't like to start on the very first try.
I love how she bumbles along a gravel drive.
I love that if there's ever a zombie apocalypse my truck will still be running because I have a DIY repair manual: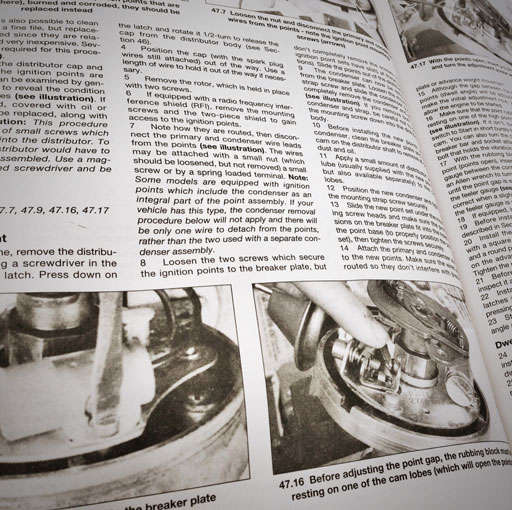 I love that I'm kind of afraid of her….because my friend Brandon and I watched the movie Christine WAY too many times growing up.
*****
We took Ruby to town last night for ice cream.  Her windows fogged up from the rain – but she does have defrost and it worked great. Yeah, thats us – 3-wide in Ruby.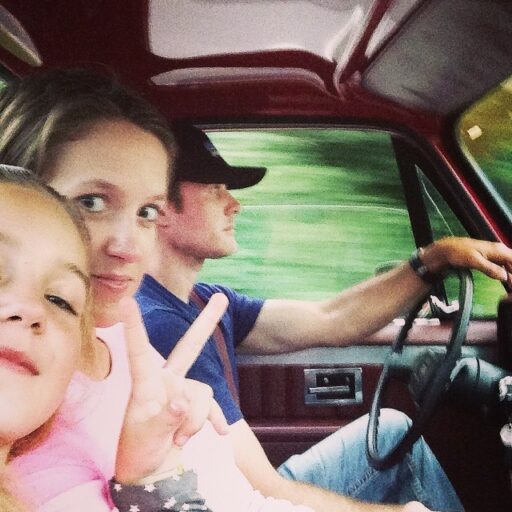 On our way back from town we got stopped at a checkpoint:
Me: Is this a checkpoint?
Police: Yes ma'am.
Me: This is my first checkpoint ever.
Police: It is?! Well pull up there to the side of the road and we can give you the full checkpoint treatment if you want.
Me: Oh that would be awesome.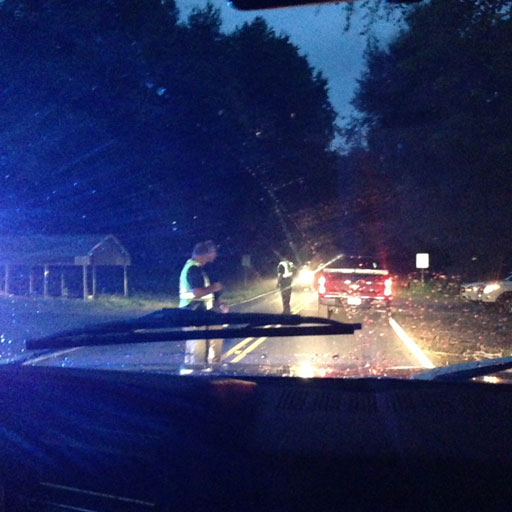 He let us go on our way.
Me: You know….that was actually THE Sheriff of Bryson City.
Brett: How do you know?
Me: Because I met him at the revival I went to!
Boo: Let's turn around and go through the Sheriff's checkpoint again.
Me: That. would. be. so. awesome. It would be like we were on repeat.
Brett: No.
We stopped for gas and a man next to us asked what year Ruby was.
Brett: She's an '82.
Man: She's nice.
Boo: Let's go back through the checkpoint PLEASE.
Man: We just went through it too.
Me: There was once a time we probably wouldn't have.
Man: Yep, I've been sober 8 months now.
We told him congratulations and went on our way again.  That's huge.
I call Ruby an "icebreaker"….she gives me something in common with just about everyone around here. She's also getting me over my fear of cars and trucks in general. (Remember when I wouldn't even leave the house?!?!)
Two nights ago I drove an elderly couple, Mr. and Mrs. Stover, to the outdoor play Unto These Hills in Cherokee. They weren't going to go because the husband didn't think he'd be able to navigate the winding mountain roads at night.  It was their 60th anniversary and I told them I'd take them, and I'd just read a book in the car until it was over. They watched the play, I picked them up, and we drove home.
Mr. Stover: So how do you like my wife's car?
Me: It's nice! Drives really well.
Mr. Stover: She wants a new one….with one of those fancy GPS systems in the dash.
Me: Well, I just went the opposite way and bought myself an old truck.
Mr. Stover got such a kick out of the fact that I'd bought a 1982 Chevy….the opposite of fancy.  I told him I thought one day I'd probably be able to fix it myself too, since I have the repair manual.  He said:
And I reckon you will too.
I reckon I will too.
Anyone else love old trucks out there?
P.S. A big thanks to all the guys at Starmount (Donnie, Jordan, Chris and Jimmy)for making Ruby awesome (and Tammy at the front desk who forgave Diesel for almost biting her face off!) It was SO hot when we picked up Ruby and they were all really good sports for letting me get a photo.
P.P.S. I found this page in my journal from 2005.  Starmount used to have these amazing white birds and they'd entertain me while I waited for my car.  I used to carry a small polaroid camera with me around that time too: