Sometimes I have so much to tell you I don't know where to start. I write things down in bits and pieces in word documents, journals, emails to my self and I even dictate while driving.  It all piles up for a few days and then it's too much to pare down into one post. So I have to choose what to write, what to save for later, and what to set free into the black-hole-of-writing-that-no-one-will-ever-see-for-eternity.
Begin at the beginning and go on til you come to the end then stop. -Lewis Caroll
Starting at the beginning? That would take forever. I don't have forever. I'll just start at the part about exploring the lake bed this past week.  This is what the lake bed looks like right now: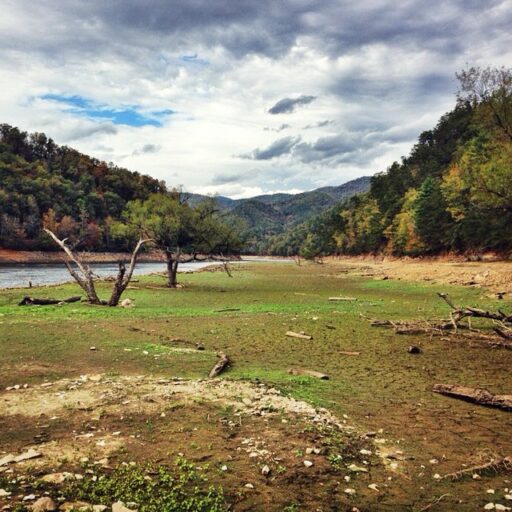 In the winter the lake water is let out of the Fontana Dam to prepare for the spring rains.  I think it's the most amazing thing in the world. I always want to know what is at the bottom of a lake or river. I always imagine it's pretty dark and sinister.  In my mind I see old rotted out trucks, like in Fried Green Tomatoes, but it really isn't like that.  I guess I expected to see a lot of trash and discarded stuff, but I wasn't prepared for all the clothing we saw: jeans, khakis, a prom dress.  A lot of people lose their clothing in the lake apparently.  I wanted to stop and pick it all up because I thought it would make an interesting art project:
Clothing Found in Fontana.
If anyone would like to fund this "found clothing" project or collaborate let me know…because I need a partner willing to pick it up and wash it out. Or I need one of those long handled picker-uppers.
Among all the discarded clothing we found the old bridge from Highway 288.  It wasn't really lost, but it's usually underwater: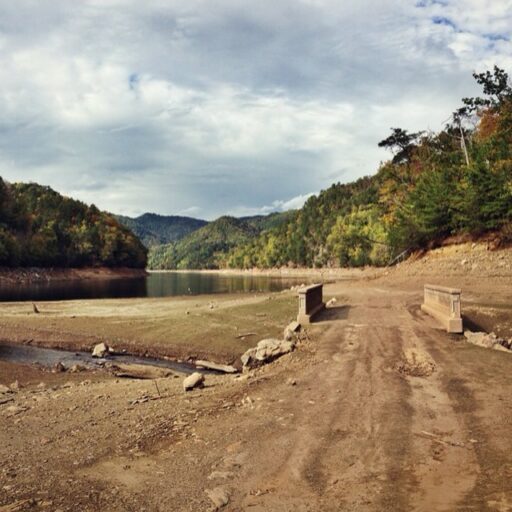 Last night we visited our friend George (who is a cook at the inn) and his wife Deborah at their house on one of the Fontana coves.  I love when directions around here are:
Drive down the highway
Pass the mulch piles
Turn right
Drive until the road ends. 
If we'd tried to use the GPS it would have said we needed a ferry. GPS doesn't work here. It's like the Bermuda Triangle. So we followed the written directions and drove until the road ended. And found George. He was on his tractor. And the craziest thing is that you can't even really tell that the lake reaches this point except for the docks and boats sitting at odd angles on the ground in the little dish-like hollows: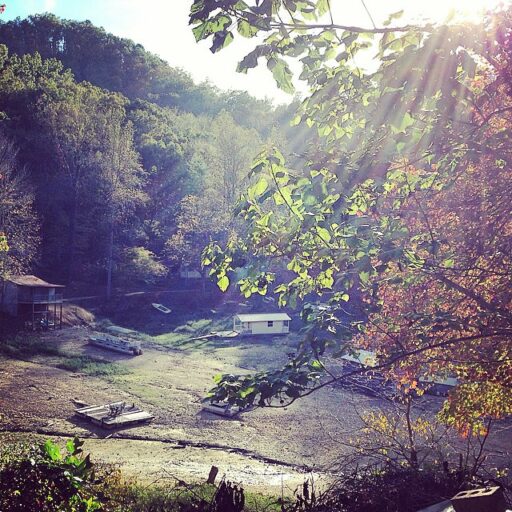 And now I've come to the end for now.
Full stop.
Darn…that's not even a full story.
But sometimes I see a really beautiful story being written right before my eyes and it just hasn't been lived out quite yet.