I took this photo exactly three years ago.  My husband brushing my hair.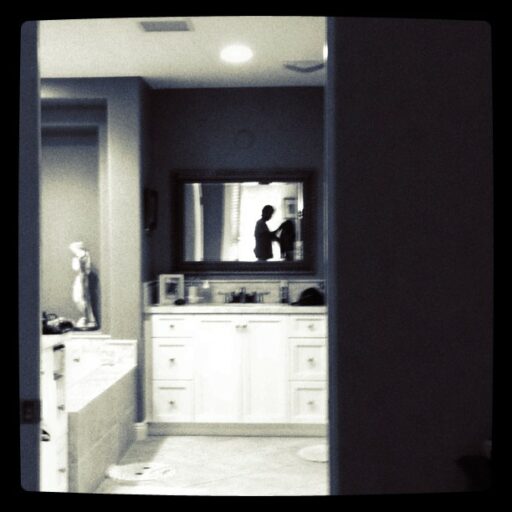 He was brushing my hair because I couldn't brush my own hair. I couldn't even get out of bed by myself.  But I think there was so much beauty in that moment because it was one of the first times that I was willing to admit I was weak.  And that was me at my best, at that moment, because the mornings were the worst, so as the day went along and I was able to slowly get out of bed, walk around the yard a little, maybe take a shower, I was ready to go to bed again and start the process over again. And at my best I still was unable to complete a simple task like brushing my own hair. But my husband brushing my hair was so raw and tender and loving and I couldn't find an ounce of fear in myself at that moment.  We were both just fully there, grateful.
Anne Lamott says that "the search for meaning will fill you with a sense of meaning."
I searched high and low, and I found meaning everywhere.
I still do.
And sometimes the meaning is probably all in my own head but does it really matter? Recently when I was in that car wreck, I told a woman how I'd seen feathers flying around in slow motion as the car spun around. Her response was: you didn't see feathers. And I was like: yes I did. And she snapped back: no you didn't. I can assure you that you did not see feathers. And for a short moment I thought to myself maybe she's right, maybe I didn't really see feathers. Maybe I'm delusional? Maybe I hit a chicken?  But then as they were towing the car away there were no feathers to be found. But I saw the freaking feathers people. A burst of feathers, at the moment the car was hit. And they were suspended in the air, frozen in a millisecond of time, catching my attention from the horror of what was happening. And I was able to find some meaning in that.
"When you learn that your life is threatened, you can turn toward this knowledge or away from it. I turned toward it. It was not a choice but an automatic shifting of gears, a tacit agreement between my body and my brain. I though that time had tapped me on the shoulder, that I had been given a real deadline at last. It wasn't that I believed the cancer was going to kill me […] No. What struck me was the startled awareness that one day something, whatever it might be, was going to interrupt my leisurely progress. It sounds trite, yet I can only say that I realized for the first time that I don't have forever." –Anatole Broyard, Intoxicated by My Illness
I think this post will end the series I labeled The Cancer Chronicles three years ago.  I don't really want to write about cancer anymore.  There's probably some meaning in that too.