It's our first Halloween in Bryson City. I'm not really a Halloween person…I don't think I've dressed up since like 8th grade?  I don't care for Freddie Kruger, ever since he chased me home one night at dusk (I swear he was behind me, but I couldn't confirm it because I was in crazy-panic-run). Growing up my mom would never let us wear scary costumes. My dad was always dressed up as Moses with the Ten Commandments to greet the neighborhood kids.  Our church banned witches, zombies and skeletons.
Since moving to Bryson City we've been going to the Grove Church. Our pastor, Jeff, asked if we'd help out with the Halloween event that they hold each year for the community.  My first thought was: ugh, Halloween, no way.  But instead my fingers texted back: Would love to help! That's right up my alley.
I had no idea what I was in for.  I was thinking a few pumpkins, hotdogs, churchy people….instead I found myself in the middle of an event on the scale of Broadway. And this year's theme? Wizard of Oz.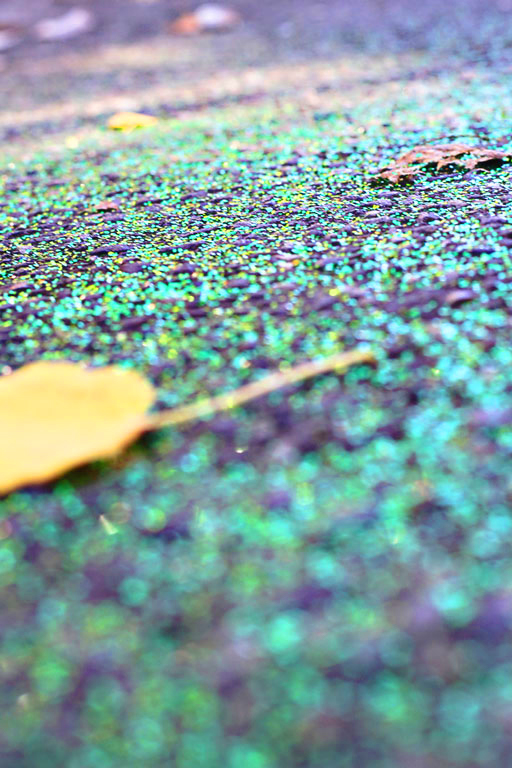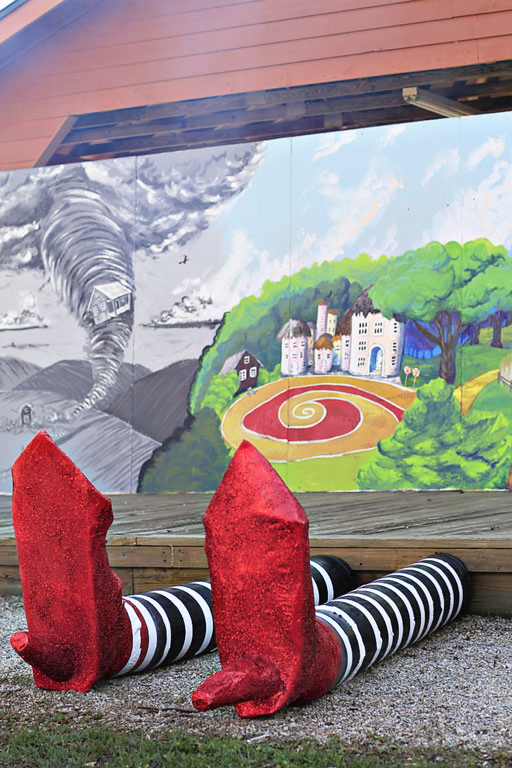 Nothing wrong with Wizard of Oz right?  Except that it's on the bottom of my list of movies I would choose to watch. I had nightmares for years when I was little about the Wicked Witch. Once she stole my baby sister out of her crib as I watched…one night she stabbed my dad with a sword while he tried to fix the TV.  That Wicked Witch was sealed in my mind. I'm not exaggerating…here's a page from my journal years ago. Obviously she still haunts me: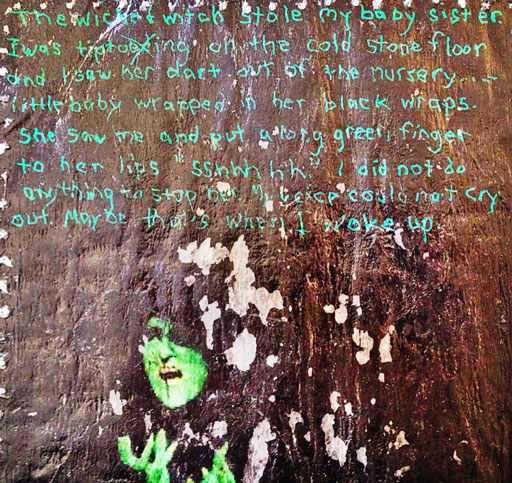 And then yesterday, when I asked what I could do to help, the first thing I was assigned:
Could you set up the melted witch with the caution tape?
Really? This event was planned to torture me right?
And as people started to show up I felt myself getting increasingly anxious:
Who would let their kid wear that scary costume? How is dressing up as Freddy Kruger fun? Wait, is it legal to carry a toy gun?
These were many of the reasons I'd been given growing up as to why I shouldn't be a fan of Halloween. But as I looked around I realized that I should be a fan of Halloween. Why? Because Halloween is community.  It's the one holiday where people actually come out of their homes. The one holiday where people open their doors to people they don't know in large numbers and hand them gifts.  I saw my daughter and her new friends walking down the street thanking shop owners for candy. I saw business owners, politicians, and law enforcement mingling among the community and at one point Boo was yelling hello to a deputy she knew across the street. I told a man dressed up as a Cherokee Indian that he would win the costume contest and he told me he had just come from work: the Cherokee Indian Reservation. But he was really nice and thanked me for noticing how well dressed he was.
And Jeff posted this article this morning by one of my favorite authors Shauna Niequist and it summed up exactly how I was feeling after last night:
Sometimes love asks you to change.

It's so easy to love people who like all the same things you do—who never listen to music that makes you cringe, or who believe all the same things you believe. But love sometimes asks you to lay down your preferences, and dive into someone else's world for a little while.

Sometimes that world is full of fake spiders.

Sometimes it's the ballet or country music or Russian novels. Sometimes it's staying quiet when you want to talk, sometimes it's giving space when you want to rush in. Love asks what's best for the person you love, not what's best or most convenient to you.
Yes, sometimes the world is full of fake spiders. And fake pooling witches.  And big green gates with green glitter as a welcome mat. Here was our church opening up (green) doors to anyone who wished to come in…no strings attached. No rules. No judgement. Just community: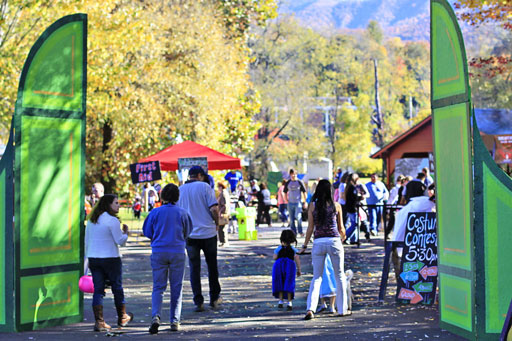 We jumped right in wearing our LoveBryson shirts.  Boo even decided to dress up as a "church volunteer" instead of her butterfly costume. LoveBryson was started by The Grove Church as a way to give back to Bryson City and the surrounding community. It's a community service-based group that works with established organizations in the area when specific needs come up.  LoveBryson also pioneers its own efforts to make a difference in the community, everything from supplying firewood in the winter, school backpack drives and even installing much needed wheelchair ramps.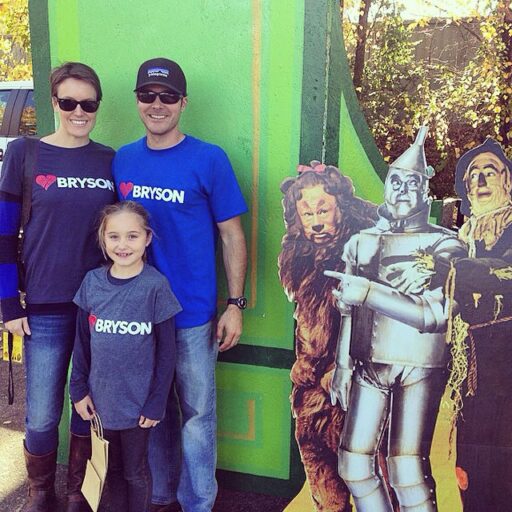 And yesterday The Grove Church served close to 1,800 hotdogs to the community: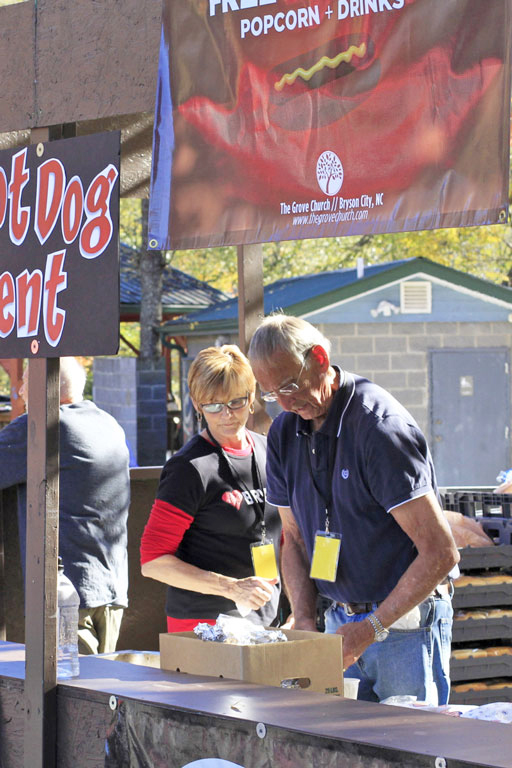 Sometimes all you have to do is show up.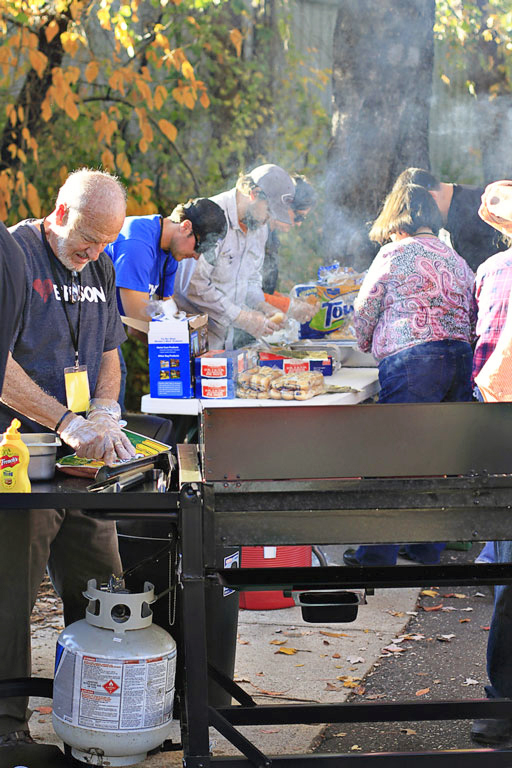 And make room for others to show up too.  They threw us newbies right in:
I think more people showed up downtown than actually live in all of Bryson City: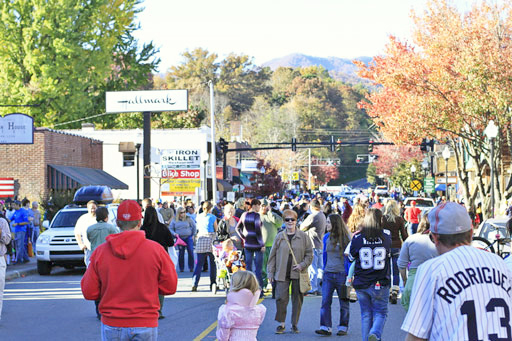 Barry from The Filling Station handing out candy: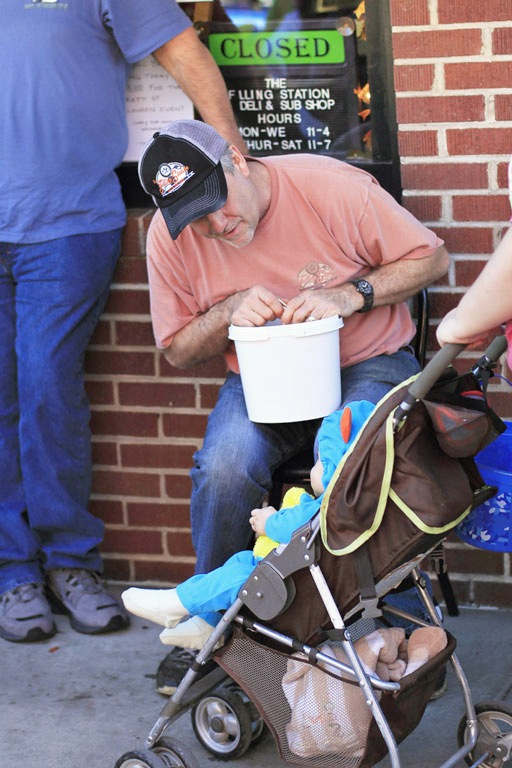 Debbie (green vest) from Fern Studios and Gallery handing out candy: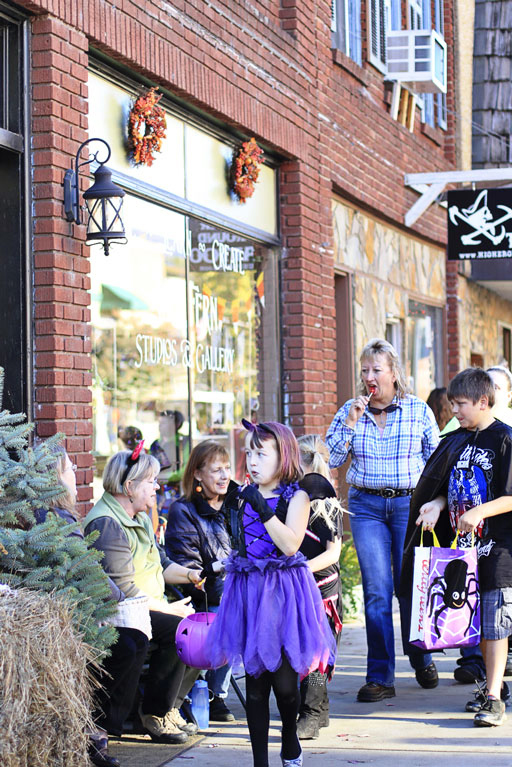 Donno from Higher Ground Tattoo: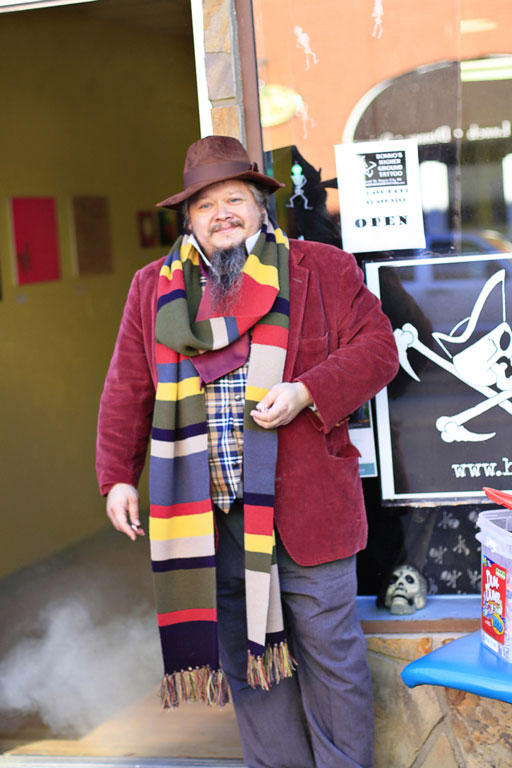 A few kiddos from The Grove: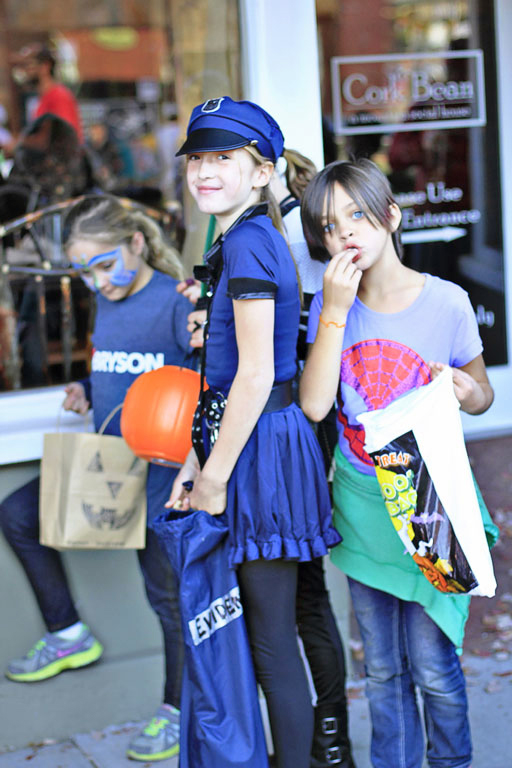 The real deal: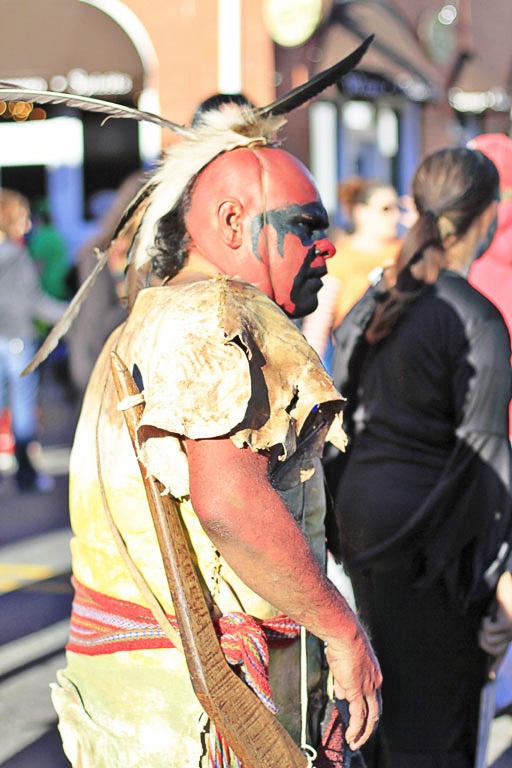 I was asked to be one of the judges in the costume contest and this little bag lady won in the 2-11 years old category. She was awesome: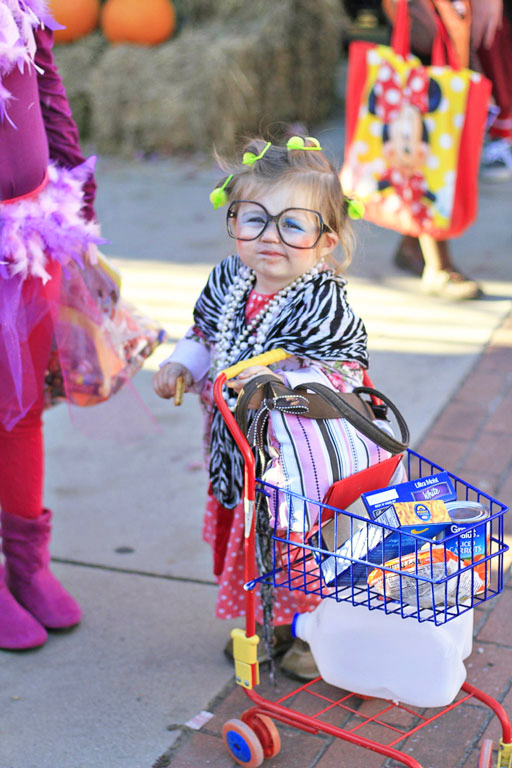 And at Riverfront Park where "Oz" was located people had a chance to play games and recharge.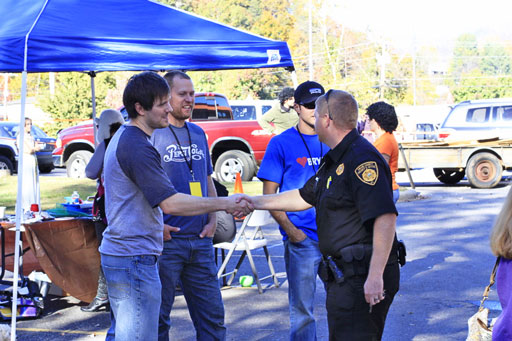 The director of Boo's school sent out a newsletter today and it ended with: The world is run by people who SHOW UP! 
I'm not quite ready to show up as the Good Witch of the North yet, and I don't have to…because there are people like Beth:
And Mary (as Dorothy):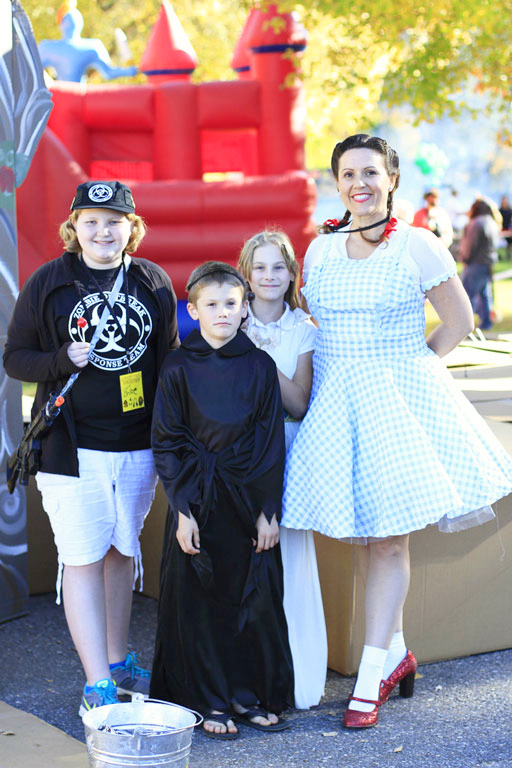 And Rachel: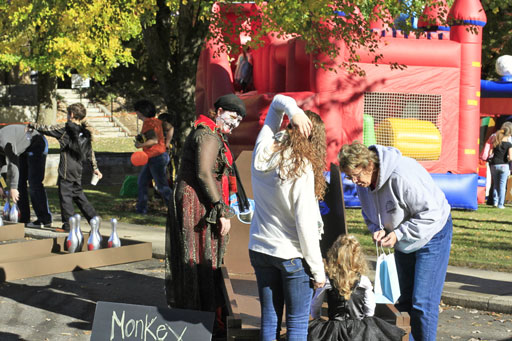 And Erin and Jeff (lion). Jeff drew and painted the huge "Oz" backdrop for the stage: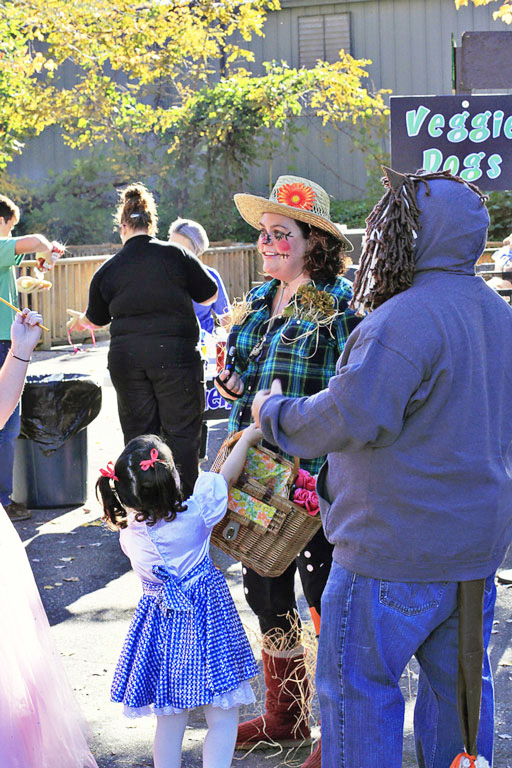 I love when leaders think big, like this guy, pastor, Jeff: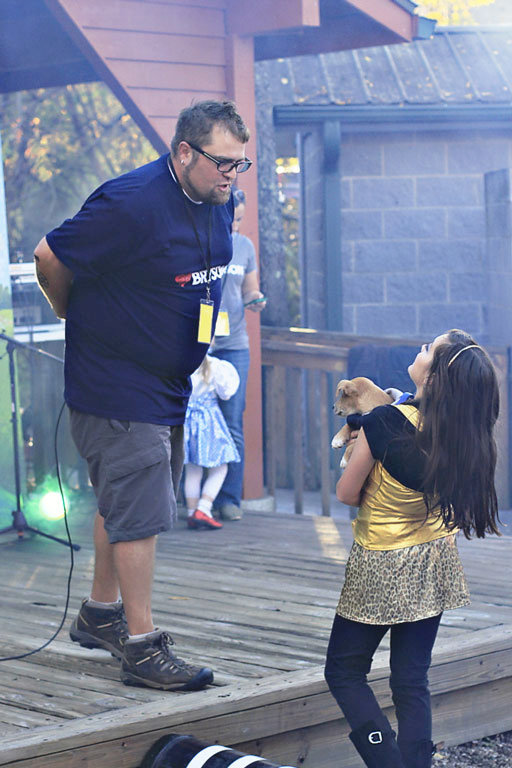 A sneak peak behind the scenes of all the prep work that went into the event: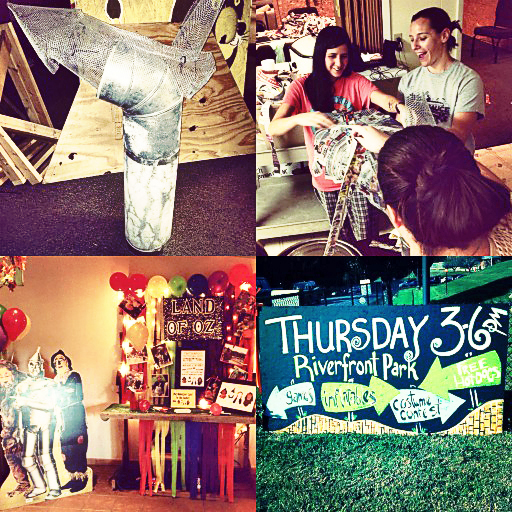 And the result…community: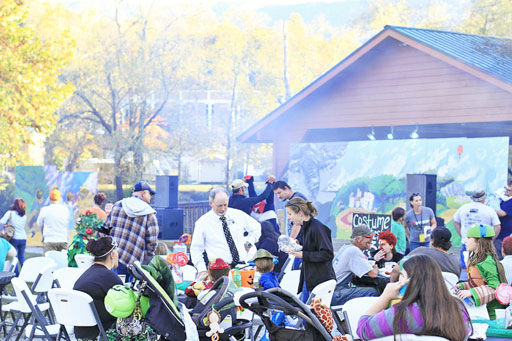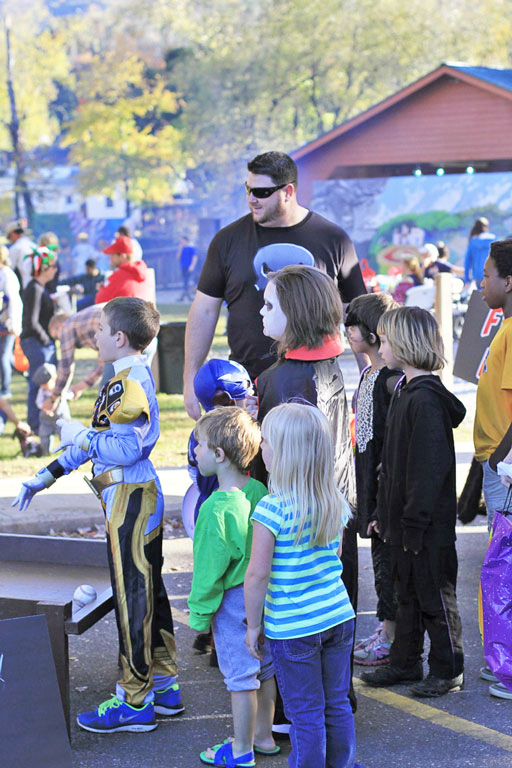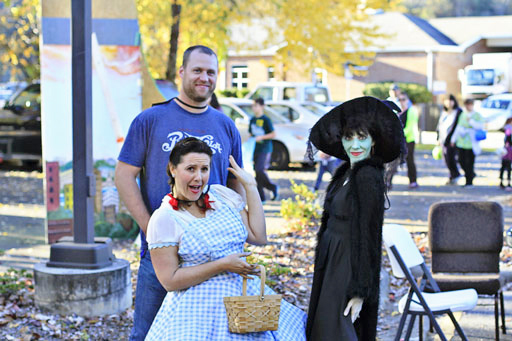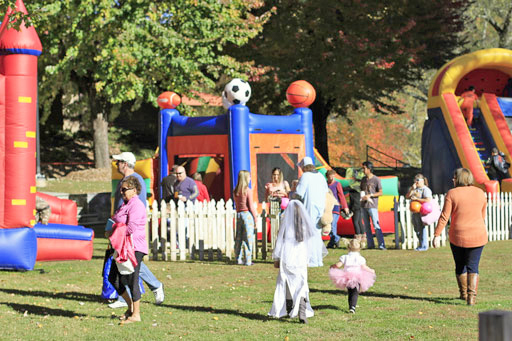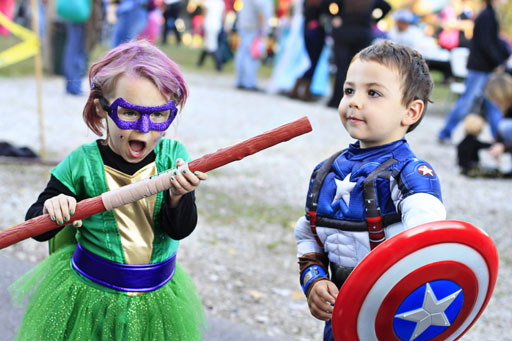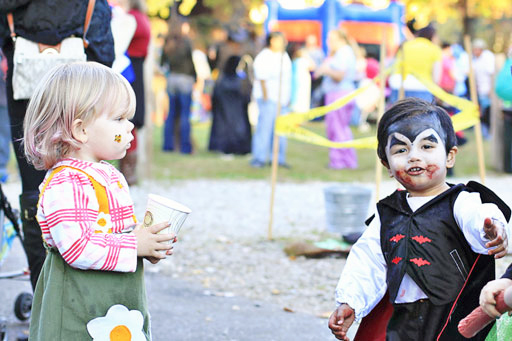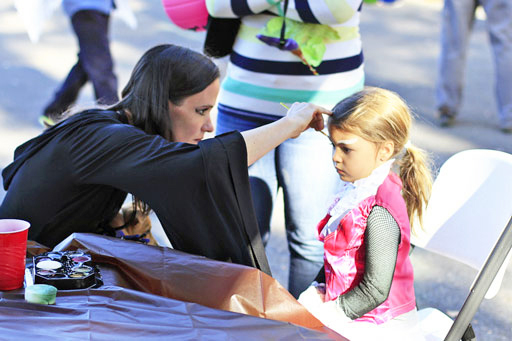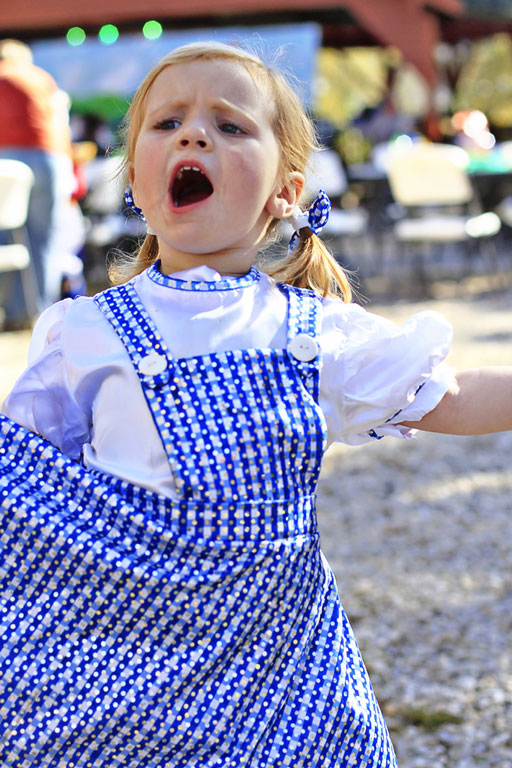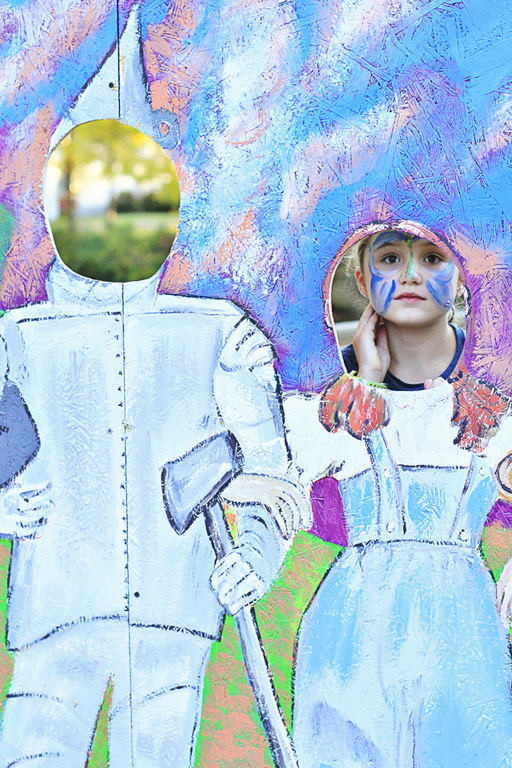 When I heard Brene Brown speak 2 years ago at The Summit I wrote this down word for word:
The #1 barrier to belonging? Fitting in. 

Make a space for people to show up and be seen, not for who they should be….but for who they are. 

We can't set it up so that there are check boxes for showing up.