We've all driven places and then wondered how we even got there. Snapped back to the present frame.  How did I get here? What happened to the last 30 miles?  Was I even between the lines?  Did I pass anyone? Driving back from Hendersonville the other day I missed a crucial turn, but only realized it when:
uh oh, there isn't a tunnel on the way home….
Things like this usually don't phase me…a detour is good for the soul.  But Ruby (my truck) had been dead only hours earlier. No charge in the battery.   I should have known something was wrong 3 days ago when I was driving into camp.  It was dark, and I began thinking: my iPhone screen would be brighter than my pathetic headlights! And my blinkers had stopped working, and the seatbelt light would come on periodically. Ruby wasn't quite herself. She was leaking energy everywhere.
And so, when I entered the tunnel, I realized that I was on my way to Tennessee, over the mountains.  There are no cities, no towns, no gas stations.  The road was already in that blue, dusky shade that signals the oncoming of dusk.  It just starts to look cold.  Very cold. And desolate.  My heart picked up its pace a little and I looked down at my gas gauge. Only 1/8th of a tank left.
About 7 miles after the 2nd tunnel I eventually found an exit to turn around.  There wasn't a soul at the exit, except for a lone motorcycle rider who barreled past at twice my speed. I got back on the highway and drove south, knowing that every mile that passed meant that I was one mile closer to home. The fuel light came on, and I began to pray to just get close enough to a gas station that there wouldn't be coyotes or wolves.
I coasted into a gas station on fumes.
 *****
I always feel like asking people if they have jumper cables is a reverse lottery.  No one wants to win. But, the first guy I asked said yes. He was with three other men and they'd just gotten off work from the quarry, tired and covered in dust. Opening the hood of their truck I was initially embarrassed at how clean Ruby's engine was compared to the state of the other truck's engine. But you could see their eyes light up when they opened Ruby up. Their eyes took in the Edelbrock carburetor and the 350 crate engine. The younger of the three lifted the hood into place and he looked into Ruby's insides as if he'd known her forever. She was an old girlfriend. He tightened things here and there and touched the belts to test their tautness.  Places I'd never dared stick my hands before fearing I'd burn them or lose them.
"This is toast," he said flicking the rubber length of one of the belts with his finger, "see how loose it is? It isn't turning this other wheel." 
"What does that mean?"
"The battery isn't being charged."
All of the sudden the whole world of gears and trucks and belts began to connect.  The painfully slow blinkers, the dim headlights, the flashing of the seatbelt sign while I was driving…they were all working off the battery.
He pointed and explained how I could tighten the belt myself. One of the parts was on a track that could be moved in either direction. Moving it to the left would pull the belt taut enough that it would turn the wheel. All I needed was a wrench.  It looked so easy. I could fix this.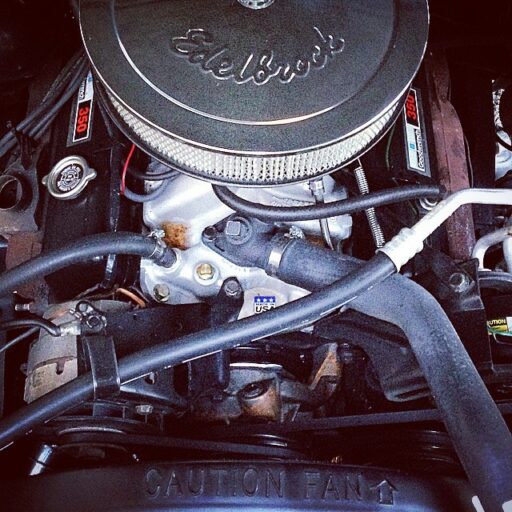 Eventually they got Ruby restarted after sending invisible energy to her through a simple set of cables.  I teared up at her familiar initial deep growl and then idle puttering. And I knew I had enough gas to get her home now.  I threw my arms around all three of them and they each said with a slight grin: Your welcome ma'am.  
And yesterday morning….
I fixed Ruby. With a wrench, and a little elbow grease from hubby.
I am Rosie the Riveter.
I am my own mechanic.