I'm determined to know everything about every wild plant I come across in the Smoky Mountains. Elizabeth Gilbert's book The Signature of All Things inspired me. On walks I've been collecting samples and figuring out what they are and whether they are edible etc. and the origin of the names. Keeping notes and sketches in a journal with the pressed flowers to be added in at some point.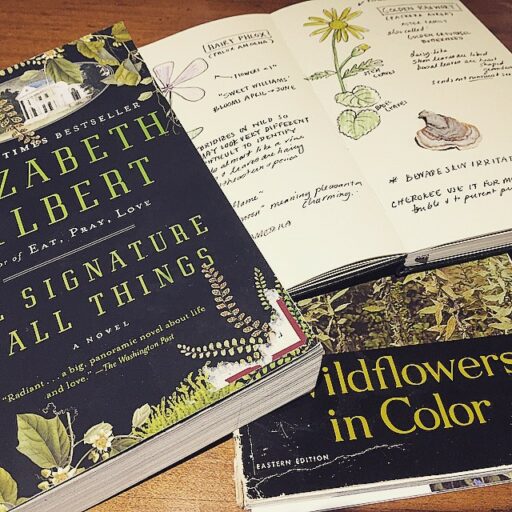 In an 1897 bird book I found last week at the used book store John Burroughs wrote in the intro:
We must in a way earn what we have or keep. Only thus does it become ours, a real part of us.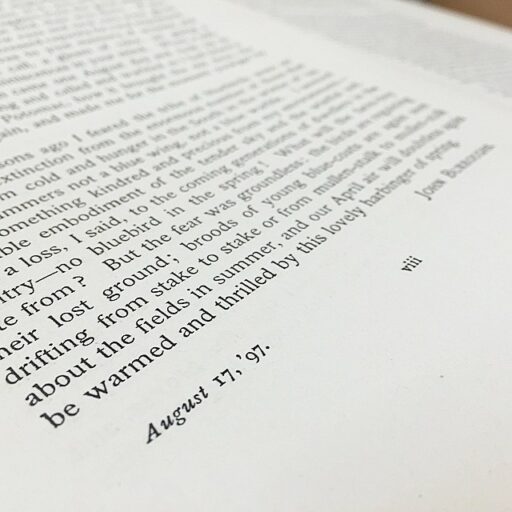 This I'm determined to do: to earn this piece of earth I live on. And I love the process of it all. Like yesterday morning, on a walk in Island Park: I found ferns uncurling, or unfurling I think is the correct term. Doesn't this look like something down the rabbit hole: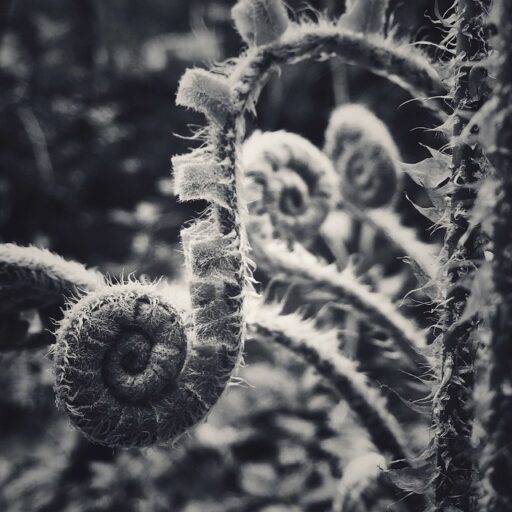 While I was taking a photo of the fern this little guy crawled out waving all his little legs. He kept moving too fast for me to take a photo of him. Anyone who walked past would have seen my on my knees talking to a few piles of leaves. I did a little research and found out that it's a Nantahala Millipede. That probably translates to: millipede that lives near the Nantahala.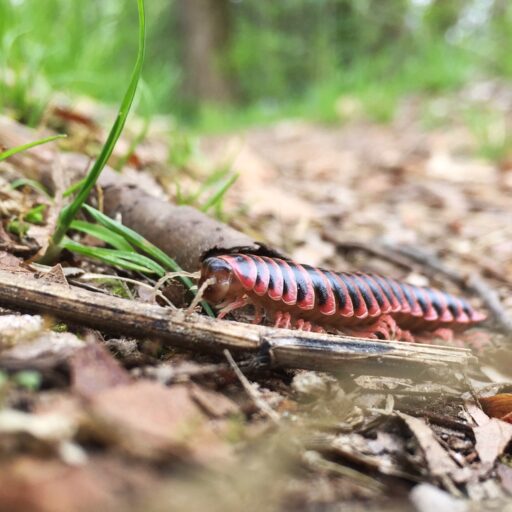 There's a place in the park, the north end of the island, where a large wall in the shape of a "V" has been built to break the river around the island: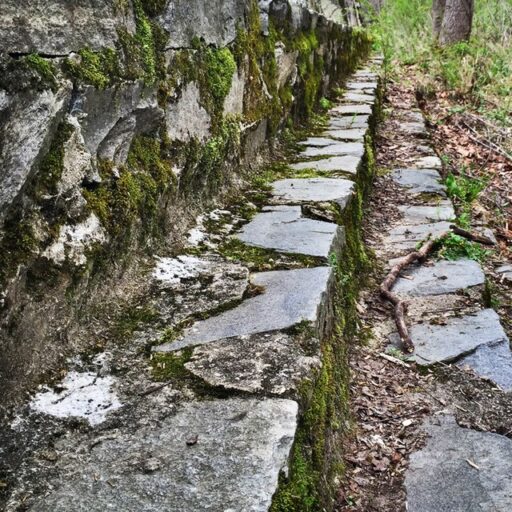 If you peek over the side it is covered in secret moss, secret only because you would have to kneel down and lean carefully over the side that faces the river to see it. And when I spotted these little pods…I almost keeled over the side….what are these incredible looking things?!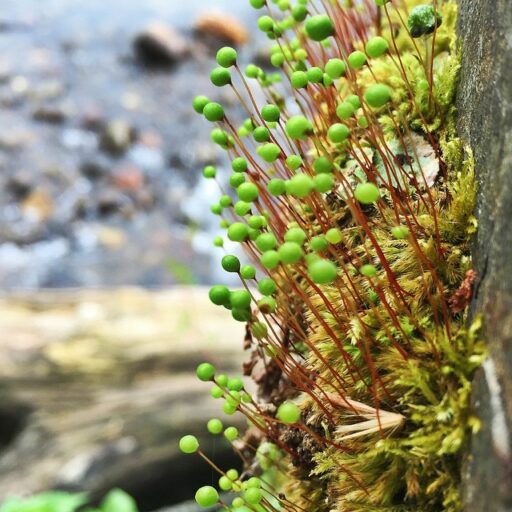 There's this passage in The Signature of All Things where Alma is explaining why she admires mosses so:
Their dignity. Also, their silence and intelligence. I like that -as a point of study- they are fresh. They are not like other bigger or more important plants, which have all been pondered and poked at by hordes of botanists already. I supposed I admit their modesty, as well. Mosses hold their beauty in elegant reserve. By comparison to mosses, everything else in the botanical world can seem so blunt and obvious.
No thank you to Mr. blunt and Mrs. obvious. I spent a lot of time photographing the hidden side of a wall trying to capture it pieces of it, mostly because I have the worst eyesight and I can enlarge photos.
I mean, is this Narnia?!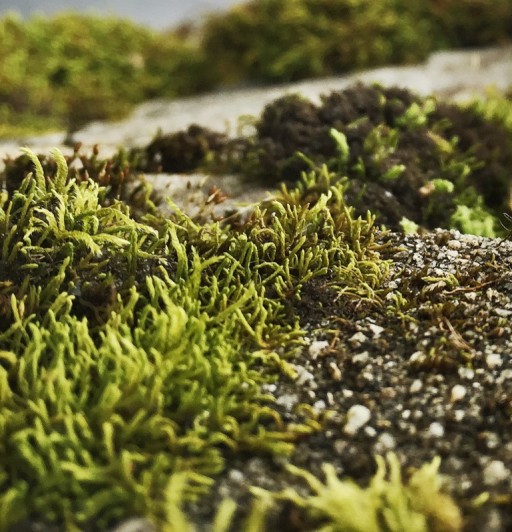 I didn't notice this spider until later. He was doing a great job camouflaging himself. Creepy little bugger.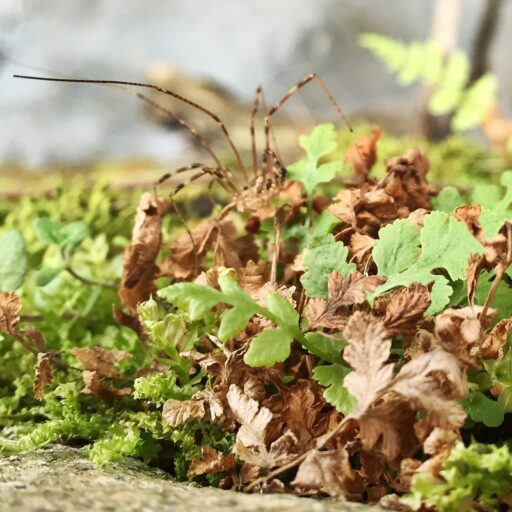 Look at these teeny, tiny little ferns taking hold in a vertical wall. Ferns for ants. If I was an ant I'd set up a little camp site on that tiny little ledge and spend lots of time there roasting miniature marshmallows on a miniature campfire reading a miniature book.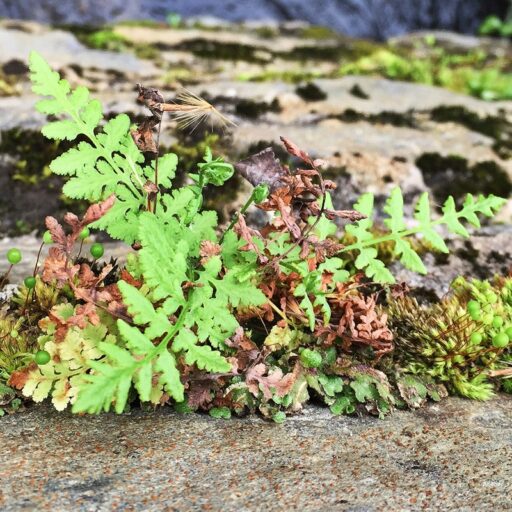 Nature's carpet, full of seed pods and dandelion wisps.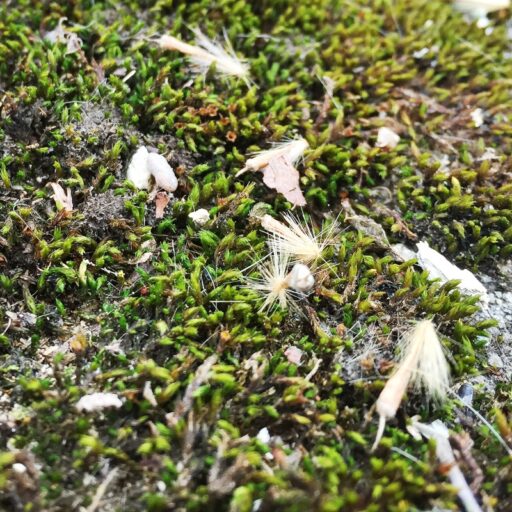 Gosh, this:
But sometimes I fear that my world has become too detailed. My books on mosses take me years to write, and my conclusions are excruciatingly intricated, not unlike those elaborate Persian miniatures one can study only with magnifying lens. My work brings me no fame. It brings me no income, either – so you can see I am using my time wisely!
Am I using my time wisely? I guess so, and I guess we all struggle with how we are supposed to use our time. I am always working. Working from the second I wake up until the second I go to sleep. Collecting, writing, reading, and filtering. One day hopefully it will all translate into the end result I want it to. The castle in the air, right? When people ask me how my writing is going I tell them fine. And every once in a while all of that writing is packaged into a nice little package that may someday be used…or not used.  I recently had a chapter workshopped in a group of writers. As they critiqued my work, and I listened on mute, I cried. I mean I bawled. Because they got it. And I'd been in such fear that maybe I was not getting it. One writer said "this is a big existential piece" and I had to go and look up existential. And I thought maybe I should start learning and adding some bigger words to my vocabulary.
Our pastor's wife Jodi (who you've read before here) shared this verse last Sunday:
Why, you do not even know what will happen tomorrow. What is your life? You are a mist that appears for a little while and then vanishes. James 4:14
A vanishing mist. I love that. According to Boo's NatGeo magazine: the amount of water on earth never changes. What?! A constant? Last summer on Mt. LeConte I watched a delicate mist turn into a roaring river:
"The mist begins to condense onto the vegetation and then it begins to drip and then a trickle turns into a stream. As it's filtered through moss and rock it gets funneled into tiny waterfalls across the trail…which eventually compound into the larger streams below."  from High and Far Off Places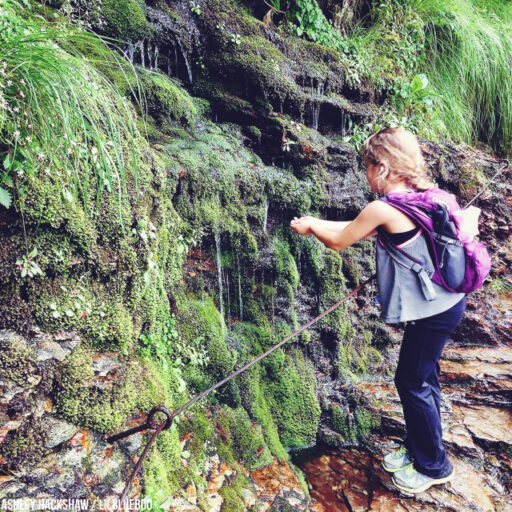 This ranks high up there with the time I found the place where the river meets the lake. I never even imagined that there was a beginning and end to a river. It's like the mystical end of a rainbow.
 Moss is inconceivably strong. Moss eats stone; scarcely anything, in return, eats moss. moss dines upon boulders, slowly but devastatingly, in a meal that lasts for centuries. Given enough time, a colony of moss can turn a cliff into gravel, and turn that gravel into topsoil. Under shelves of exposed limestone, moss colonies create dropping, living sponges that hold on tight and drink calciferous water straight form the stone. Over time, this mix of moss and mineral will itself turn into travertine marble.
…
Moss grows where nothing else can grow. It grows on bricks. It grows on tree bark and roofing slate. It grows in the Arctic Circle and in the balmiest tropics. It also grow on the fur of sloths, on the backs of snails, on decaying human bones. -Page 169, The Signature of All Things
Moss just needs time.
My friend author Patti Digh has always given me the greatest advice, I wrote this down recently:
We care too much about what people think. Your job is to write. Write what is true to you. We jump too quickly to putting our work out to other people.
I'm very cozy in my little world and all its details. It's not glamorous or flashy or fame-filled, but it's excruciatingly intricated, and full of moss and ferns and centipedes. And it may take me a million years to finish my castle in the air, but I can see it. I'm turning a cliff into gravel. With my health history you might think I'd be in a hurry, but quite the opposite. When the mist vanishes, it turns into another trickle. I think that's kind of existential. Dictionary please.
And so, with that I am going to go and keep writing. Right after I do our taxes.
P.S. I did not spell check or grammar check this post. Sorry for any typos. And any incomplete thoughts.
The Signature of All Things by Elizabeth Gilbert

"Exquisitely researched and told at a galloping pace, The Signature of All Things soars across the globe—from London to Peru to Philadelphia to Tahiti to Amsterdam, and beyond. Along the way, the story is peopled with unforgettable characters: missionaries, abolitionists, adventurers, astronomers, sea captains, geniuses, and the quite mad. But most memorable of all, it is the story of Alma Whittaker, who—born in the Age of Enlightenment, but living well into the Industrial Revolution—bears witness to that extraordinary moment in human history when all the old assumptions about science, religion, commerce, and class were exploding into dangerous new ideas."