This was not just a coincidence. How could something like this be a coincidence? It definitely wasn't coincidence.
A few months ago I was looking for a quilt for Boo's room. I looked everywhere: thrift stores, eBay, Etsy.  Nothing caught my eye. Maybe I'm too picky. I don't like solid patterns, or big patchwork pieces. I had a picture in my head of what I was looking for and the odds were that I would never find it. Then one day, browsing eBay, I found one: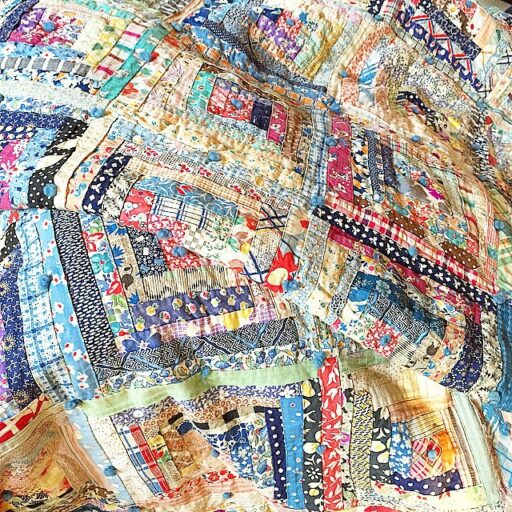 Seriously it was the first one I'd found that I immediately said: Wow. I put it in my watch list but then forgot about it until the next day and missed the auction. And then I couldn't stop thinking about. I usually don't get worked up over things like missed auctions because I probably didn't need whatever it was in the first place. But this quilt was different. I loved how intricate it was, and I loved the tiny details of all the feedsack and calicos, I loved that it was hand tied and I thought it would look fantastic in photo shoots. So I pursued it. I contacted the seller and asked if I could still buy it if it hadn't sold. After a little bit of emailing back and forth we agreed on a price and a week later the quilt was mine: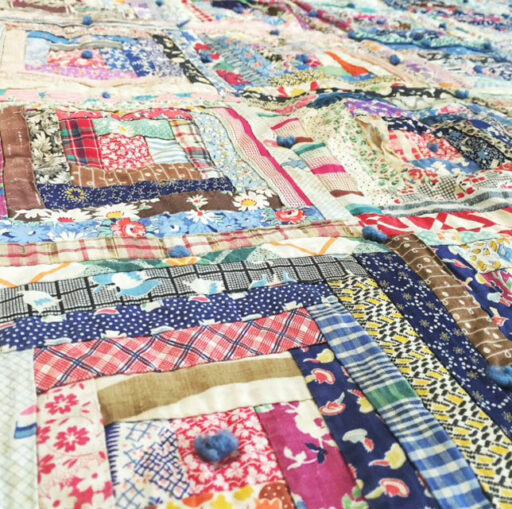 To top off my excitement of getting such a wonderful quilt, in the box, accompanying it, was a nice handwritten note in the box listed a little bit of history:
"This is a truly unique quilt, handcrafted by the late Beth Schneider of Gingercake, NC. It's just a small bit of this estate. Beth and her husband Claude collected antiques for 60 years. Claude and I are sorting, storing and selling a little at a time."
I kept the note because I thought it was interesting to know a little of the history of the quilt. I would research more about it later. I could tell it was old, and that I'd probably stumbled upon something pretty valuable. I don't know much about quilts in general, I didn't even know what pattern it was, but I have a good eye for  handcrafted work. It was a conversation piece when friends stopped by. And it hung over the back of a chair in our living room for a few months so we could admire it. I'd never noticed the dark and light stripes until it was viewed from overhead: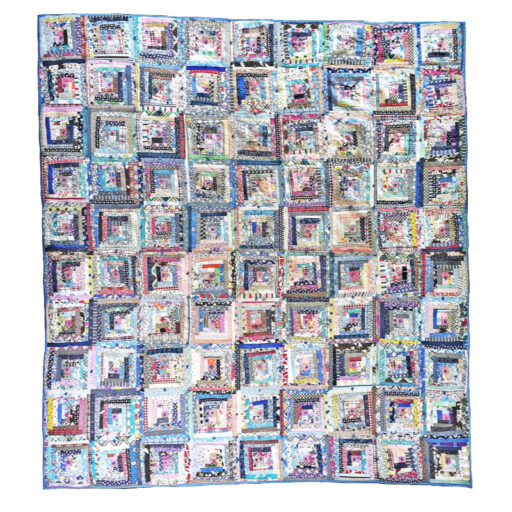 *****
Last month, for Mother's Day, we decided at the last minute to drive up to Linville to visit my mother for the weekend. The next day we drove around and then went to the Hampton Grist Mill for BBQ. As we drove towards the old grist mill store it was still pretty early to eat lunch, and so my mother directed us around Linville proper for a little sightseeing. As we turned onto the first street we saw a sign for a yard sale…and I'm pretty sure the whole car rolled their eyes. I can never pass up a yard sale.
It was an old Linville house and we walked around a while looking over the items. There were a lot of neat little things to look at. I picked out a poetry book, an old drafting tool set and a few other things.  Boo picked out a few small items too. Brett talked to the woman whose sale it was and I could hear them talking about barn wood and places it could be found in western NC.
As we started to head back to the car the woman handed me her card. I looked at it and started to put it away but then I took a second look and something clicked in my head. I'd seen this card before.
Me: Wait a second…I know your name.
Woman: Oh?
And then instantly everything fit together.
Me: I think I bought a quilt from you a while back? Online? It was really old. And you wrote me a letter to accompany the quilt with the history of it.
She looked like she'd seen a ghost. And then suddenly she was in tears. I wasn't quite sure what had just happened.  It took a few minutes before she could talk again. And then she explained:
"You have no idea the story behind that quilt. The man whose wife made it died just a month ago. And the quilt wasn't supposed to be sold. It was a family heirloom, and the family has been frantically looking for it, and I wasn't able to find your information."
My heart sank a little at first because I knew that meant that they would want it back. And then I began to think about the odds of what had just transpired:
the odds of me keeping the handwritten note and business card that accompanied the quilt.
the odds of me purchasing something off of eBay and running into the seller at yard sale.
the odds of going to the yard sale.
the odds of ever meeting someone from a transaction on eBay!
the odds of the seller looking for me and me showing up at her front door by chance.
the odds of recognizing the business card and making the connection.
the odds of a family looking for a lost quilt and having it show back up again.
This was not just a coincidence. How could something like this be a coincidence? It definitely wasn't coincidence.
I gave the woman my contact information and told her to just pass it along to the family and that I would work something out with them.
I didn't hear from the family for a while, but last week I had a voicemail from the granddaughter. When I called her back she told me the story of how the quilt had gone missing and I think she was probably surprised at how quickly my answer was: well, if it's your family's quilt then you should have it back.
It was a quick answer because of course I'd had a few weeks to think about it, but really I had known  from the first moment I learned it was lost that I would have to return it. I'd prayed about it the same night and woke up knowing it wasn't really my quilt anymore. As much as I loved that quilt, as much as I loved its detail, as much as I loved that it had come from a place called Gingercake, and as much as I thought it was the greatest treasure find I'd ever come across…I knew it wasn't meant to stay with me.  It wasn't meant to be my quilt.
At first Boo was a little upset about the idea of returning it. And really the same thoughts that went through her head had gone through mine too: I found it and bought it. I'll never find another one like it. Finders keepers, right? But Boo and I talked about what it would be like for something we cared very much about to go missing. How it was just a thing to us. And how much the family would be comforted to get it back.
When we'd returned from Linville Boo was in the living room when I walked in to pick up the quilt. And when I was carefully folding it up, to set it aside in anticipation of the family eventually contacting us, she said:
I think the quilt should go back to its real family. 
And today it did.