I wrote a long article recently about the "Never List" i.e. things you should never use on your skin.  Since the FDA does very little to regulate anything that goes onto our skin (and my child's skin), I've become my own regulator. The goal we've set in our own house is simple: SIMPLIFY. That means: we use less of everything.
The less products we use:
the less exposure to chemicals.
the less accumulation of chemicals in our bodies.
the more I can keep up with what we are using.
Here's what Boo uses from Beauty Counter's Kids Counter line: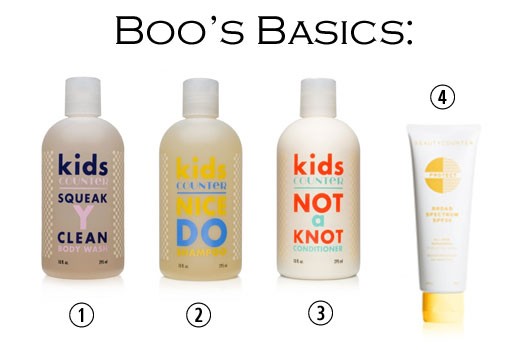 My kid can go through products like they are water so I make smaller batches for her in smaller bottles. She's much more good at rationing what she uses that way.
We don't really use lotion, but if we need to we just use organic coconut oil mixed with a Young Living oil such as Stress Away, Lavender or Thieves. If she has a cold we mix in a few drops of RC Essential Oil and it relieves coughing and congestion without using scary petroleum products like vapor rub. Lavender is also great for cuts and scrapes and we use Purification oil on bug bites or any other itching to relieve it right away.

I try to keep up with the Environmental Working Group's news as much as possible but there is a lot to digest. It's full of great information on consumer products, pesticides, GMOs, etc and you can start here:
I'm not a model environmental citizen in any of these areas but I try my best to do the right thing, which is sometimes just passing along the resources and information so others can make their own decisions. So don't take my word for any of it, just start reading and fall down the rabbit hole with me.
Disclaimer: I am an affiliate of Young Living and I am a consultant for Beauty Counter. No one asked me to be. I do it because I want to share what I love. 
Please help reduce the chemicals that are building up in our environment. Small steps.  
And if you'd like to support my Beauty Counter shop and/or sign up for yourself you can click here or click the lovely image below. I would love to help you find the right products and/or have you on my team if this speaks to you.