So much drama with our broody chickens. This is Twinkle in her nesting box at 9:30 this morning:
This is Twinkle at 9:32:

Oh my gosh was she mad at me. You can almost make out all the bad words she was cackling. I've never felt so shamed before….and it got worse as the other chickens gathered around to stare at our confrontation. We've had other chickens go broody but none of them have ever raised such a fuss before.
Some breeds of chickens are more likely to go broody that others…I think it just means they have more of a built-in mothering instinct…which doesn't make me feel any better about having to remove a broody chicken from a stash of eggs. I'm pretty sure that the term "nesting" comes from broody chickens. They start feathering the nest and will even sit on other chickens' eggs. If I put an egg next to one of our broody chickens (or even a golf ball!) she'll look at it for a moment and then use her beak to pull it underneath her.
Broody is a good thing if you want baby chickens, but we don't have a rooster, so our broody hens are just sitting on unfertilized eggs….which means they might sit on those eggs forever because they'll never hatch. Some hens won't even move off the eggs to eat or drink.
Our barred rock Henrietta will often go missing and we finally figured out this last summer that she likes to sneak off into the woods to lay her eggs. The first time she went missing we thought for sure she'd just been snatched up a hawk or maybe a fox. Then one day she showed up again! But she was woozy and much thinner than the other chickens, having obviously not eaten or had anything to drink in a few days. She looks under the influence: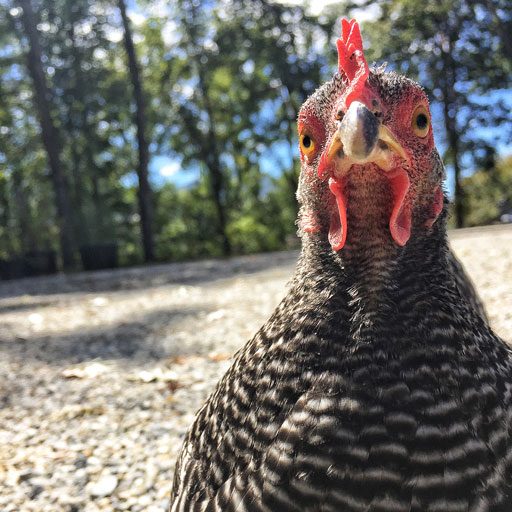 After I took the above photo Henrietta disappeared again! We searched the woods and found her under a holly bush, sitting on about 35 eggs. I had to put her in chicken jail for a few days in order to break her broodiness but it worked. The worst part is that Henrietta is not always the nicest chicken…she likes to pick on several of the others. The other chickens were not very happy that she was back. Before we found her it had crossed my mind for a moment that maybe the other chickens had colluded against her and done something unspeakable.
Henrietta hasn't been broody in a while but she still likes to lay her eggs out in the woods. If I lock the chickens up in the morning and then let them out about lunchtime, Henrietta will unknowingly lead me right to her new laying spot. She runs out in a frantic hurried manner and heads straight for the woods. I run behind her, hiding behind trees and bushes as I go so she doesn't notice she's being followed. Once I find her spot I can go back and collect her eggs when she's not there. I always leave one behind so she will keep laying in the same place.
Rey is another one of our broody-leaning hens…but whenever she's broody she gets so lethargic that I panic that she's dying. The first time it happened I thought for sure she was egg bound because I could feel an egg in her abdomen. If a hen is egg-bound…egg production doesn't stop…so you can imagine how that will turn out if something isn't done. I gave her a long Epsom salt bath and massaged her belly for a while. She only growled at me once. Then I put Rey in her own dark little room with food and water and a soft bed, hoping she would relax enough that the egg would come out. And it did….but it was just a normal sized egg and she acted like it was no big deal. Turned out she wasn't egg-bound at all….just drunk with egg love. She was back to normal the next day after she had some cool air on her belly: