I can't believe the progress on the farmhouse so far…I think that's what happens when you are so excited about a project that sleeping and eating start to get in the way. Demolition for the farmhouse renovation was finished up yesterday. It looks so good already. Those two windows in the middle of the house are where a sitting room is between the downstairs bathroom and master bedroom. We are going to add french doors there that lead to a screened in porch with stairs down to the yard: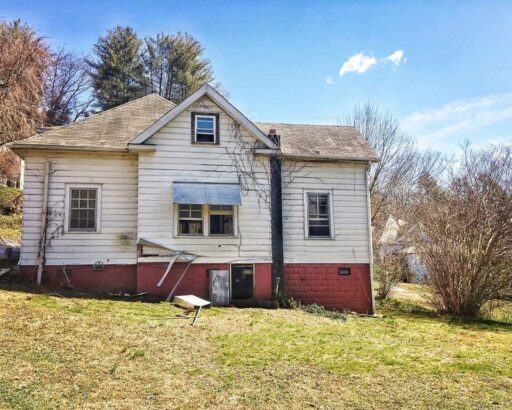 Here are Jaime and Brett checking the foundation under the downstairs master bathroom. From here they could tell that a sidewalk had also been poured on top of an older river rock walk on the outside of the wall: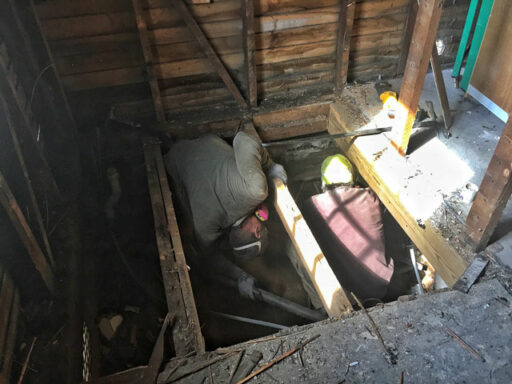 Conference room / master bath. I can't understand a word they say through those respirators…it's like they have a secret language. There used to be an old claw foot cast iron tub right where they are standing but Mr. Plott told me that his mother replaced it with a shower in the 1960's. (Showers are more convenient.) But I wonder where that tub is now. In a trash dump? Melted down into something else? Filled with potting soils and flowers somewhere? Refinished and in someone else's house? I guess we'll never know….but I wish I had a nifty tracing app for old objects just to see the paths they've taken.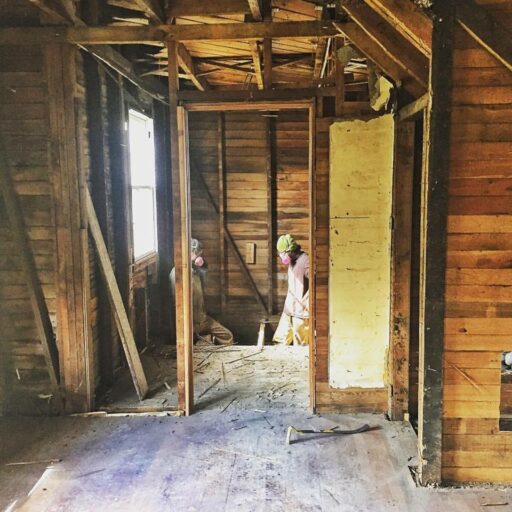 When the shower was removed yesterday the guys found a very small piece of the original baseboard and baseboard cap still attached behind it: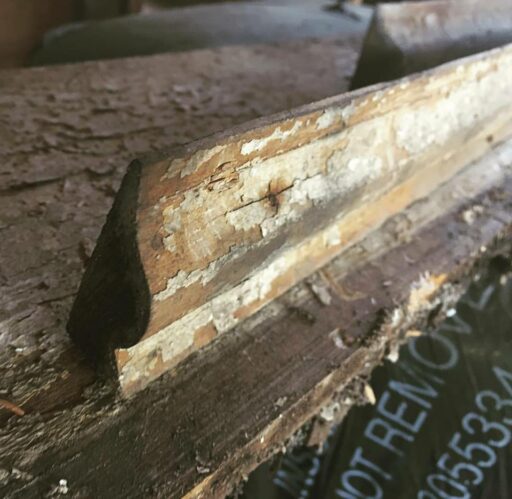 Looking at the house for the first time I think the stairwell caught everyone's eye. It's still in great condition and hasn't changed at all: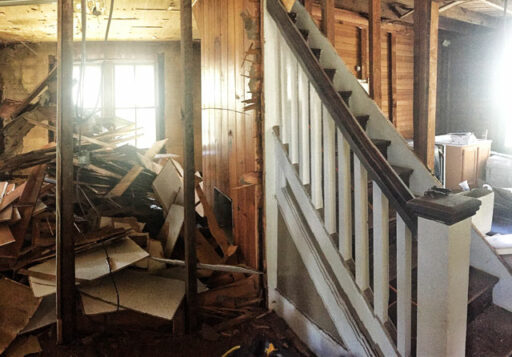 There are three bedrooms on the second floor and a small office. This is the upstairs landing that leads to all the bedrooms: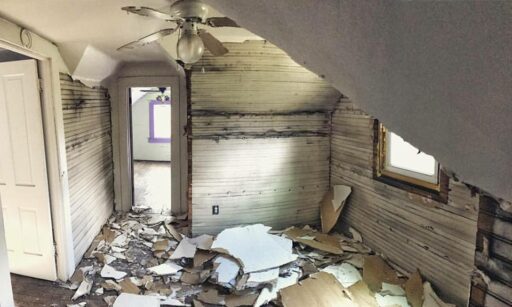 If you don't own a 21″ Stanley Wonder Bar your toolbox isn't complete…it pulls out nails with zero effort. Behind this wall is where the guys found all the space to add an upstairs bathroom. It can be a Jack-and-Jill…with a door from the hallway and a door from the upstairs master. The wood and coal stoves had a chimney that went through that space but last week we shortened the chimney so the brick is only visible in the kitchen since it isn't functional anymore.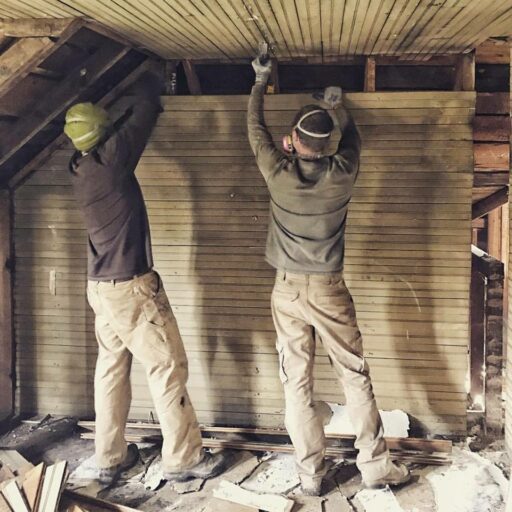 Brett and I were laughing going through these photos of he and Jaime working….they all almost look the same because they are usually in perfect unison removing nails or hammering or doing whatever they do while working. Removing nails from what will be a small den upstairs: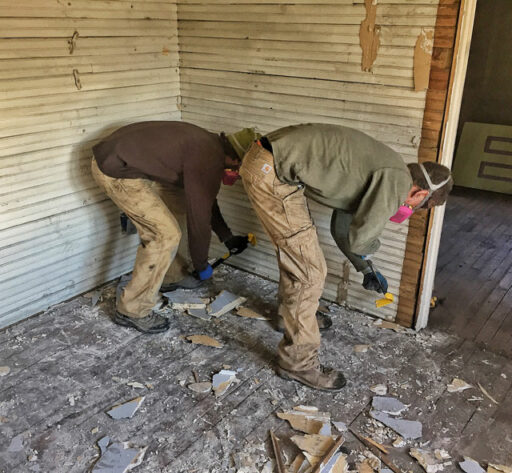 A small bedroom upstairs: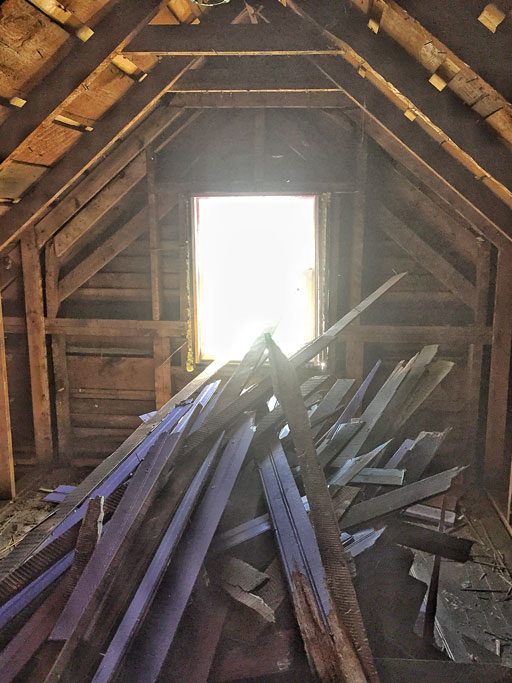 It's like Christmas in March…here's a video of the guys pulling up the carpet in the small office. Wood floors have been hidden underneath old carpeting for years. This is a small room upstairs that Cecil Plott had made into his railroad office. He had a small desk and lots of papers…and a little shelf outside the window that must have held a bird feeder. His son Tom told us that his dad also owned a pickup truck that was the railroad's "express delivery" service. That meant if something came in on the train to Bryson City that needed express delivery Cecil would load it into his railroad pickup and deliver it personally asap. I'd love to know what some of those deliveries were.

Here's the upstairs after demo. It's so open! Next step will be reframing for stability and new electrical and plumbing. To the right is where the new bathroom will be. During demo they found a dead squirrel that looks like it was frozen in time…I mean it literally looked like it had been a taxidermy subject. I wanted to keep it. Everyone said no. Maybe this afternoon will be metal detector day just to get my mind off of the petrified squirrel.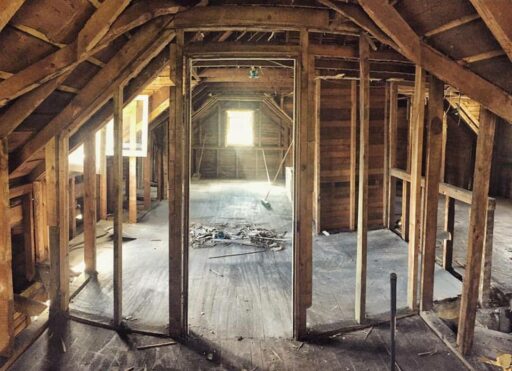 Love these old windows in the upstairs nook. They need to be replaced but we will use them in something else maybe a piece of furniture. The gable to the right is just hiding the old courthouse on Main Street.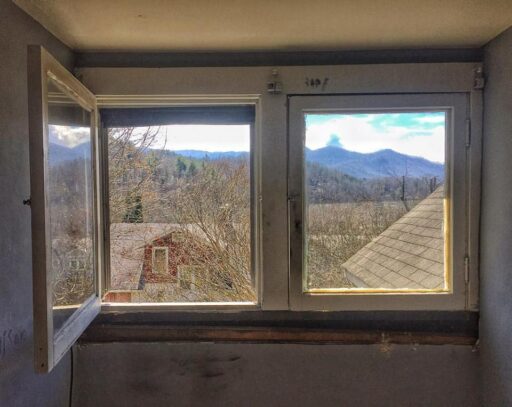 This is the back of the farmhouse from the old shed/coop/outbuilding. There's enough room in the back for a guest cottage to make this a great extended family rental. I already can't wait to decorate it for Christmas and the Polar Express. The backyard needs a fire pit and pea gravel and corn hole and lots of landscaping. Did I mention we can see the farmhouse from our house and vice versa?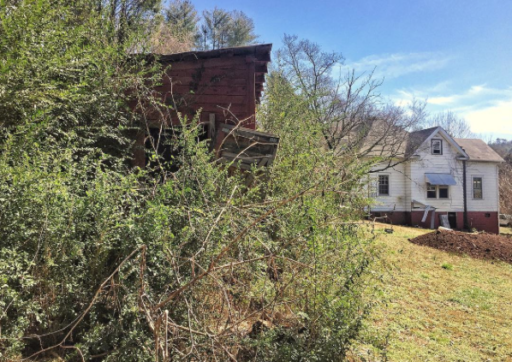 I can't believe we've only owned the Sixty-One Park farmhouse for 10 days. It only went on the market February 24th. March 4th was the inspection and we closed on March 9th. Demo started on March 10th. The guys are hard workers….working even after they've worked their regular jobs too. As they were standing in the dirt floor kitchen yesterday discussing how to jack up the house and pour a new foundation I said, "I've been thinking about what kind of dishes would look great in here." I'm sure they thought I was jumping the gun a little…but those dishes are going to look great in this farmhouse ya'll. Priorities.
We want to put a metal roof on the house just like we put on ours. I'd love your input….would you do a light gray, charcoal, dark taupe, green or red roof? Or just traditional galvanized metal? Personally I like the light gray….and then I guess we'd have to do white gutters. The original (or earliest we know) metal shingles were red, and then painted green at some point in time.

I'll be posting photos of the restoration and history as we go, but to see the progress real time and for updates on when we might actually start taking reservations check our the Sixty-One Park Facebook Page and Instagram page!