I'm happy to report that there is progress at the Sixty-One Park farmhouse. The foundation has taken some extended time to repair but the guys have that under control. The good news for me is that the excavator has been at the farmhouse for the last few weeks moving dirt away from the foundation: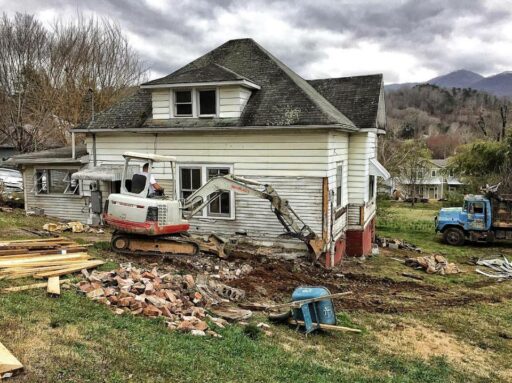 Why is that good news? Because I'm a newbie to metal detecting and any movement of large amounts of dirt from a 107-year-old farmhouse is bound to yield some treasures! I've taken my metal detector out there a few times and found some really cool things. When I opened up my metal detector at Christmas I learned that there is a code of conduct you are supposed to follow as a metal detectorist…unless it's your own property…then you can use an excavator and do whatever you want.
Here are some of my favorite items I've found…before scrolling down try to guess what some of them are: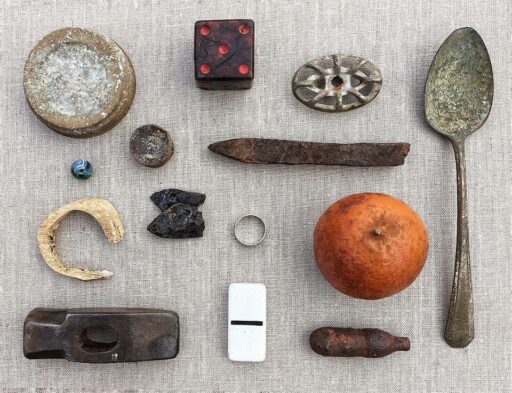 A mason jar lid
An oversized die. This oversized cherry amber die feels like it's made of bakelite or acrylic. It was found by one of the guys while digging up some of the old plumbing.
An oval hose spigot.
A large silver serving spoon.
A blue marble.
A large bottle cap.
A piece of an old railroad spike.
A piece of bone.
A few pieces of coal. The house used to be heated with coal until about the 1950's when they switched to kerosene.
A silver ring. This looks like a wedding band. I found it with my metal detector. Probably the first thing I've ever found with any monetary value. It all has emotional value to me…which I think is one of the first signs of hoarding.
A plastic orange. This was found under the kitchen floor and it has cute little tiny teeth marks in it! Obviously a "Templeton" had mistaken it for a real orange, dragged it under the house and tried to eat it.
The top of an old hammer.
A domino. Blank. Not very old but I love finding game pieces in my path.
A seltzer cartridge. The seltzer cartridge would have been screwed onto one of those old 1930's seltzer bottles.
*****
This little metal canister was found in the crawlspace of the house. While the outside looks pretty rough, inside there was a perfectly preserved piece of paper, the original marketing material that would have come in this little tin. Turns out the can used to hold Ramon's Pink Pills. I found a picture of what the original can would have looked like on the Smithsonian American History site. Ramon's Pink Pills were a laxative sold in the 1930's and 1940's.
"The Little Doctor Brings Happy Days – THOROUGH – Ramon's Pink Pills – A real laxative for adults. Used for three generations. One pill a dose."
I loved this bottle find, found behind the retaining wall that came out….perfectly preserved for about 70 years:
After a little research I learned that the Biltmore Club Bottling Company became Orange Crush around 1947: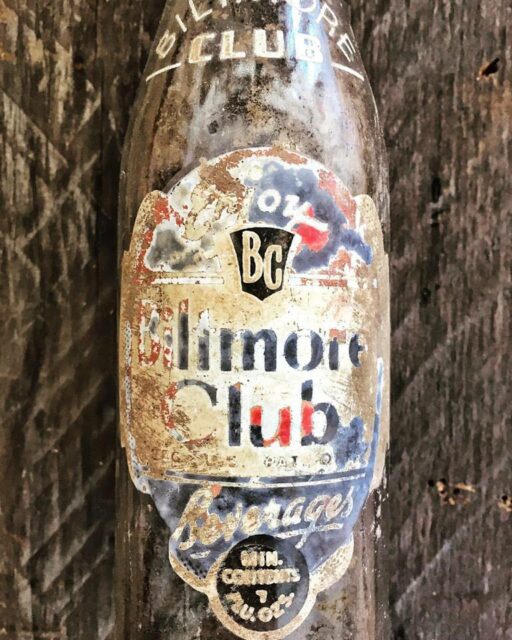 You can read more about the Sixty-One Park Farmhouse history and see more photos here!