Because of the state of the foundation at the Sixty-One Park farmhouse we've had to do a lot of excavation, and that's bound to bring up things from the past. A back hoe is way more efficient than a shovel:
A neighbor told me that a Civil War sword and belt buckle were found on the property next door years ago. I haven't found anything like that but I have found so many remnants of early 20th century life. Here are some pieces of pottery I've found: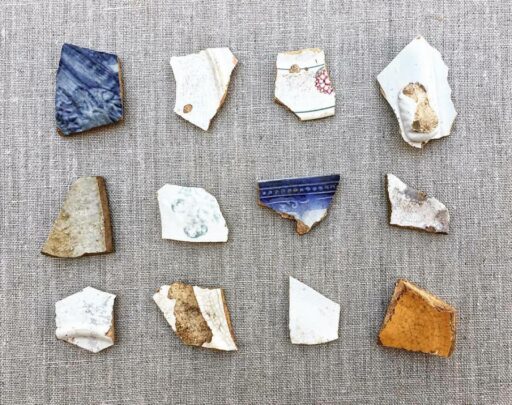 More pottery and glass. I love all the varieties:
One day after it rained I filled up an entire two gallon bucket of glass remnants. Look at the variety of all of this glass! I would love to learn to solder better…maybe this could be a stained glass window one day: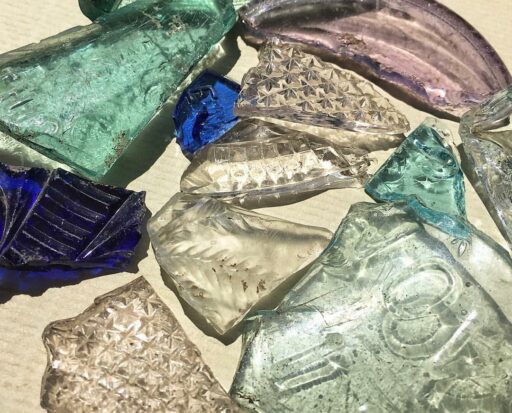 Here's another collection of found objects: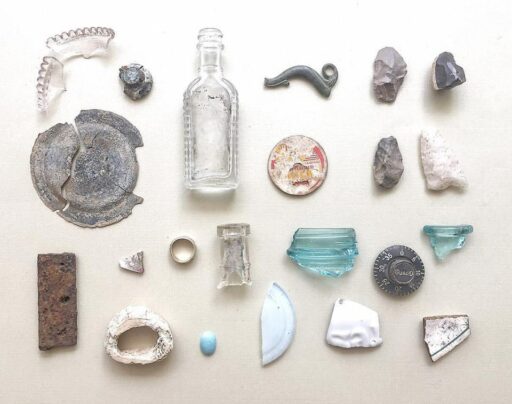 A detailed list:
A few pieces of "fringed" glass
The bottom piece of an old lightbulb
An intact bottle (any idea what used to be in this kind of bottle?)
A metal piece that looks like it might have been on a piece of furniture
Three arrowheads
A piece of obsidian
A cardboard milk top
A zinc mason jar top
A rusty hinge
2 pieces of pottery
An old slice of bone
A small turquoise resin piece that was probably part of a piece of jewelry
A gold ring
The tops of 2 vintage bottles and part of an old blue mason jar
The front of a combination lock
Half of a porcelain mason jar lid
A piece of a salt jar
Oh and these are some of my favorite pieces…because they are toys. A tiny doll dish and pitcher, a porcelain dog, and a green marble. Can't you just see the little girls from that old 1925 photo playing with these?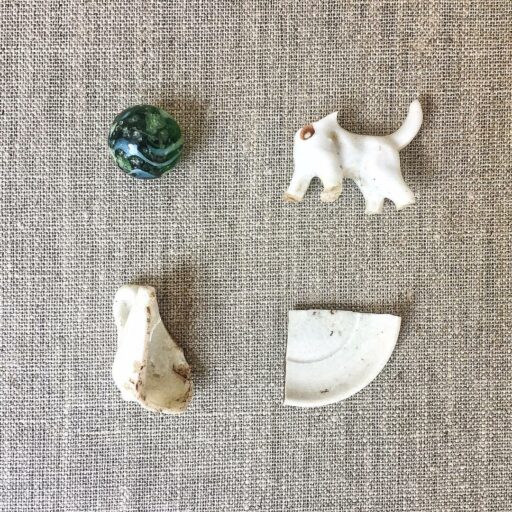 I have buckets of things to still sort through. I don't want to rush it. One day I'll probably have found everything there is to find…of course we still need to tear down an old shed so there's bound to be cool stuff under that too!
You can follow Sixty-One Park on Instagram where I post more recent updates as we go along!