If farmhouse walls could talk …I wish they could. Once I start digging I can't stop. I've looked up every deed, census record, and newspaper headline from 1892 until about 1950 researching this farmhouse. It's all about the story for me and I can't stop until as much of the story is known as possible. Even the fact that some of the deeds are handwritten is part of the house's story….this one was written up in 1892: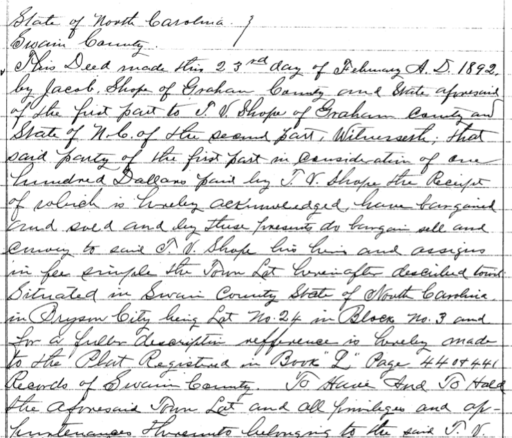 Based off of the old deeds I was able to piece together the ownership of the farmhouse from 1892 to the present: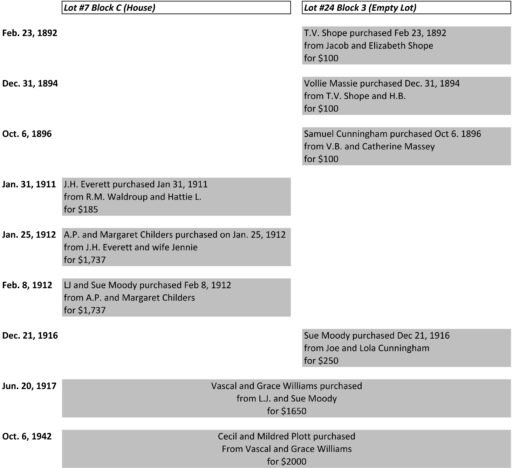 The farmhouse property existed as two separate properties from 1892 until 1916. I am fairly certain that the house must have been built in 1911 because it goes up in value by $1,552 in less than a year. J.H. Everett was a real estate investor and probably built the house: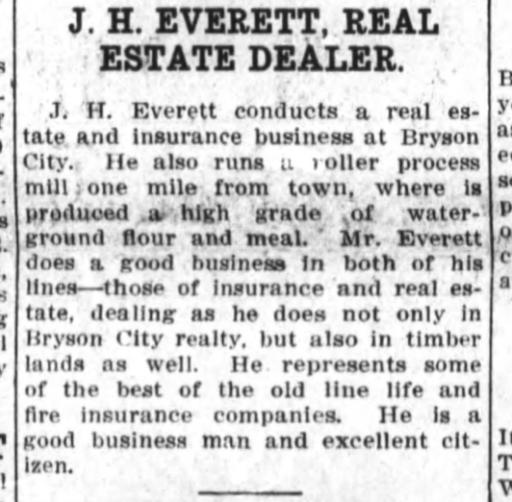 The Childers Family only owned it for 14 days so I just assumed that that sale fell through and LJ and Sue Moody bought the house in 1912 for $1,737. Four years later Sue Moody purchased the lot next door for $250 to combine the property. I thought it was interesting that the property was purchased just by Sue…probably because of the bankruptcy you'll read about below.
The Moody Family
From the census records I found out that LJ Moody changed occupations over time. In 1910 he listed himself as a logging foreman, then in 1920 a retail merchant, then in 1930 a farmer.

His wife Sue and three daughters (ages 12, 14 and 16) living in nearby Whittier right next to train. I found a newspaper headline from February 1915 where LJ Moody filed for bankruptcy:
A year later was the discharge: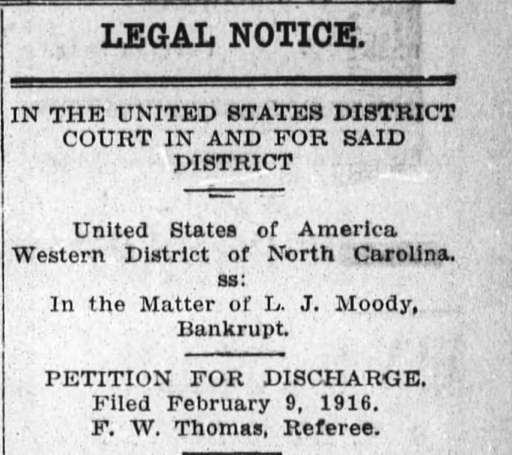 Lewellyn "LJ" and Sue Moody sold the Sixty-One Park farmhouse a little over a year after emerging from bankruptcy. They lost about $337 dollars on it, a large amount in early 1900s. They didn't move far according to the 1920 census records…just one street over. By that time LJ had become a retail grocery merchant in Bryson City, and added two new son-in-laws and three boarders to the household, all working for the railroad in some capacity.
Sue Moody died "following an extended illness" a few years after they sold the farmhouse. LJ remarried a few years later, a woman 25 years younger than him. I hope things looked up from him after that. I was only able to find two photos of LJ…he lived until 1961 and died when he was 93 years old.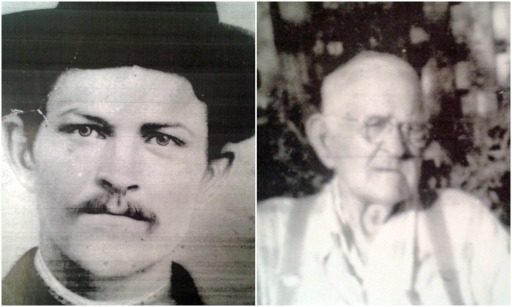 The Williams Family
In 1917 the Vascal and Grace Williams bought the farmhouse. Through obituaries, I was able to track down their granddaughter Lynn who lives in Maryland. I left a message and a few days later she called me back! Then she sent me a photo: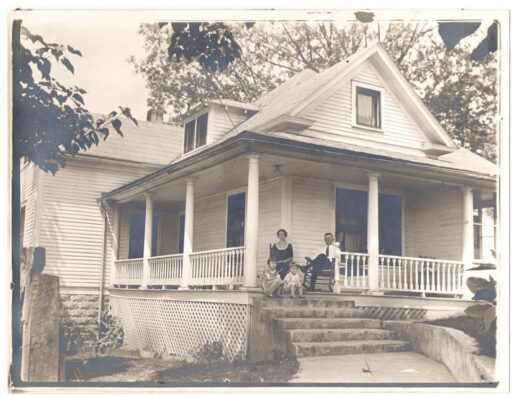 Here is the farmhouse today.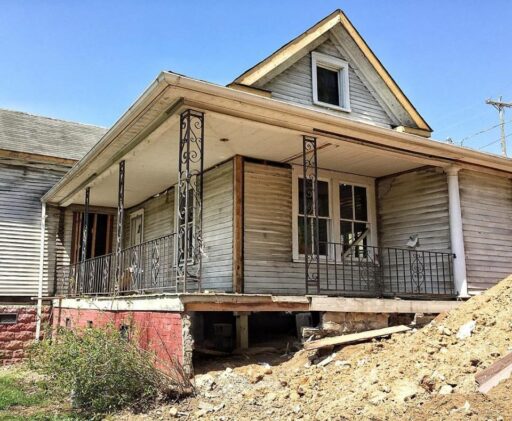 It looks like there used to be a screen porch to the right where the kitchen is now. Not much has changed except for the columns that were removed in the 1950's and replace with wrought iron. We have the remnants of one of the half columns and it's interesting that the column has been bored out and was once in one piece: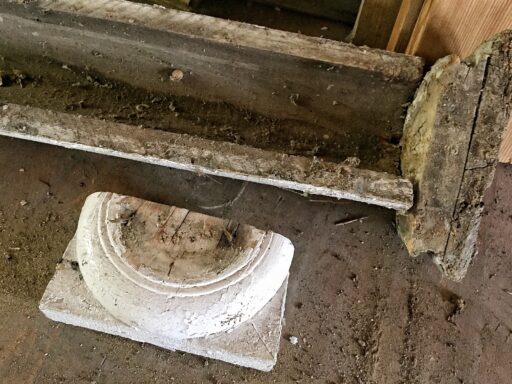 While reading old newspapers from the area I found this regarding those columns:
"A number of interesting and unusual industries have located in Swain County, but probably the most unique of all is the Bryson City Pump Works. They manufacture several side lines, such as wood pump tubing, tanners liquor logs, and miscellaneous wood trimming, but the chief product is solid bored colonial porch columns.

The uniqueness lies in the fact that this is the only concern in the United States making columns from solid logs. Poplar logs from all parts of Western North Carolina are shipped to Bryson, where they are bored the entire length for lightness, strength, and to prevent splitting. Next the bark is turned off by semi-automatic lathes, wood trimmers finishing trimming and shaping the shafts in hand lathes. Next they are painted with white metallic paint and air-seasoned for three months, sandpapered, smoothed and given a second coat of paint before crating.

Mr. Shank, the president of the concern has been in the business for 40 years, half of which time has been spent in Bryson City, and no little amount of the city's progress is traceable to his work. He and the men with him pride themselves in the quality of their work, and the columns are manufactured at Bryson are in demand for homes over Carolina and as far north as Massachusetts." -Asheville Citizen-Times November 30, 1921

Vascal's name was found on the upstairs beadboard when we were doing demolition. They spelled his name wrong for delivery but it's cool to see what their addition to the home was:
I just love the photo of the Williams family. It gives me goosebumps to think that this was taken 95 years ago. Lynn told me that Marian was born in 1918 and Kathryn (Lynn's mother) was born in 1921 which means they were around the age of 7 and 4 in the photo.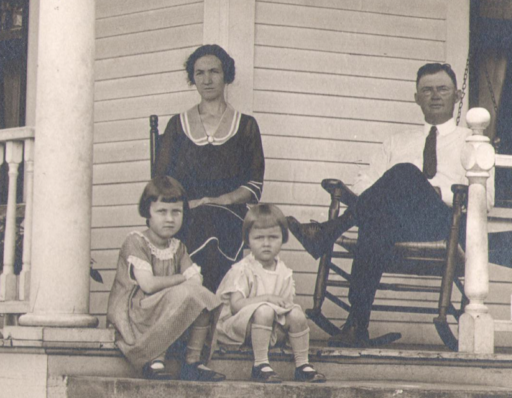 This would have been a really nice house in 1925. Lynn said that her grandparents didn't have a lot of money and were extremely frugal. I love the plants in old tins on the porch: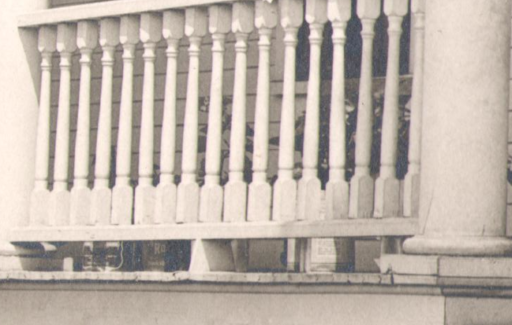 Vascal was a lineman for Western Union. He worked for them for 47 years. A lineman would have been responsible for installing, maintaining and repairing telegraph lines. In smaller towns a lineman might have been responsible for taking in messages and delivering them too….which I imagine Vascal did because there wasn't a Western Union office in Bryson City until 1930. The history of Western Union is really fascinating….especially as the telegram fades into history. Around 1900 Western Union had over a million miles of telegraph lines, and two lines running under the ocean.
A newspaper ad from 1913:
The Plott Family
The Williams family sold the house to Cecil and Mildred Plot in 1942. Cecil Plott worked for Southern Railroad and was the station agent / telegrapher for the Bryson City train depot. I found this September 1963 article in the Asheville-Citizen Times about a train derailment that mentions Mr. Plott: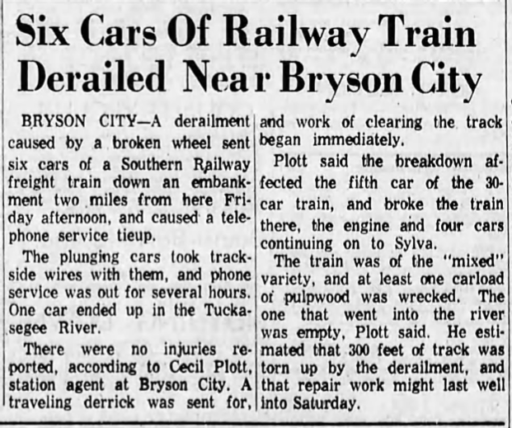 I've written some about the Plott family and their memories of the house here.
I love this history of this old house. I still can't believe we were able to get such a clear photo of the house from 1925. I feel like I know these families now. I've found so many items on the property: wallpaper, glass bottles, spoons, marbles, mason jars and more. Each item makes me wonder which family left it behind: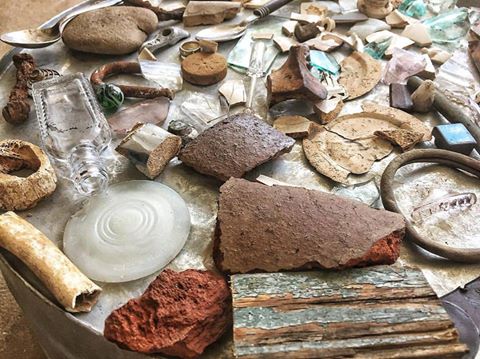 I'll share more detailed photos of what we've found soon…once I get them in some sort of order!
Read more about Sixty-One Park here.