I've been pretty busy at the end of September working on a huge mural painting project at YMCA Camp Watia: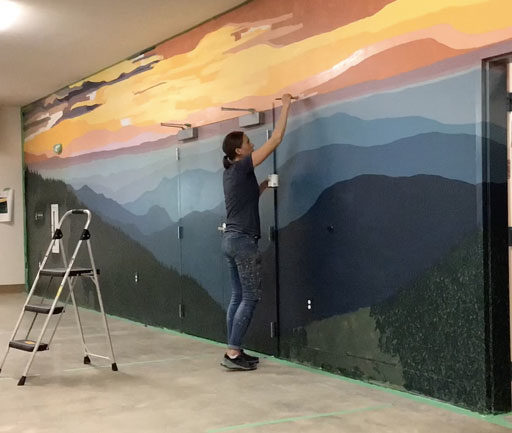 When I was asked to paint this mural by Ryan Hove, Director of Camp Watia, I was a little overwhelmed at the enormous scale of the 50 foot wall: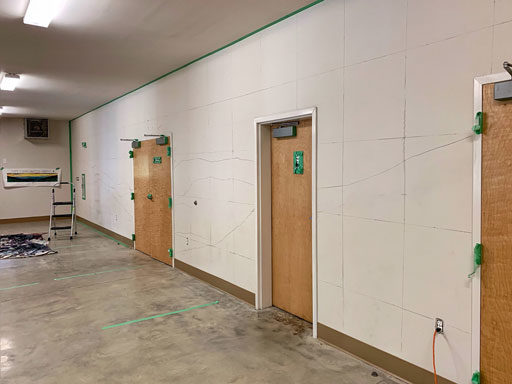 I've painted murals in past but they have usually been broken up into smaller segments of room walls. Once I viewed that 50 foot wall as smaller segments it didn't seem so daunting anymore. The first step was to sketch and paint a small scaled version of the potential mural on paper so I would have an example to work from: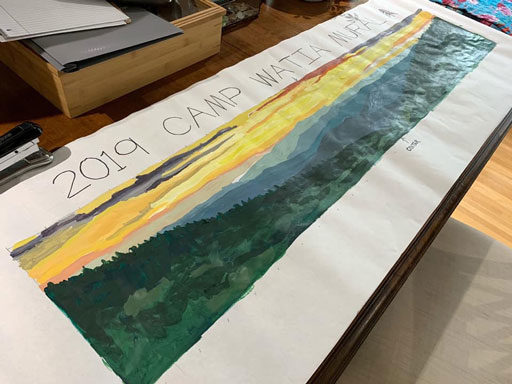 I based the whole design on the view from Waterrock Knob in the Great Smoky Mountains but I had to alter some of the ridge lines to make them fit along the enormous length of the 50 foot wall. Funny, I was at Waterrock Knob last night with my family and took these photos of the sunset and you can see how the light changes so quickly: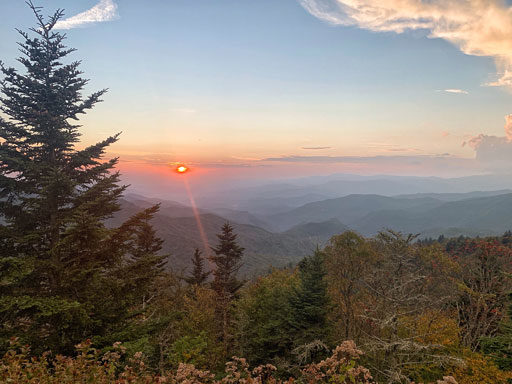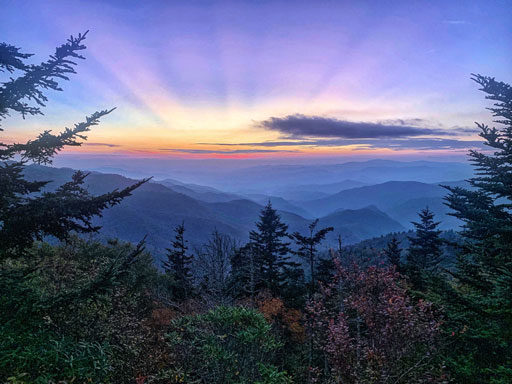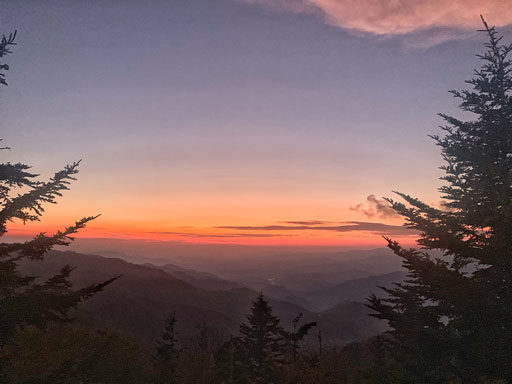 The landscape inspired by the summer months: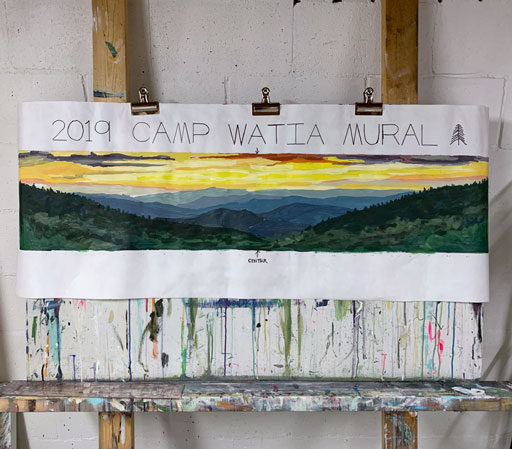 I used a high quality interior wall paint for this indoor mural. Since it won't be exposed to the elements or to constant direct sunlight this was the most economical way to mix large quantities of custom colors: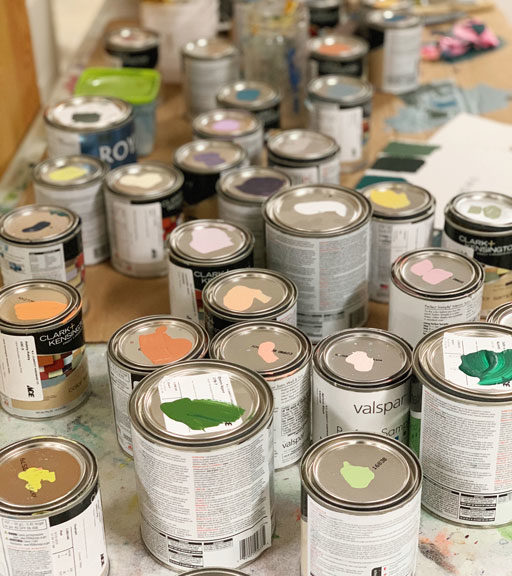 Mixing to get the colors of the mountains just right: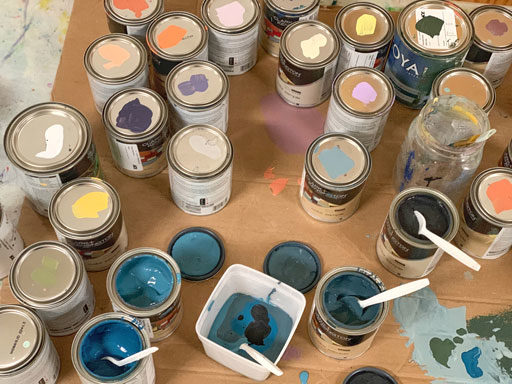 I did change my mind a few time on colors while painting. I always seems to make more work for myself but the colors had to be just right. A small process note….can you see the tree tape on the floor? I divided the mural into 6 different sections so I could keep track of where I was while painting: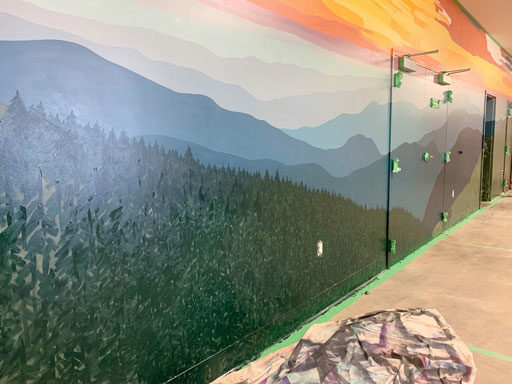 I think I painted at least 5,000 tiny evergreen trees! Here's a short time lapse of those:
View this post on Instagram
In the final stages of painting: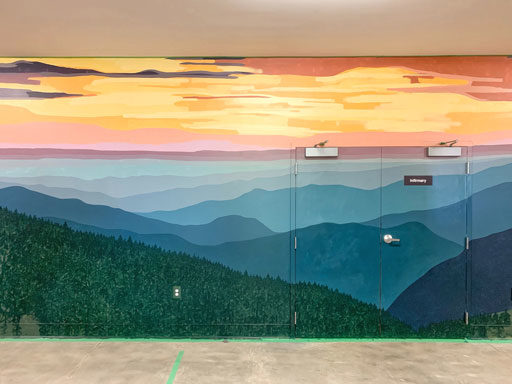 There's a gold gnome named Gnomeo that gets hidden around camp during the summer. I painted a tiny one into the mural behind some trees: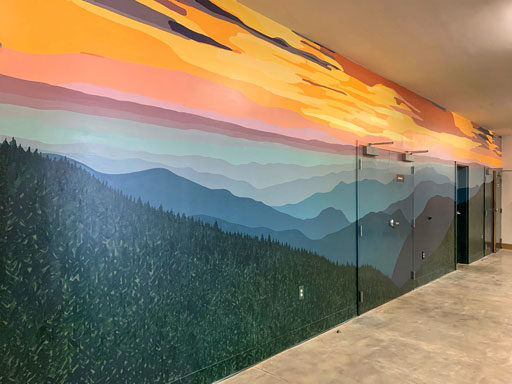 Here is a time lapse of the painting process. I only included footage of the actual painting because the mixing of paint would just be boring to watch. I tried to stay out of frame when I was inhaling a sandwich or snickers to re-energize.
It took me about 35 hours to complete the painting. The mural is so long it's almost impossible to get a full length photo of so I took a few photos and pasted them together for you below. You can click on the image and it will open up to a larger size in another window:

The mural is located in the lower level of the Glass Lodge the you can see to the left side of this photo: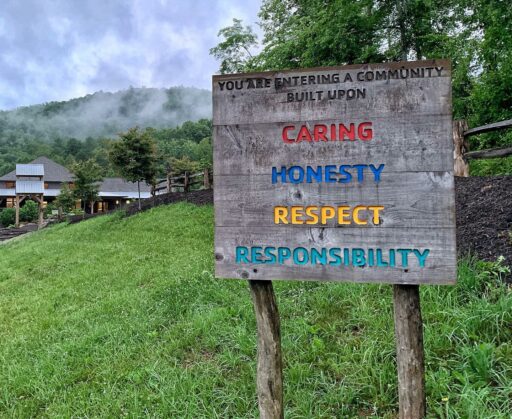 We love YMCA Camp Watia. Sienna is already signed up for 2 weeks in 2020. It will be her 5th year. Here she is last year at camp: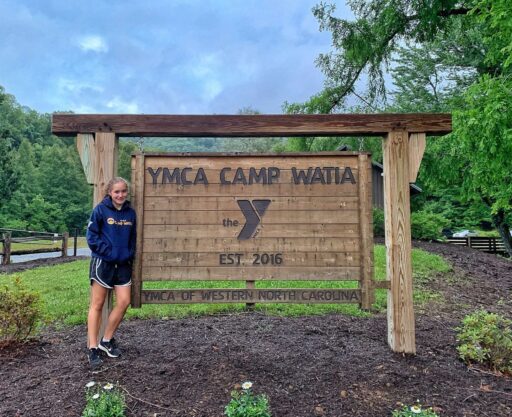 To learn more about YMCA Camp Watia in the beautiful mountains of Western NC you can click here! Thank you to everyone at Camp Watia that supported and encouraged me along the way! I'm so happy with how it turned out. Now to focus on getting my store opened! I have lights and a floor now…it won't be long.