I finally opened up my store around Thanksgiving and I'm so proud of this cute little place! Here's the front around the time when I first opened: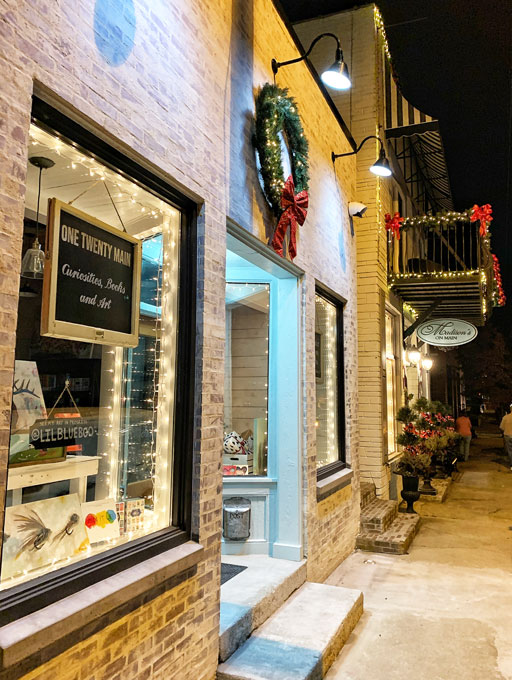 My first little sign is handmade using an old window: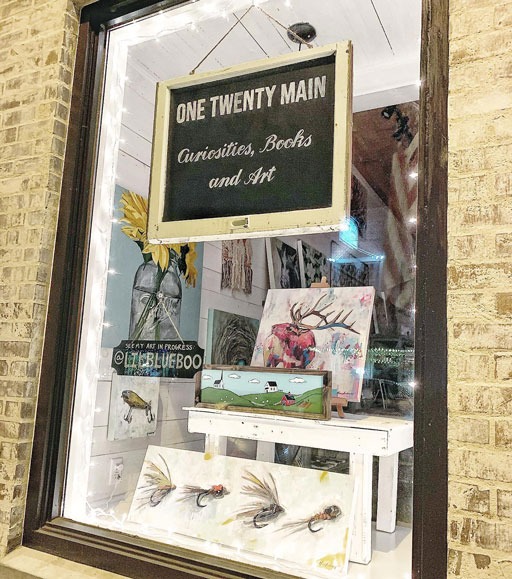 Looking out the front door to Main Street:
Looking back toward the counter: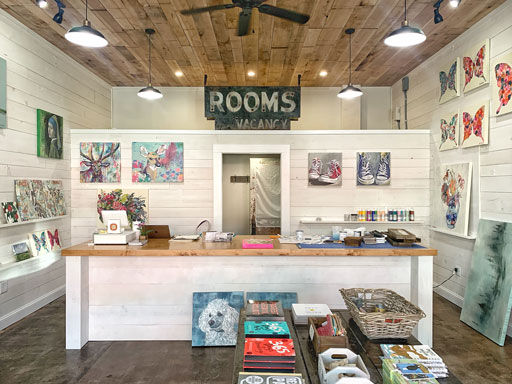 It changes almost every day because I'm always creating new things and moving things around: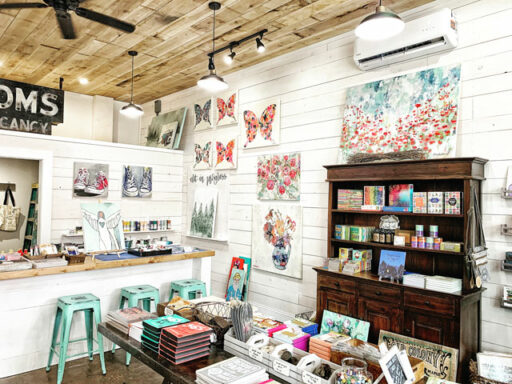 I have a work area in the corner with a large all easel where I can paint during the day: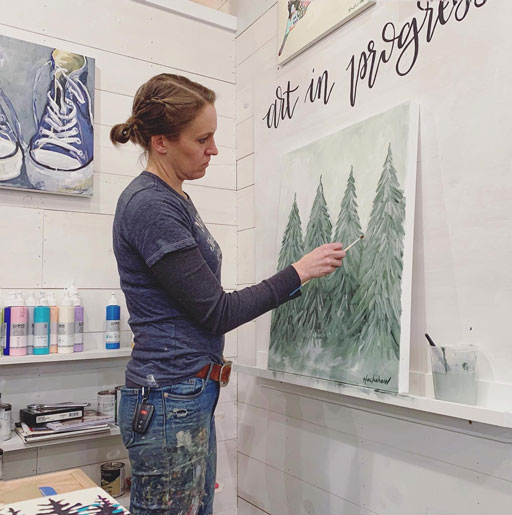 My friend Sarah of Cottonwood Artistry came over one day and wrote the "Art in Progress" across the top: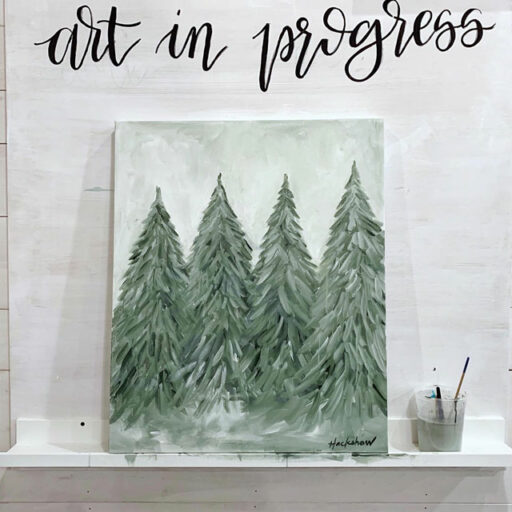 There's always new art being painted and I love that I can work at the store:
The back wall has now become a place for my paints and a "drying rack" as well for paintings in progress: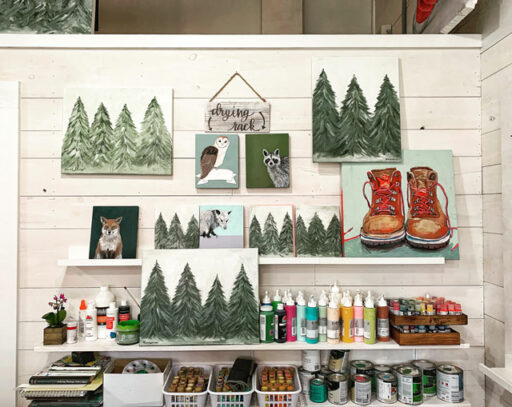 I'm sure the displays will change as I go…and I just add things here and there. Brett made me these little tables recently to fill in some empty space where the Christmas decor was: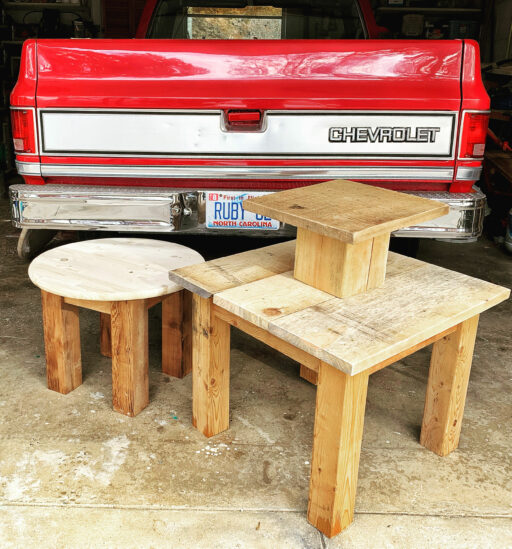 I painted them the same gray as the shelves I made and they work just fine for now: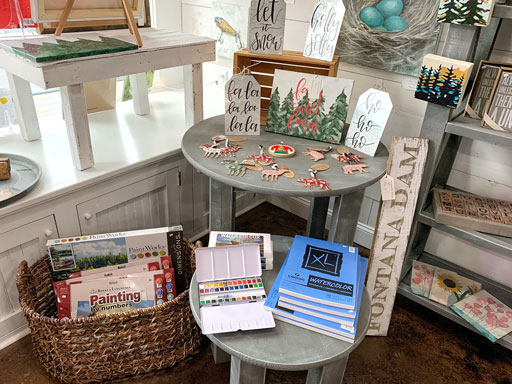 See that little sideboard table? That's the first piece of furniture Brett and I bought when we first got married 18 years ago. My brother got it when he married and then my sister had it for a while. It's come back to me again: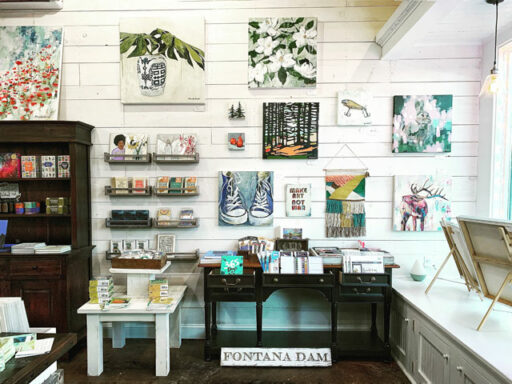 I've been adding all kinds of little things to the store like patches, books and journals: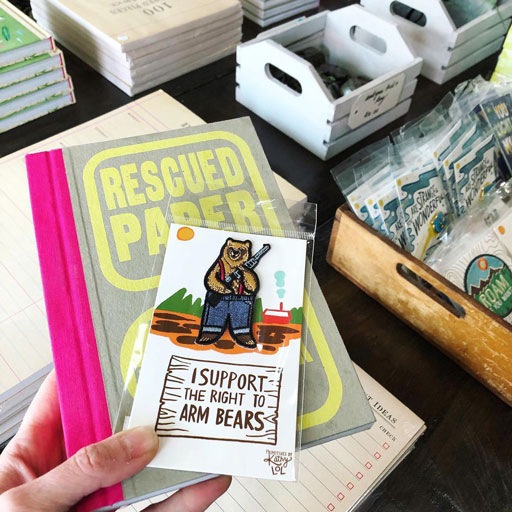 And making new things here and there that are mountain themed: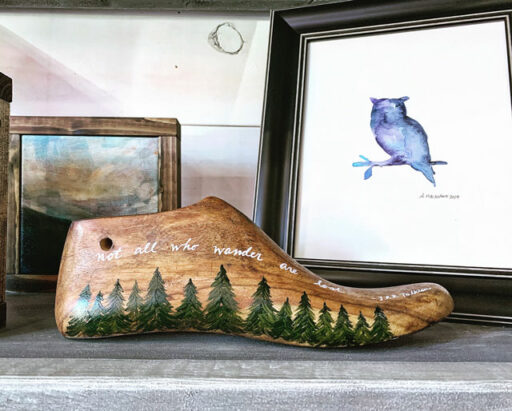 I love rearranging the shelves and creating new displays: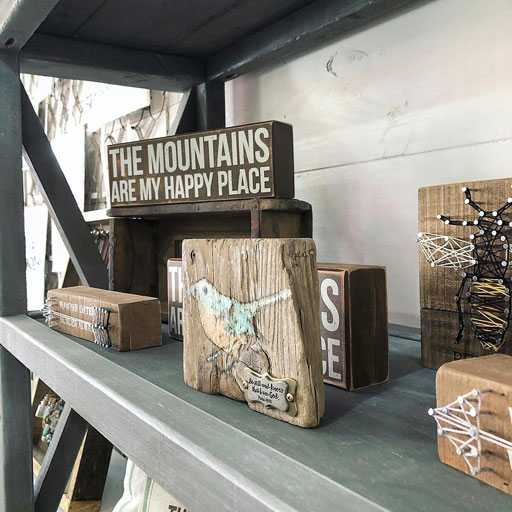 All my landscapes in one place: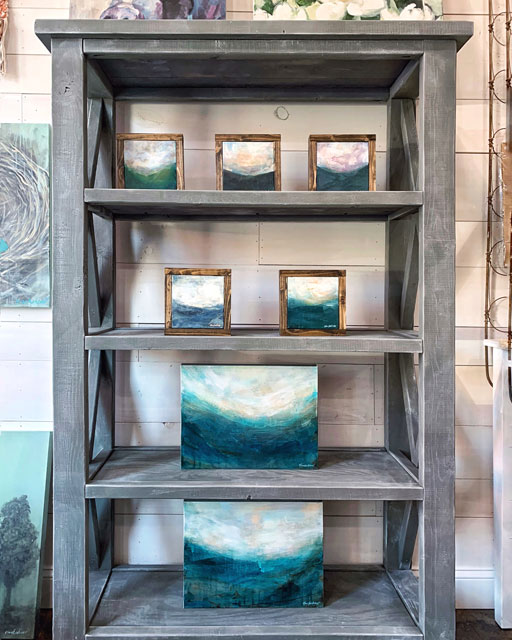 I love this new little children's book call The Hike by Alison Farrell. The little girl in the book keeps her own sketch field guide:
Little watercolors and prints: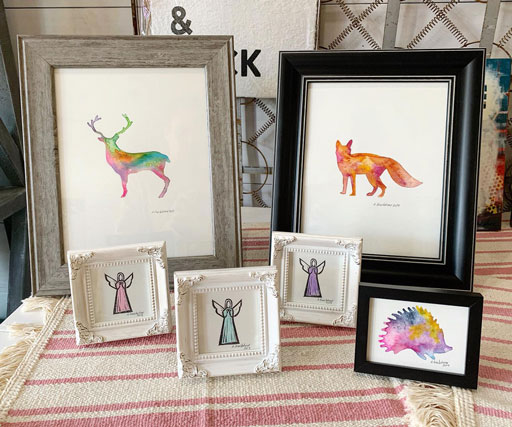 I'm slowly running out of room but I'll just have to figure out more creative ways to display things upward: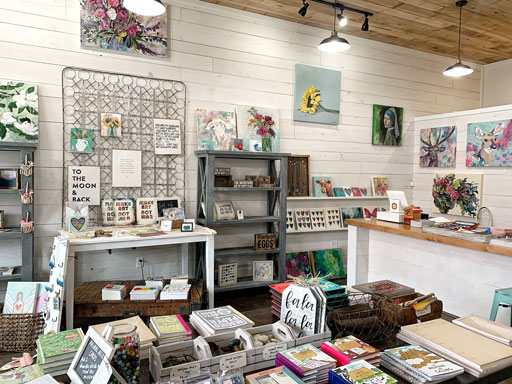 I love how the gray shelving turned out and the old bedspring is great for attaching paper art to: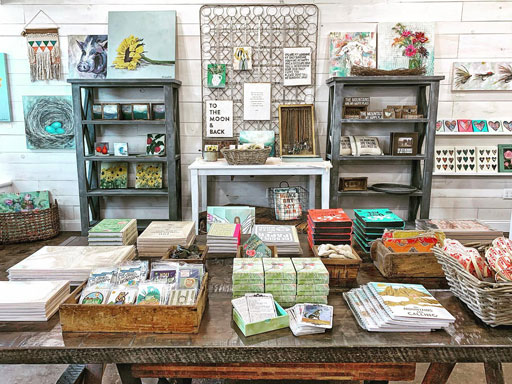 A few other goodies: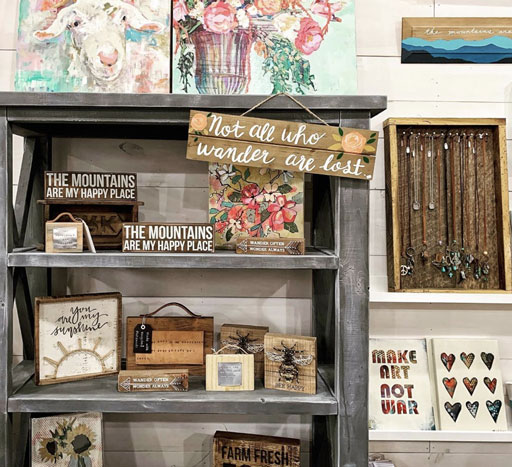 That huge wood table in the middle was made by Jaime using an old industrial sawhorse. The little rolling cart was found in an old wood factory: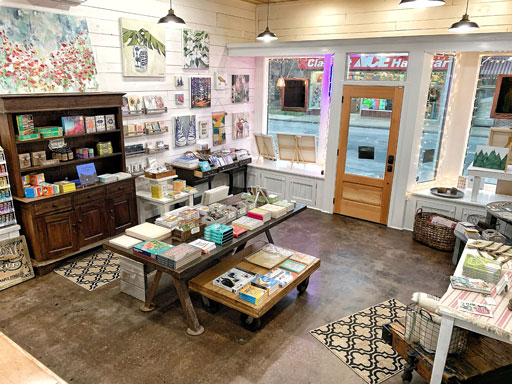 Right now I'm even using one of our outdoor benches from our house to display books: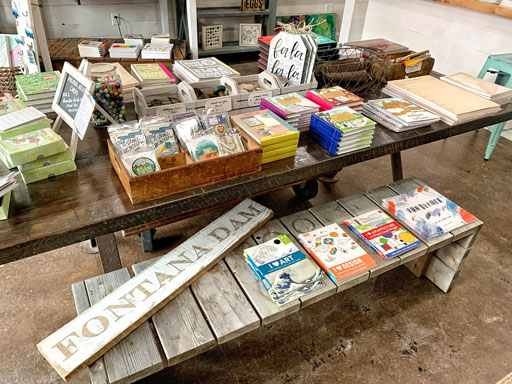 I'm slowly adding a collection of art supplies to the store for locals since we don't really have any other place to shop around here. I love the huge display of DecoArt acrylic paints: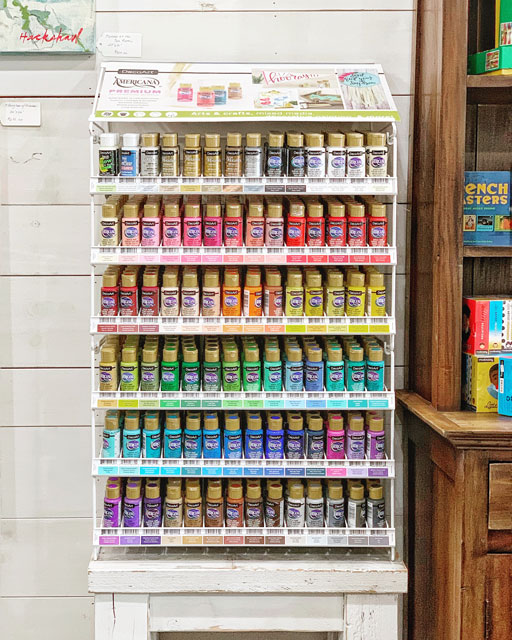 When I was first opening I was trying to figure out what to put on my chalkboard signs and I asked my friends for help. This is what my friend Dave said jokingly…but I ran with it for a while!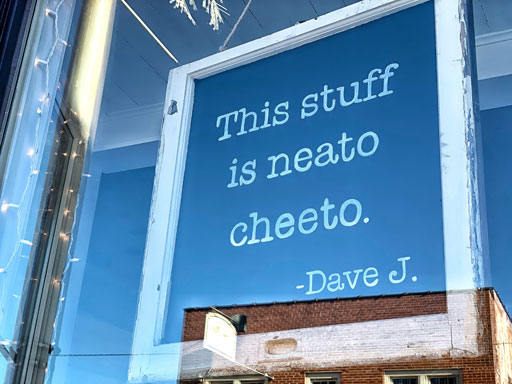 My new sign has my name on it…which makes it a little surreal that I actually have a store and gallery now:

I'm still working on hours…I'm usually there working most days but I'm sure to be there Thursday, Friday and Saturday between 12 and 4. And sometimes I have to leave for a bit for good reasons: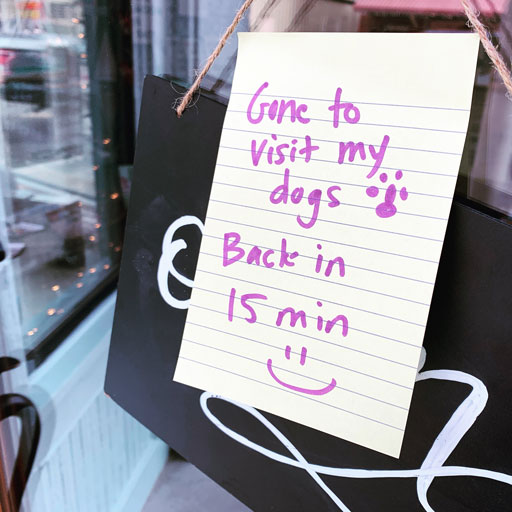 I hope you can come visit one day! I'm a little behind on listing artwork on Etsy but should be catching up this week finally!
Work continues on the house next door but we are making progress! You can see the most recent pics at @onetwentymain!