My sister and I went to a beginning bonsai class this weekend at Wild Fern Studios & Gallery here in Bryson City. The class instructor, Karen Taylor of Taylor's Greenhouse, provided all the trees, tools and pots we needed. All we had to do was show up. The first thing we did was select a tree. Perry and I sat at a table and made a new friend named Carol. Carol used to raise llamas: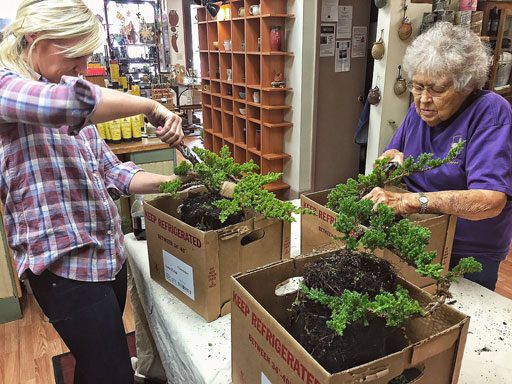 I've written about bonsai trees before and why I have such a love for them (it all started with a neighbor's magical bonsai garden when I was a little girl). We trekked to DC recently to see the 400-year-old bonsai that survived Hiroshima. Basically: I will brake for bonsai. Perry snapped a photo of me after the class finishing up a few trees: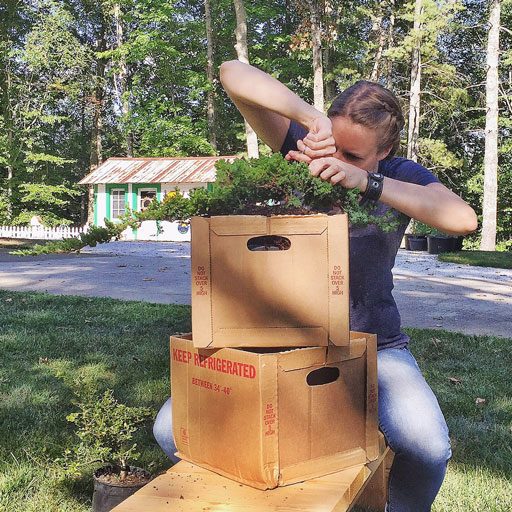 So far I have five bonsai trees in training. They are just regular trees that are trimmed and formed over and over to keep them small. I'm over simplifying it I know…
I'll keep you updated on the bonsai progress. I have a lot to learn…and it takes a lot of patience and time. That part will be very good for me. I've been trying to grow my own Japanese Maples…so far not much success but I have hope!
Here's a beautiful short film on Bonsai:

American Shokunin from Ryan Bush on Vimeo.