I feel like I've been all over the place these last two weeks!
I silk screened a limited edition set of silk screened dresses for my Big Cartel shop with matching doll dresses. I made them in every size which is my new plan going forward for limited edition screens….it was a ton of work but so happy with the dresses. I always try to make one for Boo and get some photos of her. My friend Lisa had just taken her daughter to this cool graffiti wall on El Paseo so after pancakes at Keedy's this weekend we went by and snapped a few photos: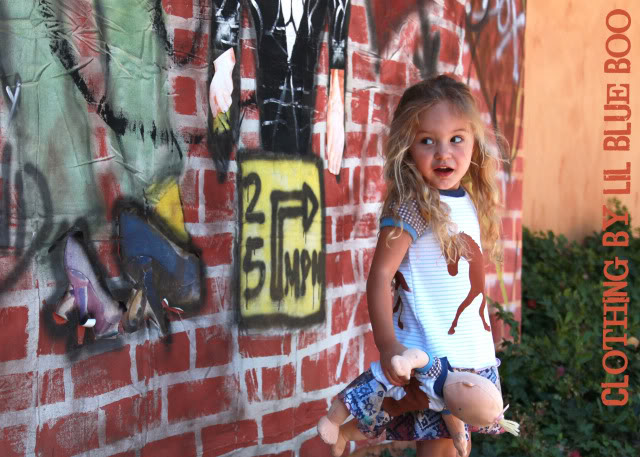 Of course she didn't want her photo taken….so I just had to snap as she sulked 😉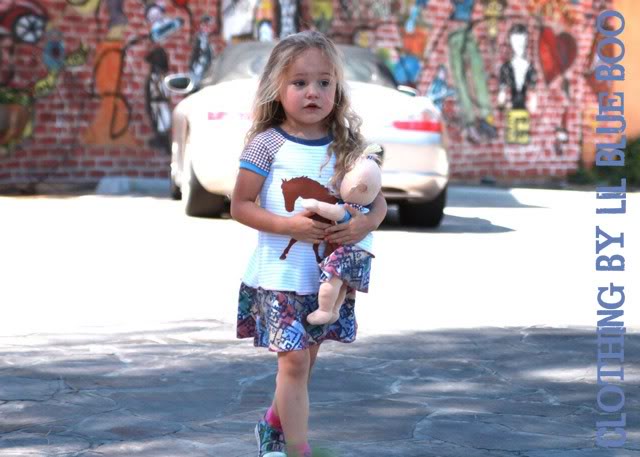 I've been organizing my studio as I move in….it's coming along. I'll try to get some photos put up once everything is put away. I finally got around to organizing all my patterns that I use almost every day….I'll have a separate post on this soon.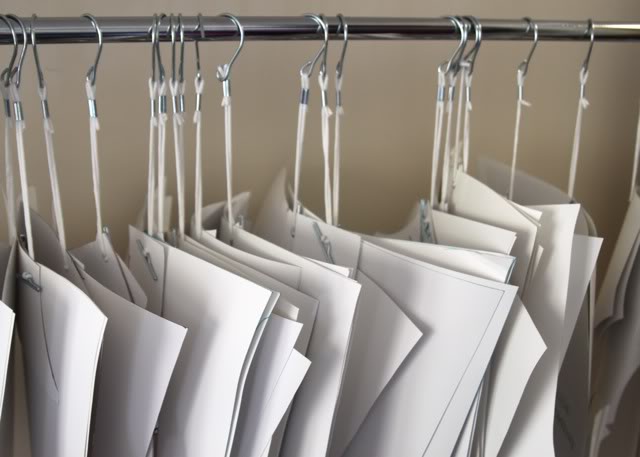 Sienna's been contributing by drawing spaceships on any pattern piece I happen to drop on the floor: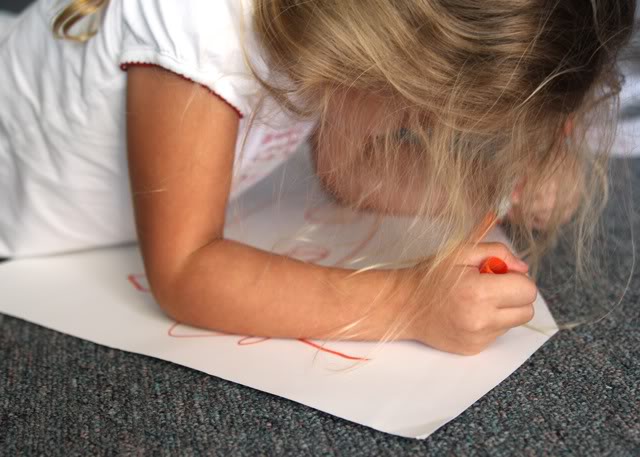 I've moved over most of my knits onto the shelves that Mr. LBB built me for Mother's Day:

I made Sienna's Butterfly dress…..she's loving the purple. I had to bribe her with a bowl of Reese's peanut butter chips to get a photo of her standing still. The quality of Dharma Trading's spaghetti strap dresses are great. They are a heavier cotton rib so they aren't see through at all. They run about $10.50 each.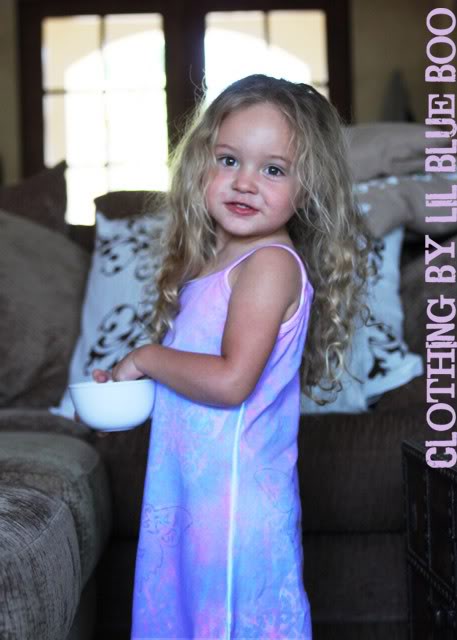 The highlight of the week was when Sienna's new baby Li'l Sally arrived! For weeks Sienna has been stalking the mailbox: "Is Sally here yet Mommy?" Debra from AppleTreeHouse made the 10″ Waldorf doll for us and we are in LOVE with her.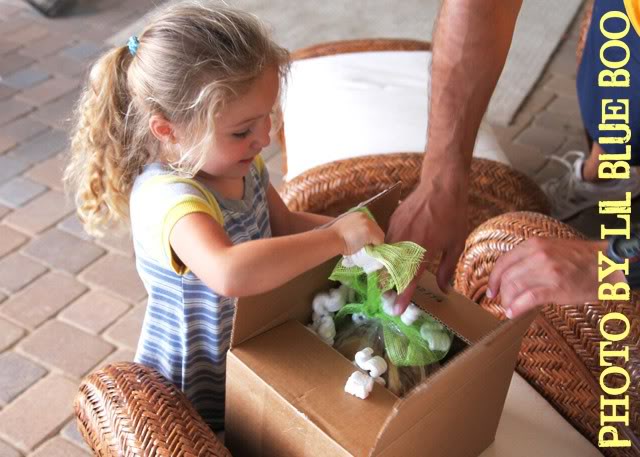 Debra did an amazing job of matching the unruly curly hair to Sienna's! I can't even tell them apart!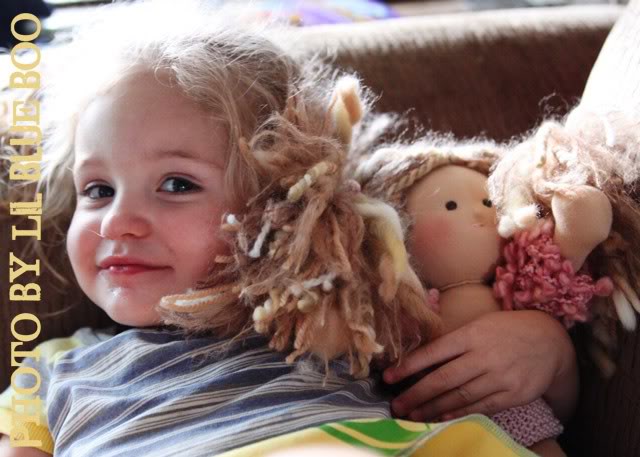 Li'l Sally needed some clothes so Sienna helped pick out some knits and we made her a cute little LBB dress: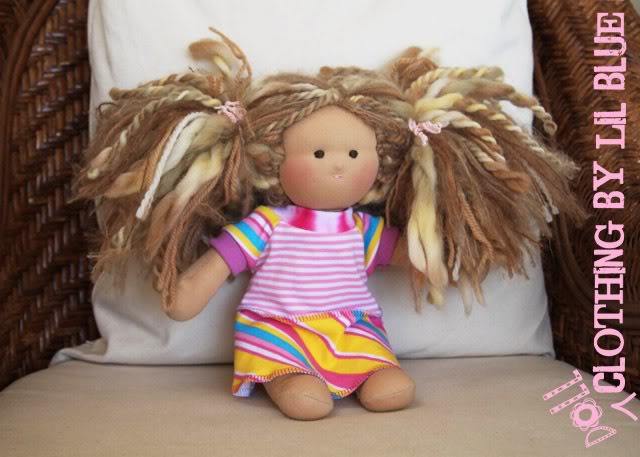 I sew so many things in a week that I run through a crazy amount of serger blades. I decided to attempt sharpening them myself…..big fail. The low of the week: now my machine has been down…..and my dresses are piling up! Hopefully the new blades come today…..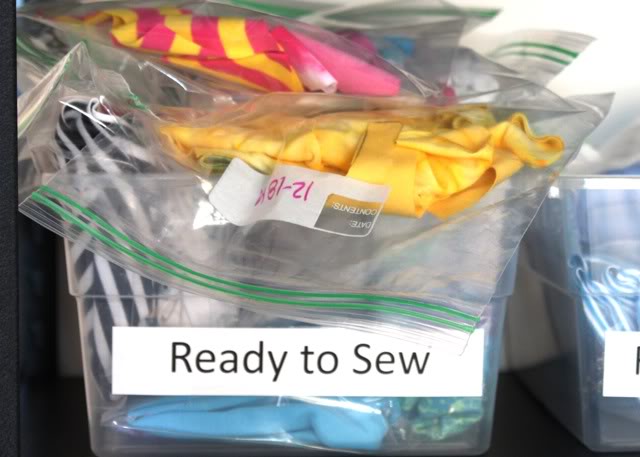 ….because boredom is setting in! We've been eyeing Diesel for some time wondering if he could fit into a doll LBB dress. Funny….he is the same size as a 10″ Waldorf doll! Please don't tell any of your dogs….I don't want him getting bullied.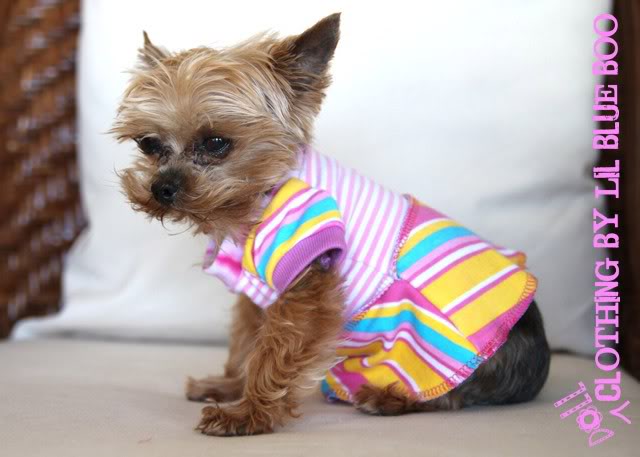 This doll dress was a sample and you can win it if you leave a comment on the post announcing the giveaway on the LBB Facebook page! Ends tonight at midnight! It will fit a 15″ doll or stuffed animal and features some of my Lil Blue Boo Citrus silk screen.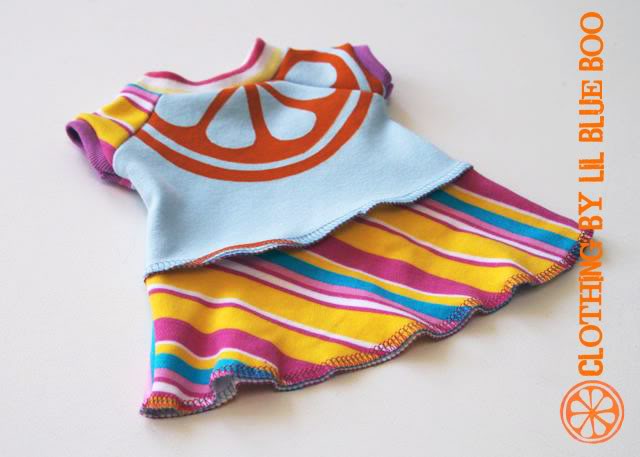 Off to check the P.O. box!