I know you've been waiting for the rest of the story. I had to wait until I really felt like I knew how to tell it, to explain the enormity of it.
Our house is for sale. The clothing line will be closed at the end of the month and Brett* is walking away from his business in CA.  We are selling almost everything we own except for sentimental family items.
And at the beginning of the summer we will be moving from the California desert (with population 600,000+)…..2,159 miles to Bryson City, North Carolina (population 1,500)….to live at a small, country inn:
It's a story that starts 35 years ago, when my grandfather first visited the Hemlock. As a family, we visited the Hemlock in 1979, 1980, 1981, 1982, and 1983.  We stopped going after my grandmother died, but I always thought about it.  Our stays at the Hemlock were the only vacations I really remembered as a young child.  We'd gone to Disneyworld, the beach….all the usual stops….but none of those created the vivid memories like the Hemlock did.
Fast forward 30 years, to last summer.  Boo and I were flying back to the east coast to visit my family in Charlotte, North Carolina. I really wanted to do something different with her and the first thought that came to my mind was the Hemlock, only I didn't know if it was still there.
I looked up the Inn and was surprised to learn, not only was it still there, it was still owned by the same family.  I made reservations for Boo and I….my mom, sister and my brother's family too.
In July, driving up the long winding driveway to the Inn I didn't know what to expect, and it was like I was driving into my past. I had so many images in my head, but childhood memories can sometimes be like little warped vignettes.  As we pulled into the gravel parking space, right up front, it felt like I was coming home to a place that had been secretly pulling at me for years.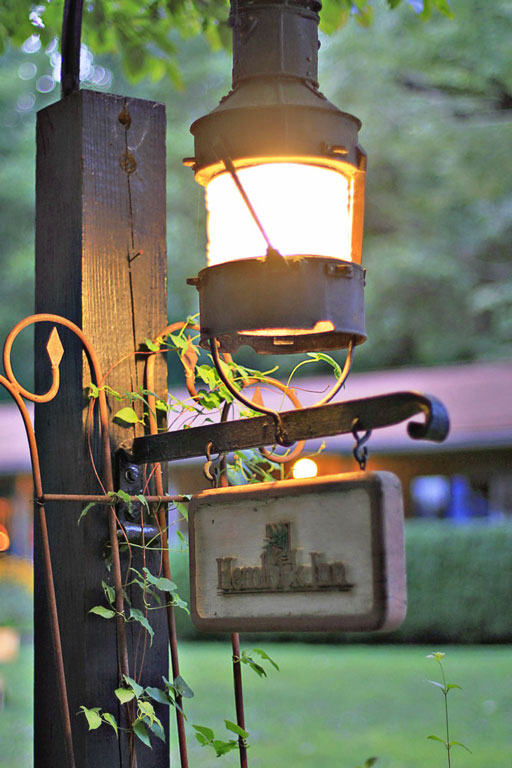 I felt a shift in me at the Hemlock last summer.  I asked (jokingly at the time) if Mort would rent me a cottage for a few months the following summer so that I could finish up a book I've been working on.   On the plane ride back to the desert I pulled out a book that turned out to be the last book my dad was reading before he died (another long story). As Boo slept next to me, I wrote in my journal:
Journal 8/21/13 – I'm dreading going back to the desert. My heart was left somewhere between the Hemlock Inn, Linville and Charlotte.  But what would we do?  Where would Sienna go to school? Where would we live? God, please give me some answers. Help me see the direction you want me to go.
It must have been obvious, because when Brett picked Boo and I up at the airport, the first thing he asked was "you didn't want to come home did you?"