Some of my favorite art journal pages were accidents that occurred over time. Below are just a few examples.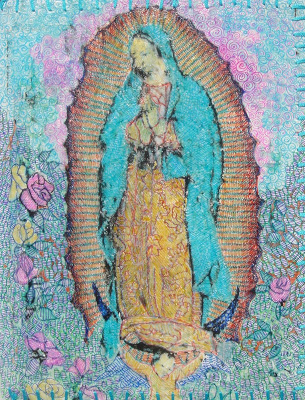 Our Lady of Guadalupe: I started sketching this picture out and didn't like the direction it was going. I used some gel medium to make it glossy and it ended up smearing my initial drawing. So over a few weeks I just kept going back to it when I was on a plane or stuck in a motel room and just didn't feel like writing. It was drawn in dots, hatch marks, lines and squiggles using color sharpie markers.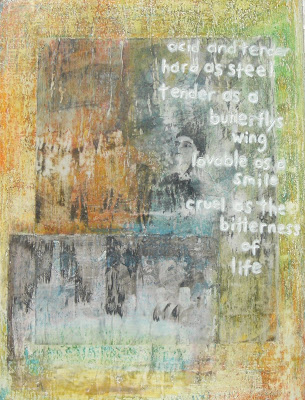 Cruel as the bitterness of life:
This page was first a few collage layers that didn't turn out right. I started covering it with crayon, sanding off layers and ended with a distressed paper/wax "mess" that looked aged with a few ghostly images peeking through. I started writing the words and the gel pen wouldn't work and because the page was so thick I just ended up carving the words into the page. They didn't show up on the background so I used some "white out" to fill the carving with. The words are from the movie Frida when Diego Rivera was describing her life's work at the end:
acid and tender, hard as steel, fine as a butterfly's wing, loveable as a smile, cruel as the bitterness of life.
I messed up the quote.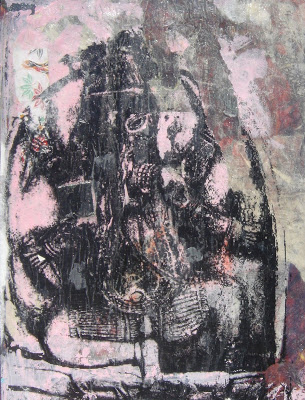 Ganesh
: This page resulted from a couple gel transfers gone awry.  I just kept painting over them with acrylic and doing another transfer until I got the last one right. There are also some layers of origami paper worked in as well.
Lesson learned: If you aren't happy with your initial page, leave it and come back….maybe even several times! The more layers you add the more interesting the page becomes.