I've had a few requests for the applique pattern I used in my cherry tree/ruffle pant outfit so I've uploaded at the link shown below if you would like to download it. You can find the
original post here
with more photos of the outfit and pattern information for the pants.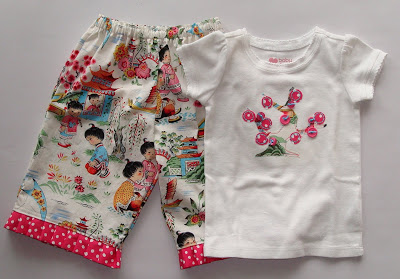 The applique was made by cutting out the tree from the lighter fabric and adding small round "cherry blossoms" using the pink fabric and small pink buttons. I hand-stitched the detail on the pink cherry blossoms using turquoise DMC thread. I used a white baby gap t-shirt because I like the weight of the fabric and the little scalloped edges.
Cherry Tree Applique*
*Copyright © 2009 by Ashley Hackshaw. All rights reserved. This applique is for personal and home use only. A limited commercial license may be purchased for limited production. Please email me at ashley (at) dc.rr.com for more information. Thank you for respecting my copyright!