Introducing…..the finalists for the Lil Blue Boo / Dharma Trading Great Ugly Knit Upcycle! The judges (Amy, Ashley, Kari, and Rachel) had a really hard time narrowing all the great entries down to the final 15! Thank you judges! And great job to everyone that entered!

Please cast your vote in the sidebar to the right for your favorite "ugly to beautiful" transformation!! A list of prizes are at the bottom of the bottom of the post. Voting ends at midnight September 9th! Note: the entries are anonymous but I'll add links when the voting is closed.
#1 Back to School
A pile of outdated knits turned into an adorable back to school outfit!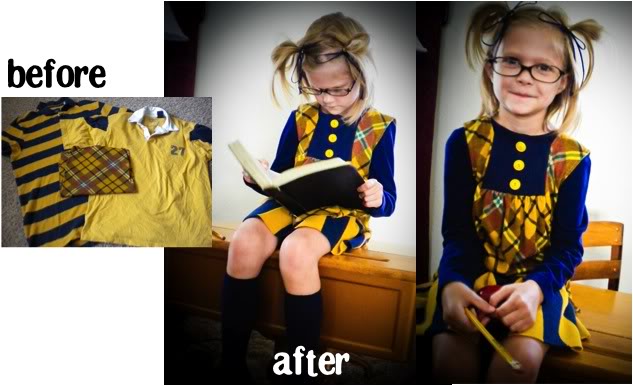 #2 Cowgirl Skirt and Headband
Four ordinary, tacky shirts were used to create ruffles for this precious skirt…and even the scraps were used for shirt detail and hair piece.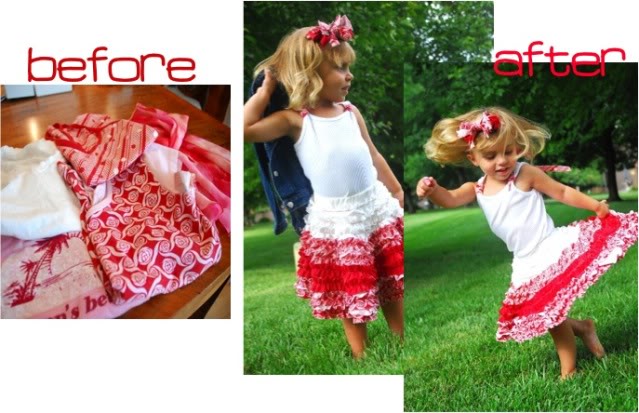 #3 Embroidered Monkey Jumper
Two boring brown shirts were transformed with a touch of bright pink and a little embroidered monkey applique. Extra details include metallic gold thread for the crown and hot pink rick rack.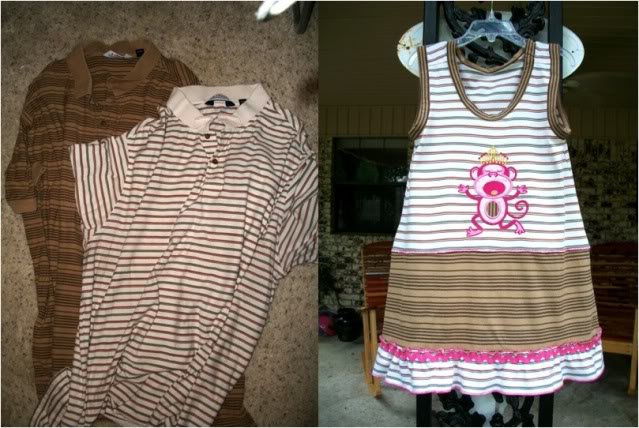 #4 T-shirt Snake
A bunch of green T-shirts from the donate pile and a pregnancy pillow made this fantastic toy snake for a playroom.….so much more fun than a beanbag!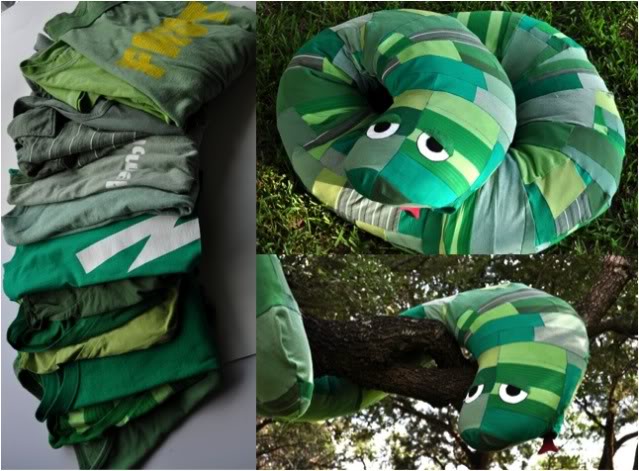 #5 Boring Tees to Boxer Briefs
Ugly, boring tees transformed into to awesome boxer briefs. Other than the original knit tees, the only additional materials are the elastic at the waistband and the thread they were sewn with.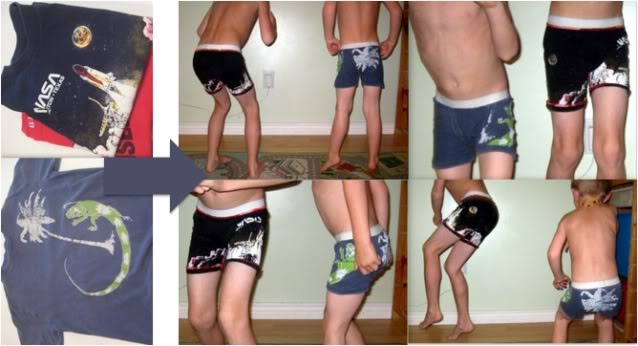 #6 Refashioned Romper
A plain vanilla cabled sweater refashioned into a precious sweater romper!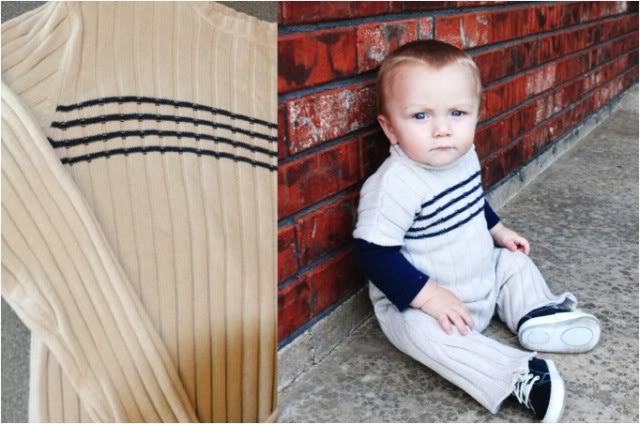 #7 Toddler Ruffle Dress
A stained, long-sleeve maternity t-shirt was transformed into an beautiful toddler dress covered in ruffles!
#8 Upcycled Gauchos
A pile of old T-shirts ready for Goodwill were begging to become this trendy pair of trousers!

#9 Applique T-shirt Pillow Cover
Ugly tees transformed into appliqued red/white snowflakes and trim for this decorative pillow!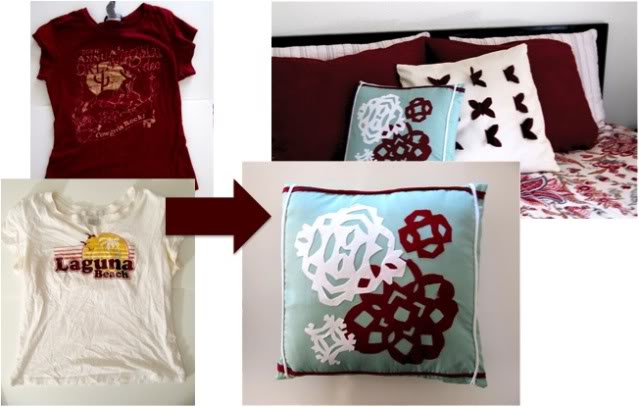 #10 Dress With Matching Flower Headband
Boring tees from the "throw out" pile were made into this adorable dress and headband!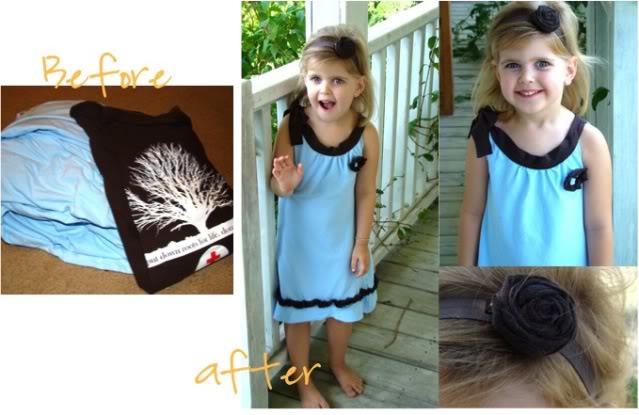 #11 Recycled Haute Couture
Outdated knits are now "recyclé haute couture" …… perfect for shopping for baguettes and stinky cheese in the streets of Paris.

#12 Eco-friendly Waldorf-Style Doll
An ugly old stained white t-shirt was dyed to become the body of an eco-friendly Waldorf-style doll. An ugly pile of wool became the stuffing and the hair yarns were from the trash pile!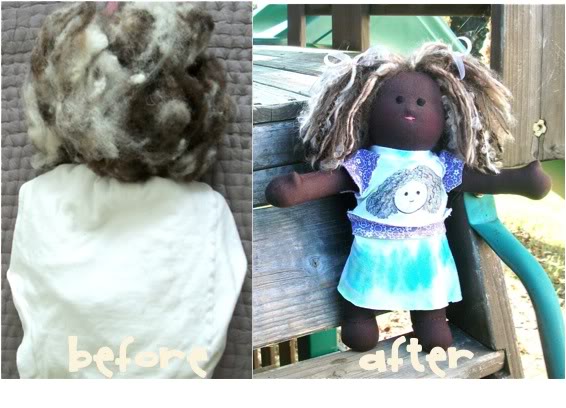 #13 Cowl Neck Toddler Sweatshirt
An outdated sweatshirt transformed into a stylish toddler cowl neck!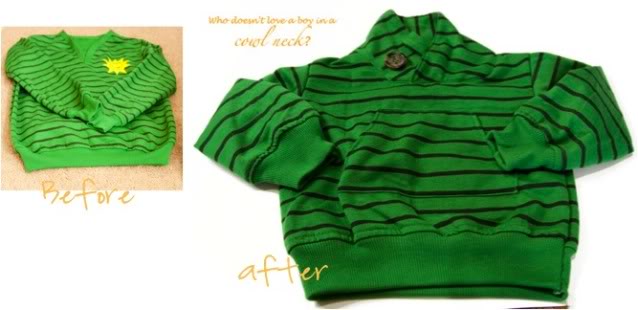 #14 Knit Flower Pins
A little boys sweater vest was made into 2 stunning flower pins….the perfect upcycled accessories!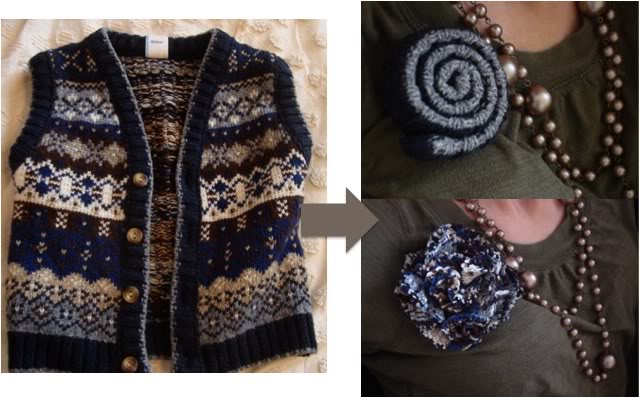 #15 Bunny and Dress
An unsightly peach merino wool was dyed into a perfect "bunny" color and made into this cute stuffed toy. Ugly knits made the cute dress and matching carrot.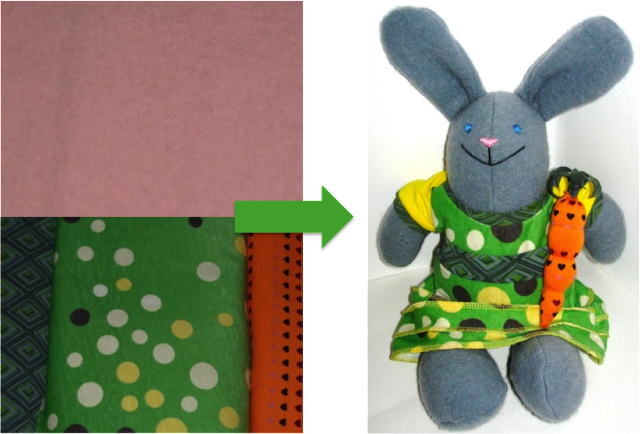 The Prizes:
First Place:
$50 Gift Certificate to Dharma Trading
Singer 2932 Sewing Machine
$25 Gift Certificate to Lil Blue Boo
Second Place:
$25 Gift Certificate to Dharma Trading
$25 Gift Certificate to Lil Blue Boo
Click the collage below to view the entire gallery: