A few vintage sewing supplies I've stumbled across over the last year. First, all these vintage notions all stuffed into a vintage Tetley Tea Bag tin: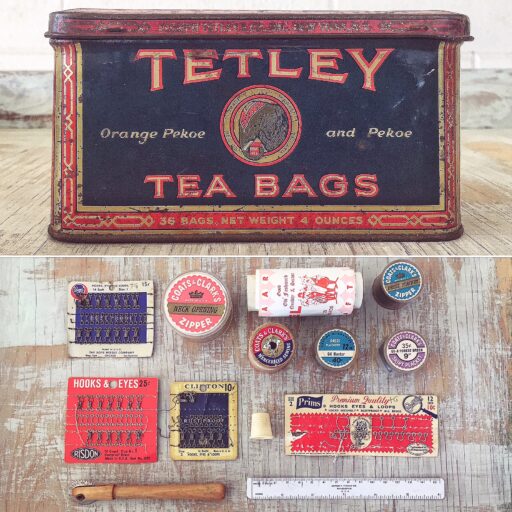 In the tin:
Four Coats & Clark's zippers, unused and rolled up in their original plastic containers.
Four sets of hooks, eye and loops by four different companies: Clinton, Prims, Boye and Risdon.
A roll of non-tarnishing tinsel "for crocheting and knitting" by Bazaar Craft.
An almost empty spool of Coats & Clark's thread.
EZ Buckle wood-handled tracing wheel.
Small plastic thimble.
Small plastic ruler.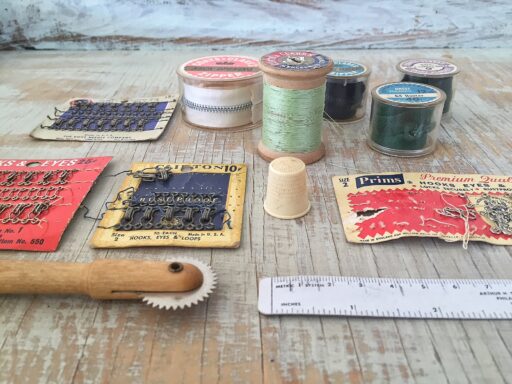 And this was my favorite find…these antique embroidery hoops: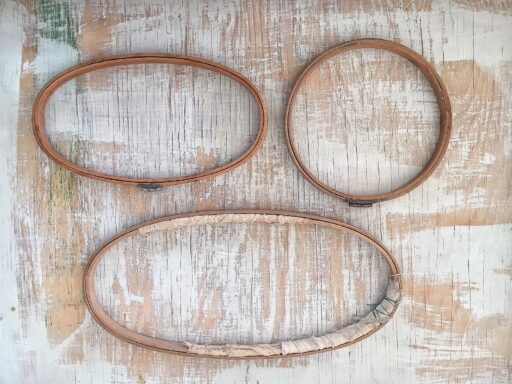 I had to have them just so I could do some research on them to find out how old they were: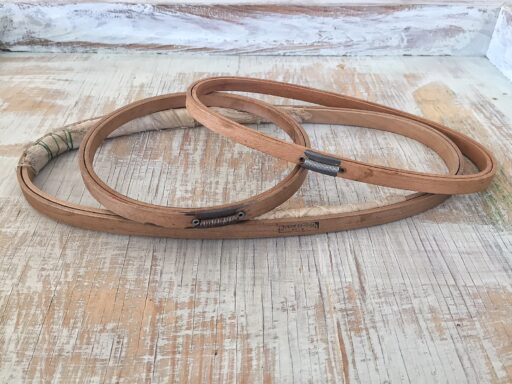 It turns out that all three were made by Gibbs Manufacturing based in Canton, Ohio. Circle hoop is a Holdtite and measures 6″ x 6″.  The large oval is a Duchess Oval. It measures 12″ x 6″. The small oval measures 9″ x 5″. Both the oval hoops have the inner felt cushion mentioned in this ad from around 1914 / 1915:

I was able to find the original patent for the felt hoops submitted by Lewis Gibbs in February 15, 1898. (USPO source)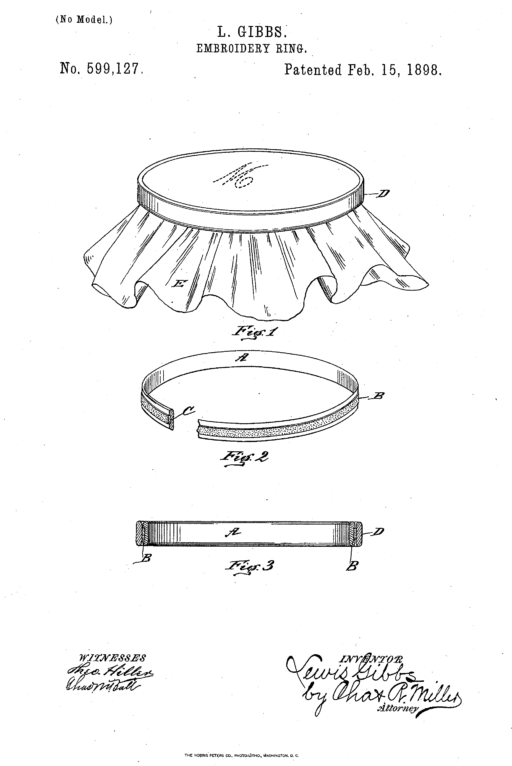 His submission read:
"My invention relates to improvements in embroidery-rings; and it consists of certain features of construction and combination of parts by which the fabric to be operated upon is not only held in position, but may be stretched or tightened without injury to the fabric while in position and without removal from the rings, as will be hereinafter more fully described and claimed."
I love when people try to improve things. I love inventors. When searching for some information on Lewis Gibbs I stumbled upon a photo of his gravesite.  That led to Canton's West Lawn Cemetery which outlined the history of Gibbs Manufacturing which explained why there were all kinds of lawn rake patents mixed in with the embroidery hoop patents:
"In 1891, Lewis Gibbs left the Bucher and Gibbs Plow Company to devote his time to the Gibbs Lawn Rake Company, which he had organized with his sons Elmer and Alvin in 1884. They changed the name to Gibbs Manufacturing Company int he 1890s and expanded their product line to include knitting needles, crochet hooks, embroidery hoops, and stocking darners." – from Canton's West Lawn Cemetery by Kimberly A. Kenney.
How they went from plows to embroidery hoops would be an interesting story I'm sure.  Eventually the Gibbs Manufacturing company started making hand made wood toys. That's what it was best known in the mid 1900's. I read that it eventually went bankrupt and everything was auctioned off…many old toy tops even auctioned by the box. Can you imagine? That's another whole rabbit hole I could fall down.
These and other vintage finds are available on my blue label page. Proceeds go to supporting the technical costs of this blog. Thanks for reading and your support!