The second installment of email love. (click here if you missed the first one)
I love getting email from everyone…..and especially look forward to these:
I'm sure you'll just delete this email but I'm concerned about you letting your daughter sell beer. Seriously, what kind of message is this sending?
-Thank you for the concern. Full disclosure: I've received several emails on this issue since my last email love installment. Just to clarify, I draw the line when she tries to distribute alcohol to other children.  I love her entrepreneurial spirit….and honestly there's just more demand for beer than lemonade these days.  She even tries to sell beer to Lisa during office hours: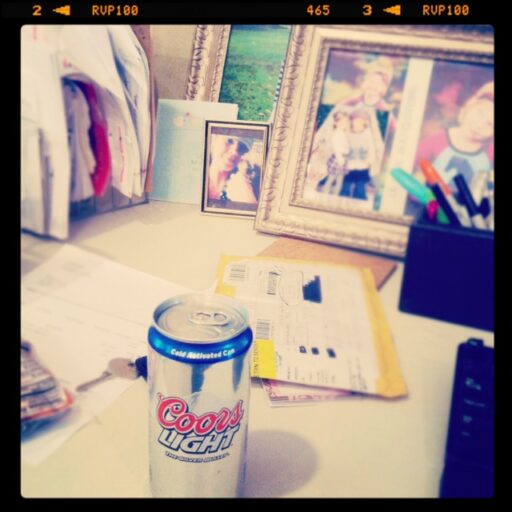 I guess I should just get everything out in the open right now:
:: Boo has a TV in her room.
:: Boo has a TV in her playroom.
:: Boo watches PG-13 movies.
:: Boo's only required to take a shower every 3 days.
:: Boo gets a haircut….when I chop off the end of her ponytail.
:: Boo eats popcorn for dinner a few days a week. So do I.
:: When Mr. LBB is out of town, Boo has no bedtime.
:: Boo drives a Bobcat: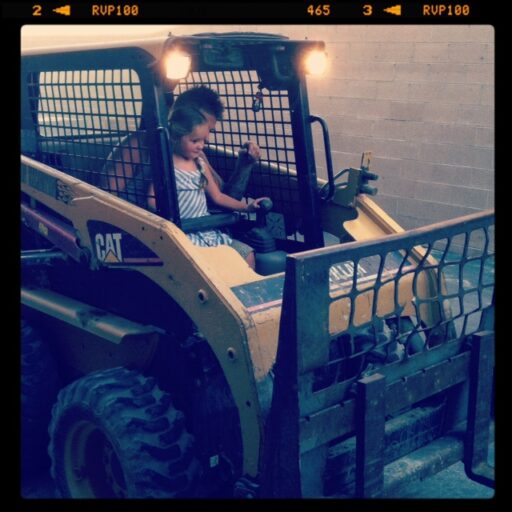 I'm sure I'm forgetting something….

[The dress] is darling, and I have no intention of returning it. But, I also have no intention of being a repeat customer or following the lilblueboo blog anymore. Luckily, neither one of those things is really that big of a deal for any of us and life will go on.
-From a customer whose dress was delayed at the Post Office. She won't read this because she doesn't read Lil Blue Boo anymore. This email was 6 paragraphs long. She also accused Lisa of lying….and using too many smiley faces in her emails. (Lisa, the smiley faces were the last straw….you 🙂 are fired 🙂 :))
🙂
🙂
and a wink 😉
You purposely tried to make it sound like, "oh of course, it's been on it's way to you forever" rather than "it's been bumping around the floor of my car for a week now."
I should probably note here that I am a big time shopper for my children, borderline shopping problem, and in the past 14 years I can think of one other time I emailed somebody to complain.
It's a pretty sad state of affairs when I have to try reverse psychology to get a straight answer from a place of business.
-You're probably thinking these came from another customer. Nope, from the previous one. It was the longest email I've ever received. We really screwed up on that one. Apparently she used reverse psychology on Lisa (which is AWESOME by the way….maybe next time hypnosis?). Lesson learned: never print a shipping label right before a post office holiday.

You are terrified. You HAVE to be….no matter what you put out there to the world.
It irritates me that I care about you because I was content to keep on abhorring you. Damn it.
-Finally, someone who knows me better than me? I love that she was content to keep on abhorring me….and I've never met her. This friendship was doomed from the start.

Mis-matching fabric does not make you an original designer.
-I love a good critique.
Wow. Thanks so much for releasing a pattern for a copy of my original design.
-From someone who thought I copied their "original" camera design for an applique. Maybe they were from Nikon headquarters? I'm going to be screwed with Nikon AND Willy Wonka coming after me.

Your mama's a snowblower.
-OMG! I loved Short Circuit! Wait, what were we talking about?
Way too many special effects in this movie.
-A comment left on the video Rite of Passage.  Funny because we didn't use any special effects….we just didn't know how to use the video camera.

These weren't emails, but Google searches that brought people to Lil Blue Boo:
ashley hackshaw bad
has ashley hackshaw been arrested
i hate ashley lil blue boo
i hate ashley lilblueboo*
*(if you don't succeed the first time, change your spelling right?!)

-Sorry to disappoint, but I have never been arrested…..unless getting caught underage drinking by dorm counselor counts. If I ever do get arrested I hope it's for something awesome that ends up on the front page of Daily (Fail) Mail…like stealing a bag of Doritos from a toddler or swiping toilet paper from McDonalds.

(if you missed the last installment of Google searches you can find it here.)
As a business grows, customer service can become overwhelming and a full time job. It's more than a full time job here because we have more than one person dedicated to responding to inquiries, emails, etc. The girls do an amazing job and try to respond to people as quickly as possible….and we've learned it's not always possible to make everyone happy 100% of the time. Also I've learned, the more I put myself out there….the more people love to hate. It comes with the territory. But as I always say, for everyone 1 hater…..there are gazillions of well intentioned people.
Here's an all time favorite, a recent email from a customer after Lisa helped her track down a lost package:
You guys rock!!! We just got new chickens, I will name one after you. 5 minutes later this photo landed in Lisa's inbox: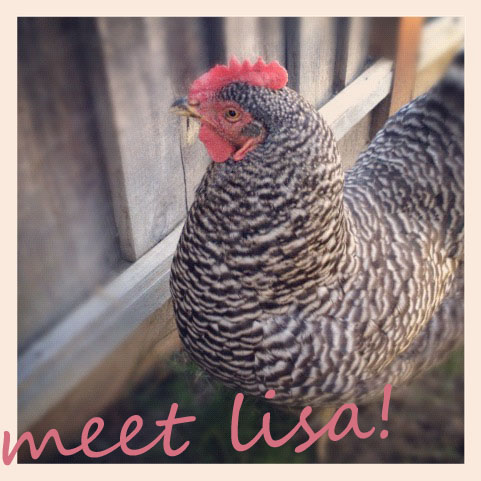 She wasn't kidding. She wrote: Lisa (the chicken) has issues. She doesn't lay eggs. We have had her for two weeks and … nada … you better send some egg-laying vibes over to your god-chicken! Lisa (the human) was actually teary when she showed me the picture of Lisa (the chicken).
This is what I'll strive for…..having a chicken named after me.
A parting thought:
Do not disappoint your haters this week. Keep rocking extremely hard!
-Rev Run
Update: I just looked up a few movies we watched recently: Boo watches R rated movies.
Update 2: I now have a god-chicken and a god-hydrangea named after me!  Holla! I love you gals!
Update 3: Boo's "beer stand" is limited to foot traffic only. We do not condone drinking and driving.
Update 4: Comment of the day #154: Dear haters, I have so much more for you to be mad at. Just be patient……
Update 5: ……like maybe the "beer delivery girl" dress?