My dad was a business man.  He knew a signed contract was the best way to make sure both parties knew what was expected of them…..even if the parties were my parents….and me.  Tonight going through some old papers, I found a contract he made me sign after I was caught drinking underage in college.
Some highlights:
Dear Ashley,
Below are listed all of the facts as I see them. Please let me know if I am in error on anything:
1. The legal drinking age in NC is 21. Anyone caught drinking under the age of 21 is in violation of the law.
2. All incoming freshman received a letter from the university president on the drinking policy. See copy attached.
3. I re-read the contract you signed when we gave you the Toyota. See copy attached. I would like to review specifically the following: I WILL NOT DRINK ALCOHOL.
4. I am very proud of you that when you were caught drinking you told the dorm counselor the truth.
Click "read more" to read the rest of the post:

5. I called the Dean of Freshman to discuss the situation with you. His advice was "DO NOT GET CAUGHT A SECOND TIME." My theory as the best way not to get caught? DON'T DO IT IN THE FIRST PLACE.
….
10. We aren't asking you to be a bookworm. What we are asking is that you leave yourself enough time to study properly.
Now let's talk about what actions your mother and I are going to take and what we want you to do.
1. We are taking away your car privileges for 30 days.
2. We want you to tell us how you propose to pay the $60.00 fine since we are not paying it.
3. We want you to make an appointment with the Dean to discuss the university's policy on alcohol.

In closing I want to say and ensure you know the following:
1. Your mother and I love you very much.
…….

And the best part:
3. Go to church on Sunday only if you want to ($20.00 per visit and send the bulletin)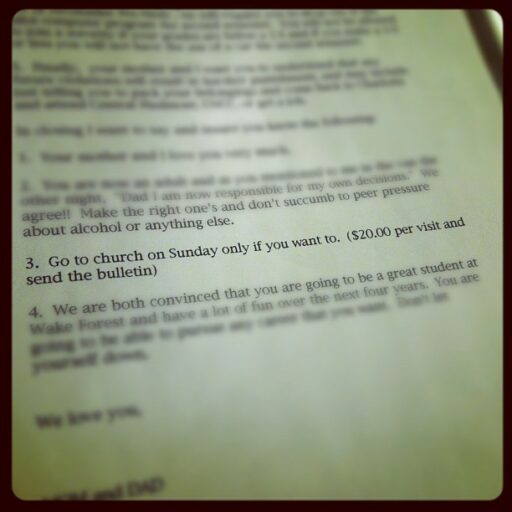 Why didn't I just go to church every Sunday? I would have made bank!
P.S. The most mortifying part of the whole thing was having to make an appointment with the Dean of Freshmen to discuss the university's drinking policy.
Update: I posted the entire contract my parents and I signed when I started driving.
Update 2: My mom emailed me: Mom here…I think you should add that your parents were enjoying watching you and your friends crying on the curb in front of your dorm as I drove your Toyota away……dad following in his car. You didn't really believe we would stick to the contract and take away your car.  It was a defining point to our parenthood and our relationships.  I think after that your siblings saw that we were serious when we set a rule.  We never went thru this with them (or maybe they were smarter about getting caught which is probably the case.)  This was wonderful to remember and read all the comments.