This is a follow up to the post I wrote about the contract my dad wrote for my underage drinking. This was a contract signed between my parents and I in 1993 when I got my license and a new car. I love that it was amended after 2 speeding tickets (they never revoked privileges for those…..but I guess a third would have been too much).
A few notes:
1. A few contracts I signed with my parents said "CONFIDENTIAL" on the top…..this one was not marked, so I'm assuming it's okay to post.
2. I never had any desire to carpool other people's pets around. I don't know why that was such a concern.
3. The cell phone my dad installed in the car for me was AWESOME…..until he got the first bill and it indicated that at 2:30am I was making calls from a field party in Union County.

4. Once during college I left my sunroof open overnight during a rainstorm (probably the same night I got caught drinking).  It soaked the entire interior of the Landcruiser and resulted in the seats dry rotting. I wonder if that would be considered a violation.
5. I did use a music CD in the car for the first year, I didn't think that fell under "radio" technically.
6. It would have been awesome if this contract included attending church for $20…..I still lived at home and went to church regardless of whether or not I wanted to.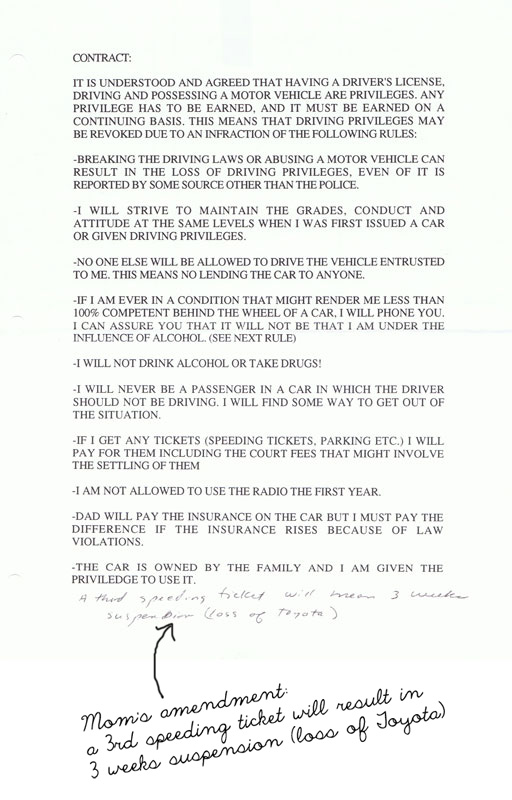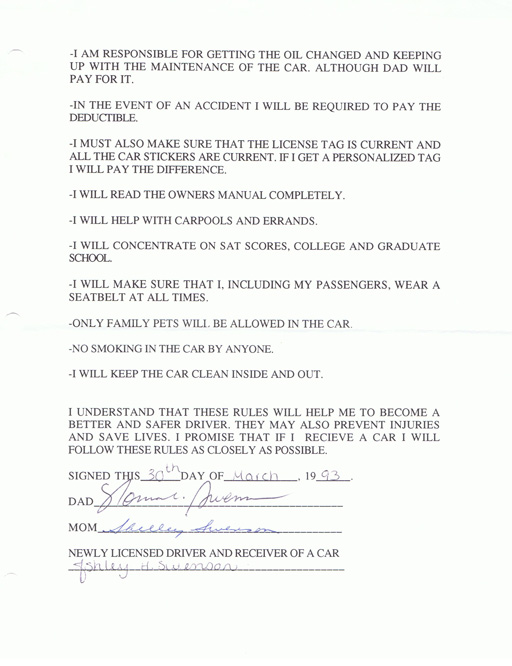 P.S. Mr. LBB said last night "these really make me miss your dad"…..yep….me too. My dad was always leaving everyone little notes and advice. I found another one today where he had browsed one of my financial statements that I'd left out. He had written on it: DID YOU KNOW THEY ARE CHARGING YOU FOR CHECKS??? BE CAREFUL!!!!