When Erin of The Vintage Pearl decided to make the first Choose Joy Necklace…..I was ecstatic……she's good people. I told Erin that I wanted to try my own design from start to finish with her blessing…..and I finally finished it.  I started with a sketch, had the master made, and then made the long trek up to Northern California to meet the team that would make it for me.  You see…..when something has this much meaning for me…..it's important who has a hand in making it. (I want honest, positive, hardworking energy going into these pieces.) Robert Snell and his team at Snell Casting opened their doors wide open for me…..and I soon knew that they were good people too. I spent the day at Snell Casting as Robert walked me through each and every step in the process to make my Choose Joy design.  We made little changes as we went until it was just as I imagined.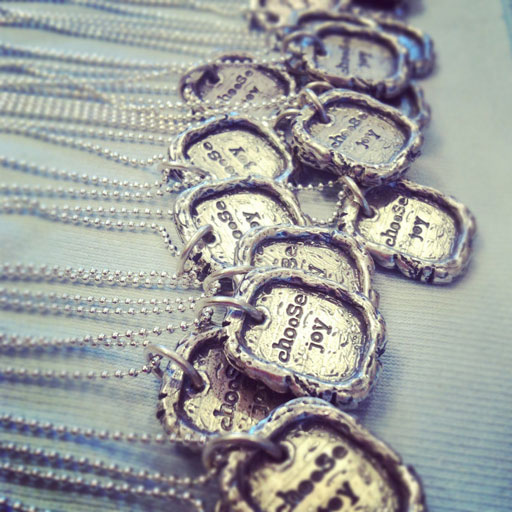 So you can see my finished piece at the end of the video……perfectly imperfect. I wanted it to be a distressed and worn piece…..accepted flaws….just like life. Handmade by hardworking employees in the U.S.A.
And now you can watch the process from start to finish….because you know I had to film it so I could share it with you. I spent most of yesterday editing the video and adding the perfect music. Enjoy!
The finished piece measures is around 7/8″ and they are available in the shop. Thank you so much for supporting handmade.
P.S. If any of you are interested in having something cast, please consider Snell Casting.  Robert has an amazing team of artisans…..and he and his team are good people. When you call…tell Frankie I said hi.