Last night's and today's headlines about the nanny killing those two precious children really affected me.  I'm praying for that family today because not only is it the greatest loss, it was the doing of someone they trusted…..and someone their children trusted. I can't imagine a greater pain.  And you know those parents will look back at every. little. thing. and wonder if there was a sign or something they could have done. And the answer is: probably not.  This post is about my attempt to protect my daughter from bad things and learning to let go at the same time….and the fine line between the two.  It is not a commentary on what could have been done to prevent such a tragedy.  The headlines just got me thinking in the shower this morning…..and here's the jumbled thoughts that resulted:
*****
I think I'm a pretty laid back parent (I mean I did let my child change her name, right?)  If Boo trips and falls I'm not one to make a big deal about it.  I let her fail at things so that she can learn from her own mistakes. I try and teach her to do the right thing.  One of the hardest things for me recently was to let Boo go out of town for a field trip to the pumpkin patch.  I was just getting back from San Francisco and couldn't go with her.  The trip was on a highway….the school bus didn't have seat belts….I didn't know the driver.  I talked with Boo about it and I think she was more excited about the school bus than the actual field trip.  I imagined her disappointment at not having that chance and my decision was made: she rode the bus.  A million terrifying scenarios ran through my head about what could happen but I knew I had to let her go.  I'd already told her stories about how I rode the bus when I was little…..like how I had a crush on the bus driver because he was a fireman…..and how when kids threw up on the bus he took us to the firehouse and used the fire hose to blast the vomit out the back door.  I'd already built the school bus into a grand thing….it would be worse not to let her go…..because it would be a decision based on my fears….not hers.
*****
When we were renovating our house a few years ago, I was adamant about one thing: the alarm system. When I was a kid, we had a panic button in each room of the house (I used to tell my friends that was why my parents bought the house…..not really true…..but it made a good story).  So, when our new security was installed, I insisted on multiple alarm key pads….one in every section of the house…..and I wanted the alarm system to announce exactly which door opened.  Anyone new who enters the house kind of does a double take because while it says "FAULT – BACK DOOR"…..it distinctly sounds like "F*CK THAT DOOR"…..the lady in the alarm cloud doesn't enunciate very well.  I mainly wanted this feature on our door because if the alarm system goes off in the middle of the night, I would like to know WHICH door or window was breached without having to send Mr. LBB through the entire house with a baseball bat (that NEVER ends well if you've watched Lifetime Movie Network for any length of time).
About two years ago, I was taking a shower while Boo was watching TV and I heard our alarm yell out "F*CK THAT DOOR"….translation: the front door had been opened.   I jumped out of the shower in a panic and ran in my towel to the front door and found Boo chatting with the UPS guy and accepting a package.  I was polite, thanked him, but the second the door closed I went ballistic:
Don't you EVER do that again! Don't you EVER open a door in this house without Mommy or Daddy!  You could be kidnapped! Do you know what kidnappers do?
Apparently I was a little dramatic because my mother-in-law told me that when she and Boo went to get their nails done Boo went into an elaborate story about how:
There are strangers that take children. They are called kidnappers. They take them away so they never see their parents again. And they do awful things to them. Sometimes they kill them. Or starve them. Very, very bad things.
But then…….Boo asked a few days later: can I open the front door if there is a fire in the house?
And I wondered how I would ever be able to fully prepare her for life without it all to being too confusing…..even to myself.
*****
I struggle with the whole "respecting adults" idea.  I'm big on respect. Boo is expected to say "yes ma'am, no ma'am" and "yes sir, no sir" to all adults.  I was expected to when I was a kid.  I'm very adamant that she doesn't have to hug adults….she can politely decline…..and I've never asked her to kiss an adult……even if they are family.  I leave it up to her. I'm not a huge hugger….and I'm definitely not a kisser.
My whole viewpoint changed a few years ago with what I call the ultimate betrayal. I wrote about it but just a recap…..as the Christmas season started approaching, Boo started telling me that she would NOT be going to see Santa.  She asked if she could just write him a letter instead. I promised her, over and over, that she would NOT have to see Santa. But then…..Santa surprised the kids at the school Christmas event…..and I was paralyzed…..not wanting to offend anyone. And Boo didn't want to offend anyone.  So against all her will and fear and everything she stood for…..she climbed up on Santa's lap.  Trying not to cry she put on a forced smile and tried to act as polite as she could. It makes me tear up just looking at this photo…..she looks so sad and betrayed. She wouldn't even look at me….she just stared off in the distance: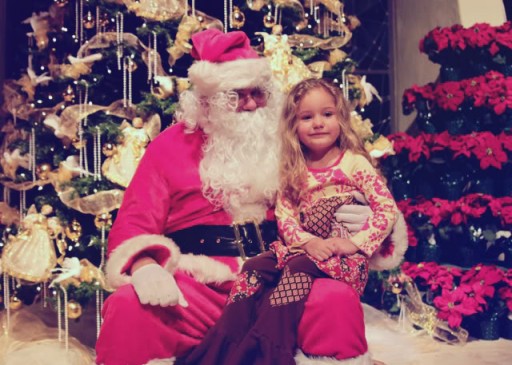 That night, I made myself and Boo a promise…..that I would stand up for her….just because everyone else is doing something, doesn't mean it's right for her. Last year, Boo and the same Santa (who just happens to be the husband of her teacher….unbeknownst to Boo) had a short conversation with 15 feet of space in between them. It was fine for both of them.  I can guarantee you that Santa is never thrilled to have a scared, screaming kid on his lap. 

*****
It's impossible to protect our children from everything…..but we do our best.  No sane parent would ever deliberately put their child in a dangerous situation. I try and arm Boo with all the tools she needs without giving her nightmares.  I try and explain that not all adults are good people.
I've been teaching Boo that it is okay to question adults and authority if her heart is telling her that something isn't right.  Just because Mommy and Daddy know someone, doesn't mean they are always right.  Just because someone has a badge, doesn't always mean they are always good people inside.  Some people can fool Mommy and Daddy too. And most importantly, Mommy and Daddy do not always know everything. I try to tell her stories about how I stood up for myself even when I knew I might get in trouble….so she has examples.  I told her how I once had a mean babysitter who would put us to bed too early even when we were hungry…..so I would sneak and steal food. And although I got in trouble with the sitter, my parents never hired her again. Or how one babysitter would say rude things to my little sister and I would stand up to her.  I wasn't afraid to stand up to adults when I was younger because I knew that my parents were reasonable and fair.
About a week ago, Boo had been getting her Flat Stanleys in the mail and she kept asking to take them to school.  I reread the letter from the teacher and it said that they had until Thanksgiving to get them all back which I assumed meant they wouldn't bring them to school until after Thanksgiving.  I told Boo over and over that she couldn't take them to school.  She would tell me that the other kids were bringing them to school to share them and my response was: well, they aren't following the rules. It turns out, they WERE allowed to bring them to school. And Boo sat at her desk day after day as her other classmates presented their Flat Stanley's to the class, feeling so sad that she wasn't able to share hers……until she got the courage to ask her teacher: Will you please call my mom and tell her that I can bring my Flat Stanleys to class?
Her teacher emailed me during lunch….and within seconds I was up at the school with Boo's Flat Stanleys…..feeling pretty much like the worst mom ever.  And I told Boo afterwards:
I was so glad that you asked your teacher to explain to Mommy why she was wrong.
Anytime you think someone is wrong about something….speak up!
You did the right thing. I'm so proud of you.
And so today I'm trying to listen to my daughter more closely….because sometimes the voice of a 5-year-old CAN be the voice of reason.  And if her big heart is telling her that something isn't right, it probably isn't.  And I want her to know that she can speak up.  (and that doesn't EVER mean that she has a license to be bratty or snarky…..)  And really it all comes down to teaching myself too….that it's okay for me to question adults and authority too.  I need to listen to that little voice inside me more often. And that's all I can do.